How to find the best deal on your next flight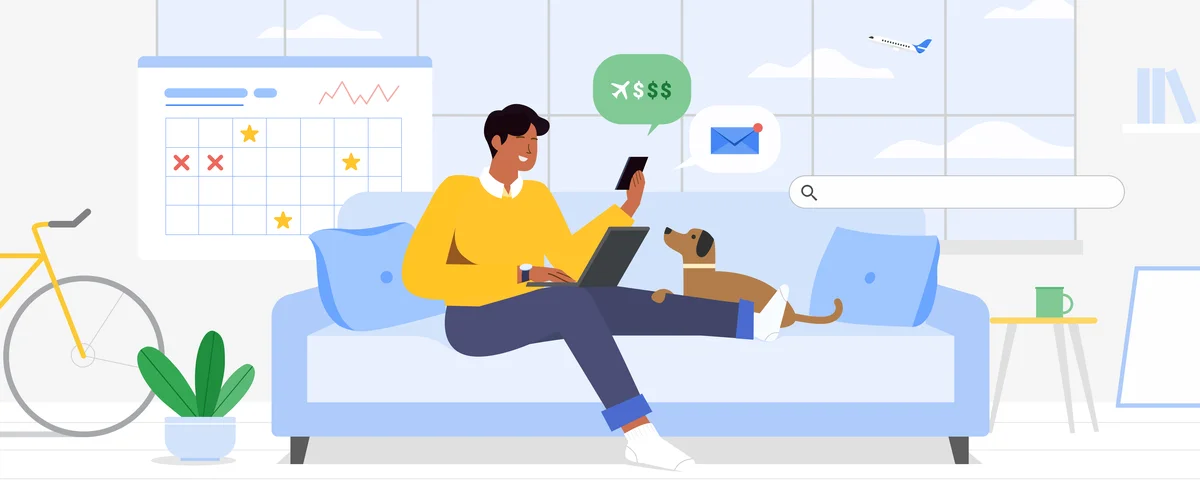 Holiday travel is just around the corner, and for many people, affordability is top of mind. From April to August this year, searches for "cheapest airline tickets" surged more than 240% in the U.S. During this same period, the top-searched questions related to air travel included "when is the best time to book a flight?" and "how to find cheap flights?".
To answer these questions and more, the Google Flights team analyzed five years' worth of historical airfare data to look for any reliable patterns in the data1 — here's what we found to guide you along the way.
Cheapest days to fly
Historically, it's been cheaper to fly in the middle of the week than on the weekend — especially Sundays. On average, flights that depart on Monday, Tuesday, or Wednesday have been 12% cheaper than weekend departures. If you exclude international destinations, the potential savings jump even higher to 20%.
Nonstop flight versus taking a layover
Willingness to take a layover is one of your best bets to save money when you fly. On average, nonstop fares have been 20% higher than a flight with stops.
Best day of the week to book your plane tickets
There isn't much value in purchasing your tickets on a certain day of the week — sorry, Tuesday! If you shop for flights on Tuesdays, Wednesdays, or Thursdays instead of Saturdays or Sundays, prices have only been 1.9% cheaper on average over the past five years. So if your trip is just a couple of weeks away, don't wait for Tuesday to roll around — book your flight now in case the price goes up.
The ideal number of days before departure to book a flight
For U.S. domestic flights, prices have usually been their lowest 21-60 days out, with average prices bottoming out 44 days before departure. But keep in mind that these patterns may not hold true for your specific route, so planning and booking early is usually a good idea (this also applies to the other scenarios listed below).
Best time to book flights for Thanksgiving or Christmas. For domestic Thanksgiving travel, you'll want to plan a bit further ahead. In the past, the lowest prices have usually been found 36-74 days before departure, hitting their lowest point 52 days out.
For domestic trips around Christmas, the lowest average prices have been 22 days before departure, but that may be cutting it close. Prices have tended to drop anywhere between 20 and 88 days before departure.
Best time to buy spring break flights. Ready for some fun after the winter doldrums? For domestic trips beginning in March or April, prices have typically been lowest 23-59 days before departure, and 38 days out is when they've hit their low point.
Best time to book flights for summer vacation. School's out and summer's in. For domestic trips beginning in July or August, prices have been lower 14-44 days before departure, and the lowest average prices are usually 21 days out.
Best time to book a flight from the U.S. to Europe. For trips to Europe from the U.S., prior trends suggest you'll want to book on the earlier side. The best deals were usually found 129 days before departure and prices tend to be lower anywhere between 50 and 179 days out.
Best time to book flights from the U.S. to Mexico or the Caribbean. In prior years, average airfares from the U.S. to Mexico or the Caribbean have been lowest between 37 and 87 days before departure, and 59 days out is when they've hit their lowest point.
3 more ways Google Flights can help you find a good deal
See if today's prices are low, typical or high. Search for your origin and destination and you'll see price insights to let you know whether the current price is a good deal, compared to prices we've cataloged over the past 12 months for similar flights. On select searches, we'll also let you know if prices are predicted to change significantly in the future.
Turn on price tracking so you don't miss out. Toggle on tracking for your destination and dates of travel, and we'll email you if prices change substantially. Or, if you're more flexible on when to travel, you can turn on tracking for 'Any dates' to get notified of price drops for flights departing in the next 3 to 6 months.
Use the calendar view, date grid and price graph to see how fares change. The calendar view and date grid let you see how much you can save if you're flexible on your departure and return dates. The price graph shows you what prices look like for an 'X day' long trip, depending on the departure date.