I'm excellent at planning vacations — steal my tips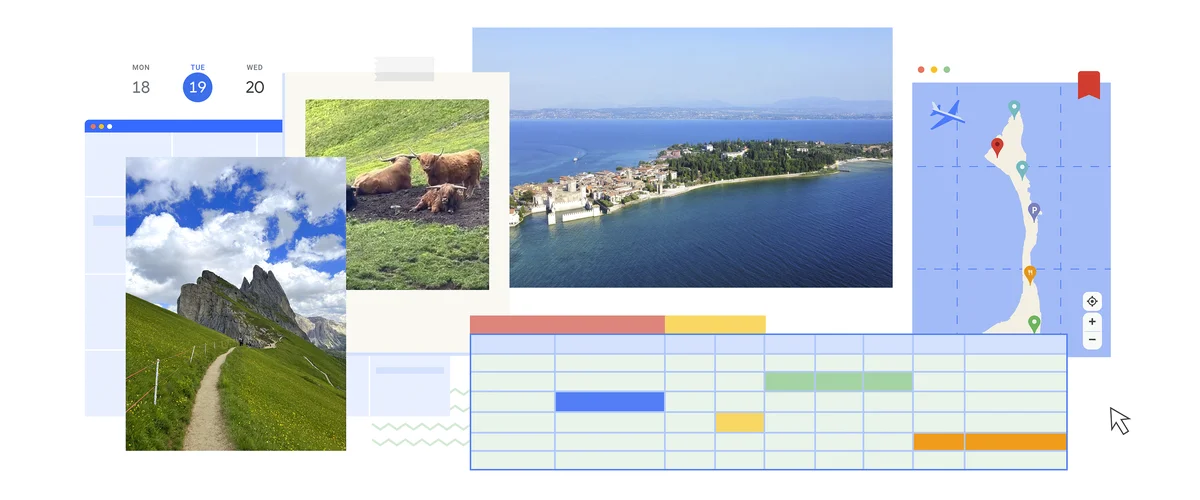 I once read that the happiest part of traveling is the planning, and I couldn't agree more. Before I board a plane, I spend hours researching and documenting the what, where and how of my vacation. Over the past two years I've traveled far less than usual, but this year my husband and I decided to go to Italy. It was our first time there, and one of our biggest trips since COVID hit, so I took prepping to a new level. Here's how I, a self-proclaimed travel nerd, used Google tools to get ready for my getaway.
Get everyone on board with Google Slides.
About a month before our trip, I realized we'd done it all wrong. We weren't going to have enough time to go hiking, and we were adding unnecessary hours of driving — and with increasing gas prices, that would end up costing way too much. Telling your travel partner you want to start over mere weeks before your trip is tough, and I knew I needed to really sell it…so I made a Google Slides presentation.
One of the many slides I used to convince my husband we needed to replan our trip.
I've used Slides for vacation planning in the past, too — and not just to blow everything up and start over. I've also presented what I've learned about various travel destinations we're considering to make a decision. This helps me think clearly about what I want out of a vacation; it feels a bit like I'm vision-boarding the potential trip. And apparently it's a great selling point, because my husband was completely on board by the end of the presentation.
2. Go off the beaten path with Google Maps.
I often find myself aimlessly "wandering" around Google Maps and Street View, looking for unusually shaped peninsulas or clicking into 360-degree photos that seem impossible to have captured. It's a great way to cure wanderlust from home, but it's also an effective way to plan travel. This was how I found a few of our stops in Italy.
A little Google Maps "wandering" led me to the town of Sirmione. It caught my eye because it's basically an island in Italy's Lake Garda: A narrow road connects Sirmione to the mainland; it's so tiny that most people park on one side and walk over to the rest of the city, going by foot or golf cart.
An aerial shot of Sirmione taken by my husband.
It's a place I've never heard of, and likely never would have gone.
This is also how we found one of our favorites hikes. The Dolomites are massive — choosing where to visit was overwhelming. But my husband noticed an interesting looking area on Google Earth called Seceda (the fact that it was labeled "Seceda famous view" on Google Maps didn't hurt our interest either). That was enough for us to add it to our itinerary, and I couldn't be happier that we did — see for yourself.
3. Take organization to another level with Google Sheets.
Using Google Sheets to organize various parts of a trip is admittedly very obvious compared to my first two tips, but here's how I like to set things up: I have three pages in a Sheet file — one that functions as a list of things to do in each location, one that lists all of our reservation information and a last tab to collect expenses as we accumulate them while planning and during the course of the trip.
I like to think of everything listed on this first tab as something potentially worth checking out versus something that's set in stone. This way, we don't have to waste time while there looking things up — now if we're ever wondering "what should we do here?" we can turn to the list for quick, easy access to already researched options.
4. Hit the Search bar…and then the Save button.
I've always found it easy to find amazing restaurants and shops when I want to travel, but not quite as simple to grasp what the best outdoor areas are — I want to find the best spot for a sunset, or a viewpoint for an afternoon walk. I've found more than a few breathtaking sights by heading to Search and simply entering the name of the city I'm visiting. On the right-hand side, there's a Knowledge Panel about the location with information like the weather, elevation and local time. Below this is a section that says "Plan a trip," and underneath that a camera icon next to the words "Things to do."
And that is how I found arguably the cutest landmark in existence, this "Kiss…Please" sign in Sirmione.
I saved the location straight from this panel so it automatically saved to google.com/travel, and we easily found it when we stopped in the city.
5. Stay on budget with a bunch of Google tools.
Traveling is expensive, and while this was definitely a trip we planned and saved for, we were very conscious of not exceeding our budget. I used three Google tools to help us do that. First up, Google Flights. Ahead of buying our flights, I created various alerts to airports in Italy to find the best price and timing. (I also used this feature to price hotels.) Then, while we were there, we used Google Maps' toll feature, so we could avoid more expensive routes. And of course, there's the aforementioned Google Sheets tab to collect expenses.
All of these things helped me plan (and thoroughly enjoy planning) my trip — and obviously enjoy the trip itself. Whenever you take your next vacation, hopefully these tips are just as useful for you.