How to create meeting notes in Google Docs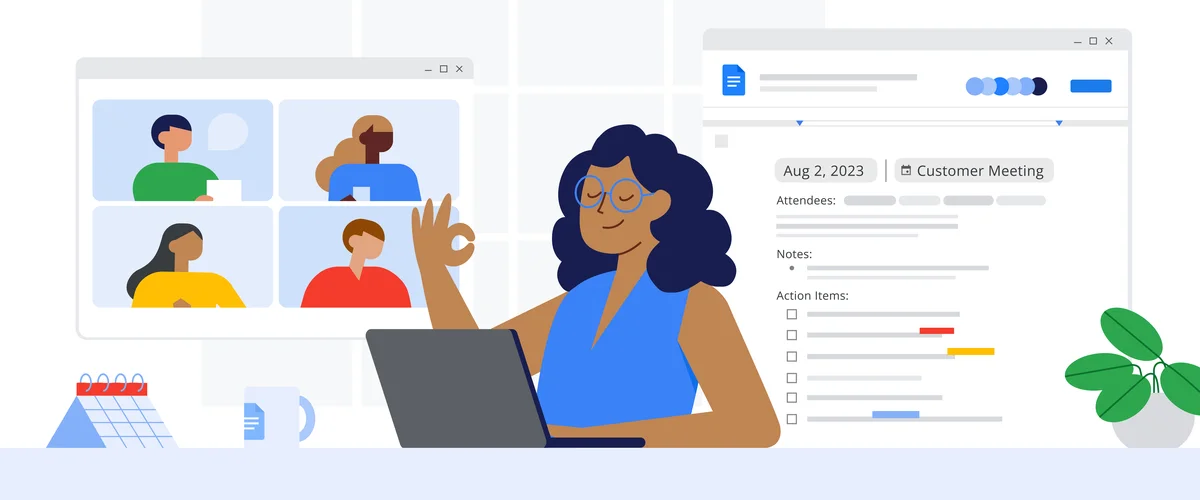 If you're the designated notetaker for a meeting, it can be a mad dash to get organized: You need to quickly create a document, mark who's there and start jotting down both notes and action items. Then, eventually, you need to figure out a way to clean up that information and share it with your fellow attendees — ideally somewhere they can easily find it whenever they need it.
Google Docs' meeting notes template can take care of all those steps for you. In just a few clicks on your computer, you'll get a customized template that pulls details from the Google Calendar event you select — including the meeting's date, title and attendees. The template will also insert specific sections for notes and action items (with a satisfying checklist to cross off completed tasks).
Here's how to set up a meeting notes template in Google Docs:
1. Open a new or existing Google Doc on your computer.
2. Type "@" in the Doc.
3. Select "Meeting notes" from the "Building Blocks" section.
4. A drop-down of events from your Google Calendar will appear. Click the event you want to take notes for. If the event you're looking for isn't there, start typing its name after the "@" symbol to find it.
After that step, there are a few different ways to share the Doc so everyone can either contribute notes during the meeting or easily access them later:
1. A pop-up on the right in the Doc will ask if you want to share the notes with the other attendees. To give access, click "Share" (or "Share & attach" if you're the meeting owner — this will also attach the notes directly to the event).
2. If you'd rather put the meeting notes directly into an email afterward, you can easily port them over to Gmail. To the left of the meeting date and title in the Doc, click the envelope icon, which says "Email meeting notes" when you hover over it. You can also click the three dots next to that icon and select "Email meeting notes." Either option will create a draft in Gmail that you can edit and send whenever you're ready.
Check out more ways to use Google Docs' meeting notes template, including how to create and attach it to meetings right from Google Calendar. And while you're at it, brush up on other ways Docs can help you save time.