Introducing simpler brands and solutions for advertisers and publishers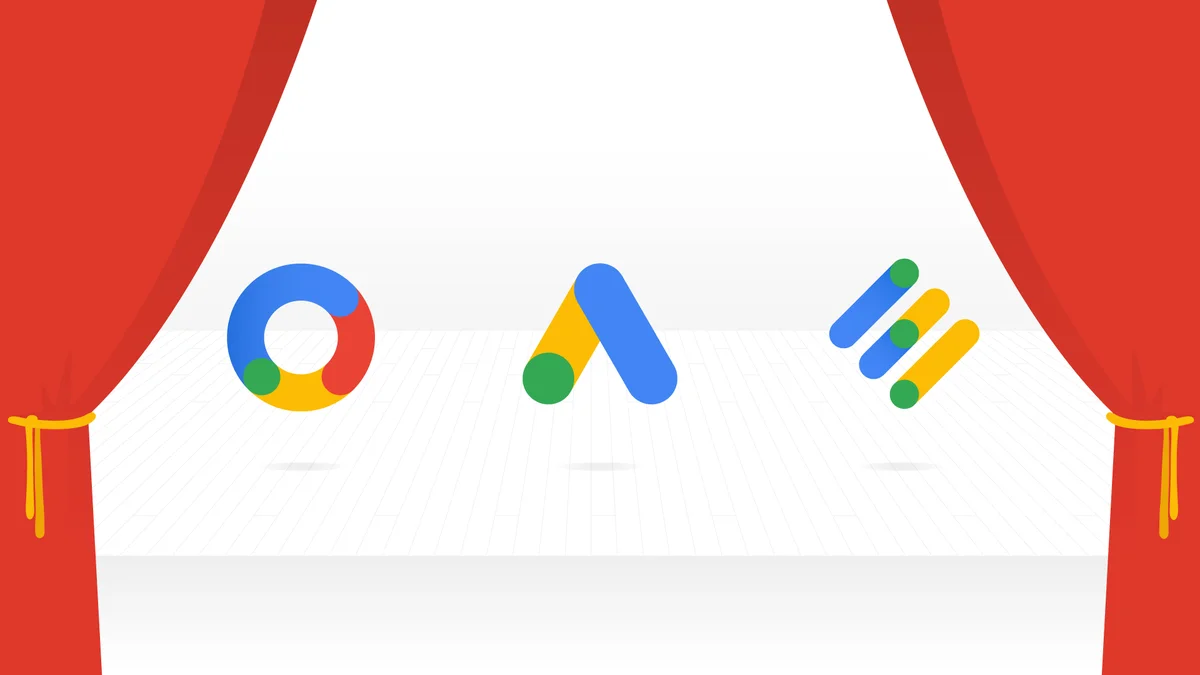 We launched AdWords nearly 18 years ago with a simple goal—to make it easier for people to connect online with businesses. A search for eco-friendly stationery, quilting supplies, or for a service like a treehouse builder gave us an opportunity to deliver valuable ads that were useful and relevant in the moment. That idea was the start of our first advertising product, and led to the ads business we have today.
A lot has changed since then. Mobile is now a huge part of our everyday lives. People quickly switch from searching for products, to watching videos, browsing content, playing games and more. As a result, marketers have more opportunities to reach consumers across channels, screens and formats. The opportunity has never been more exciting, but it's also never been more complex. Over the years, Google ads have evolved from helping marketers connect with people on Google Search, to helping them connect at every step of the consumer journey through text, video, display and more.  
That's why today we are introducing simpler brands and solutions for our advertising products: Google Ads, Google Marketing Platform, and Google Ad Manager. These new brands will help advertisers and publishers of all sizes choose the right solutions for their businesses, making it even easier for them to deliver valuable, trustworthy ads and the right experiences for consumers across devices and channels. As part of this change, we are releasing new solutions that help advertisers get started with Google Ads and drive greater collaboration across teams.  
Google AdWords is becoming Google Ads 
The new Google Ads brand represents the full range of advertising capabilities we offer today—on Google.com and across our other properties, partner sites and apps—to help marketers connect with the billions of people finding answers on Search, watching videos on YouTube, exploring new places on Google Maps, discovering apps on Google Play, browsing content across the web, and more.  
For small businesses specifically, we're introducing a new campaign type in Google Ads that makes it easier than ever to get started with online advertising. It brings the machine learning technology of Google Ads to small businesses and helps them get results without any heavy lifting—so they can stay focused on running their businesses. To learn more, visit this post.
We'll introduce more new campaign types at Google Marketing Live. Sign up to watch the livestream on July 10.

Stronger collaboration with Google Marketing Platform
We're enabling stronger collaboration for enterprise marketing teams by unifying our DoubleClick advertiser products and the Google Analytics 360 Suite under a single brand: Google Marketing Platform. 

We've heard from marketers that there are real benefits to using ads and analytics technology together, including a better understanding of customers and better business results. Google Marketing Platform helps marketers achieve their goals by building on existing integrations between the Google Analytics 360 Suite and DoubleClick Digital Marketing. The platform helps marketers plan, buy, measure and optimize digital media and customer experiences in one place. To learn more, visit the Google Marketing Platform blog.
As part of Google Marketing Platform, we're announcing Display & Video 360. Display & Video 360 brings together features from DoubleClick Bid Manager, Campaign Manager, Studio and Audience Center to allow creative, agency, and media teams to collaborate and execute ad campaigns end-to-end in a single place. We'll share more details about Display & Video 360 in the coming weeks, including a demo during the keynote at Google Marketing Live.
Google Ad Manager: A unified platform
We recognize that the way publishers monetize their content has changed. With people accessing content on multiple screens, and with advertisers' growing demand for programmatic access, publishers need to be able to manage their businesses more simply and efficiently. That's why for the last three years, we've been working to bring together DoubleClick for Publishers and DoubleClick Ad Exchange in a complete and unified programmatic platform under a new name–Google Ad Manager. 

With this evolution, we're excited to do even more for our partners—earning them more money, more efficiently, wherever people are watching videos, playing games or engaging with content, and however advertisers are looking to work with them. To learn more, visit the Google Ad Manager blog.
Transparency and controls people can trust
We know that the media and technology advertisers and publishers choose to use impacts the relationships they have with their customers. As always, our commitment is to ensure that all of our products and platforms set the industry's highest standard in giving people transparency and choice in the ads they see. For example, we recently announced new Ads Settings and expanded Why this ad? across all of our services, and almost all websites and apps that partner with us to show ads.
You'll start to see the new Google Ads, Google Marketing Platform and Google Ad Manager brands over the next month.
We'll be sharing more about these changes—and many other new Ads, Analytics and Platforms solutions designed to help you grow your business—at Google Marketing Live. Register now to watch live on July 10, 9:00 a.m. PT / 12:00 p.m. ET.