Commute better with Pigeon, the crowdsourced transit app
Like many New Yorkers, I take the subway to and from work, which is one of my favorite parts of living here. But that commute can be one of the least enjoyable parts of my day if I run into an unexpected incident or delay. One summer morning, while waiting for a delayed train on an unbearably hot platform, I wondered: What could I be doing with my time in the 15 minutes I've been standing here? Why couldn't I easily alert other riders, so they could avoid the same fate?
My cofounder and I approached Area 120, Google's lab for experimental projects, with an idea: build a crowdsourced transit app that provides better real-time information for riders, by riders, to give people around the world access to accurate transit data. Pigeon launched in September of 2018. Since then, Pigeon has helped New Yorkers make better transit decisions on hundreds of thousands of trips each month. 
Today, Pigeon is launching in five new U.S. cities: Boston, Chicago, Los Angeles, San Francisco and Washington, D.C. Commuters in these cities can download Pigeon on iOS or sign up for our Android waitlist, and start commuting better by working together.
More real-time information means better commuting
Pigeon users in each city will have access to information that other transit apps don't provide, like real-time crowds, unexpected incidents, and more context about delays. Pigeon sends alerts whenever there is important information that riders care about, like power outages and major service changes. Pigeon also sends customized notifications to commuters before they leave their home or office, so that they can plan around delays, reroutes and even the weather.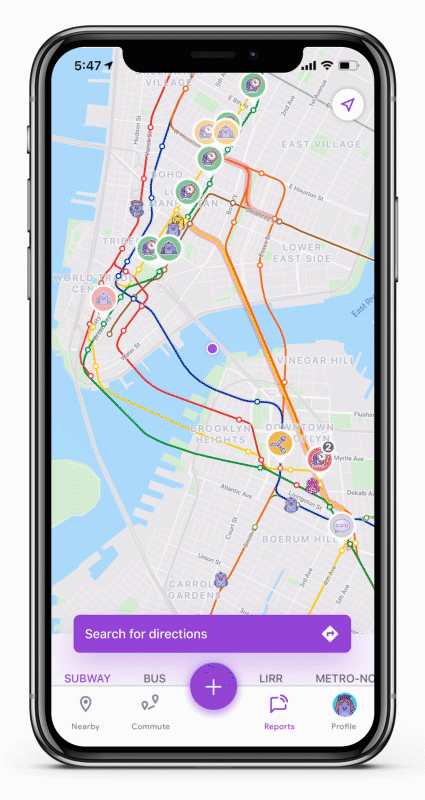 Ride better together with crowdsourced reporting
With Pigeon's reporting feature, riders can post about delays and other transit happenings with comments and images. These reports are then displayed on a map, along a rider's route and in a shared activity feed, to provide more context and coverage of transit happenings. Reports include information like delays, train crowdedness, escalator outages, live entertainment and dirty or unsafe conditions. 
Pigeon also makes commuting more fun. Our users commiserate over shared experiences like being packed in a crowded subway, finding surprising joy from dogs tucked in bags and celebrating local entertainers.
We are thankful to the community of riders that power Pigeon, and we seek to help them become even more familiar with their local transit system. So in addition to announcing our expansion to five new U.S. cities, we are also releasing an NYC Subway Insights Report based on data from crowdsourced reports which shares how subway riders feel about the subway lines they frequently ride. We learned which station was reported to be the hottest during the summer months, as well as the lines with the most rush hour delays and most crowds. 
With Pigeon launched in five new cities across the U.S., we hope to improve commuting for even more public transit riders, as well as build local transit communities that work together to improve their daily rides.