Touring Bird lands with Google to plan your perfect trip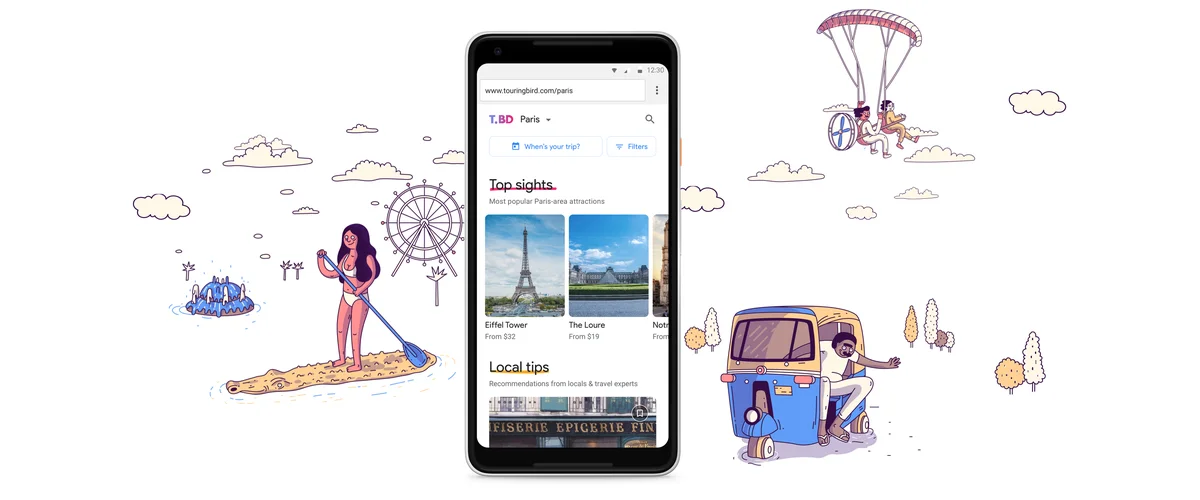 Traveling to new places is fun and exciting—but for a lot of people, planning what to do once you're there is not. It often involves hours of research: finding things to do and see, reading travel guides and blogs, comparing prices and asking friends for recommendations. Even after all that research, there's always a fear of wasting precious vacation time on disappointing experiences, or missing out on the most important things to do. And travelers who skip the planning process entirely can find themselves paying the price when a popular attraction or activity is sold out or closed.  
Our small team decided to work on improving the research and booking experience for tours and activities within Area 120, Google's internal incubator for experimental ideas. Area 120 was created to provide Google employees a place to pursue and test their promising ideas full-time, with dedicated support and resources. Through this program, we set out to build a new tool that addresses the need for a centralized destination to plan your next vacation.
Touring Bird helps you explore and compare prices and options across providers and makes it easier to book tours, tickets and activities in top destinations around the world. You can do all this in a single place—saving both research time and money. We also wanted to make travel more fun and memorable by making it easier to discover unique things to do, like how to trace the footsteps of Sherlock Holmes in London, visit Senso-ji temple in Tokyo at night or explore hidden catacombs in New York City. For travelers looking for ideas, Touring Bird presents options by interest (like local eats, photo-worthy spots or kid-friendly activities) and offers curated recommendations from travel writers, locals, and destination experts. 
After an initial test launch in Paris in early 2018, we expanded Touring Bird to cover 20 of the world's top destinations later that year. We learned a lot from the people using Touring Bird, and we continued tweaking the product based on their feedback. For example, based on the insight that every traveler has unique interests and needs, we introduced a new way to customize and compare options across multiple providers. And earlier this year, we expanded even further to cover 200 destinations. So far, the reaction from users and partners has been overwhelmingly positive.
Today we are announcing that Touring Bird is successfully moving on from the experimental environment of Area 120 into Google, where the team will continue building compelling experiences for travelers and connecting them to tour and activity providers in destinations around the world. That way, the next time you're booking a vacation, planning what to do during your trip is one less thing to worry about.