100 things we announced at I/O '18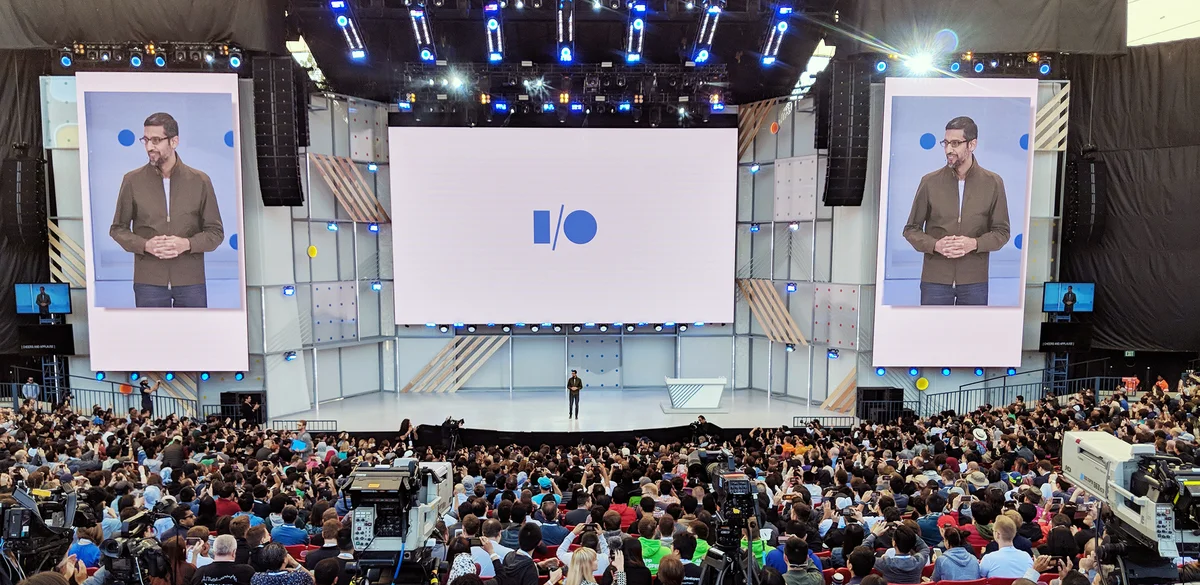 That's a wrap! After a bustling three days at Google I/O, we have a lot to look back on and a lot to look forward to, from helpful features made possible with AI to updates that help you develop a sense of digital wellbeing. Here are 100 of our Google I/O announcements, in no particular order—because we don't play favorites. 💯

1. Hey Google, you sound great today! You can now choose from six new voices for your Google Assistant. 
2. There will even be some familiar voices later this year, with John Legend lending his melodic tones to the Assistant. 
3. The Assistant is becoming more conversational. With AI and WaveNet technology, we can better mimic the subtleties of the human voice—the pitch, pace and, um, the pauses. 
4. Continued Conversation lets you have a natural back-and-forth conversation without repeating "Hey Google" for each follow-up request. And the Google Assistant will be able to understand when you're talking to it versus someone else, and respond accordingly. 
5. We're rolling out  Multiple Actions so the Google Assistant can understand more complex queries like: "What's the weather like in New York and in Austin?"
6. Custom Routines allow you to create your own Routine, and start it with a phrase that feels best for you. For example, you can create a Custom Routine for family dinner, and kick it off by saying "Hey Google, dinner's ready" and the Assistant can turn on your favorite music, turn off the TV, and broadcast "dinner time!" to everyone in the house. 
7. Soon you'll be able to schedule Routines for a specific day or time using the Assistant app or through the Google Clock app for Android.
8. Families have listened to over 130,000 hours of children's stories on the Assistant in the last two months alone. 
9. Later this year we'll introduce Pretty Please so the Assistant can understand and encourage polite conversation from your little ones.
10. Smart Display devices will be available this summer, bringing the simplicity of voice and the Google Assistant together with a rich visual experience. 
11. We redesigned the Assistant experience on the phone. The Assistant will give you a quick snapshot of your day, with suggestions based on the time of day, location and recent interactions with the Assistant. 
12. Bon appetit! A new food pick-up and delivery experience for the Google Assistant app will be available later this year. 
13. Keep your eyes on the road—the Assistant  is coming to navigation in Google Maps with a low visual profile. You can keep your hands on the wheel while sending text messages, playing music and more. 
14. Google Duplex is a new capability we will be testing this summer within the Google Assistant to you help you make reservations, schedule appointments, and get holiday hours from businesses. Just provide the date and time, and your Assistant will call the business to coordinate for you.
15. The Google Assistant will be available in 80 countries by the end of the year.
16. We're also bringing Google Home and Google Home Mini to seven more countries later this year: Spain, Mexico, Korea, the Netherlands, Denmark, Norway and Sweden.



17. Soon you'll see Smart Compose in Gmail, a new feature powered by AI, that helps you save you time by cutting back on repetitive writing, while reducing the chance of spelling and grammatical errors in your emails.
18. ML Kit brings the breadth of Google's machine learning technology to app developers, including on-device APIs for text recognition, face detection, image labeling and more. It's available in one mobile SDK, accessible through Firebase, and works on both Android and iOS.
19. Our third-generation TPUs (Tensor Processing Units) are liquid-cooled and much more powerful than the previous generation, allowing us to train and run models faster so more products can be enhanced with AI.
20. We published results in a Nature Research journal showing that our AI model can predict medical events, helping doctors spot problems before they happen.
21. AI is making it easier for Waymo's vehicles to drive in different environments, whether it's the snowy streets of Michigan, foggy hills of San Francisco or rainy roads of Kirkland. With these improvements, we're moving closer to our goal of bringing self-driving technology to everyone, everywhere.



22. We unveiled a beta version of Android P, focused on intelligence, simplicity and digital wellbeing. 
23. We partnered with DeepMind to build Adaptive Battery, which prioritizes battery power for the apps and services you use most.
24. Adaptive Brightness in Android P learns how you like to set the brightness based on your surroundings, and automatically updates it to conserve energy. 
25. App Actions help you get to your next task quickly by predicting what action you'll take next. So if you connect your headphones to your device, Android will suggest an action to resume your favorite Spotify playlist. 
26. Actions will also show up throughout your Android phone in places like the Launcher, Smart Text Selection, the Play Store, the Google Search app and the Assistant.
27. Slices makes your smartphone even smarter by showing parts of apps right when you need them most. Say for example you search for "Lyft" in Google Search on your phone—you can see an interactive Slice that gives you the price and time for a trip to work, and you can quickly order the ride. 
28. A new enterprise work profile visually separates your work apps. Tap on the work tab to see work apps all in one place, and turn them off with a simple toggle when you get off work. 
29. Less is more! Swipe up on the home button in Android P to see a newly designed Overview, with full-screen previews of recently used apps. Simply tap once to jump back into any app. 
30. If you're constantly switching between apps, we've got good news for you. Smart Text Selection (which recognizes the meaning of the text you're selecting and suggests relevant actions) now works in Overview, making it easier to perform the action you want.
31. Android P also brings a redesigned Quick Settings, a better way to take and edit screenshots (say goodbye to the vulcan grip that was required before), simplified volume controls, an easier way to manage notifications and more.
32. Technology should help you with your life, not distract you from it. Android P comes with digital wellbeing features built into the platform. 
33. Dashboard gives you a snapshot on how you're spending time on your phone. It includes information about how long you've spent in apps, how many times you unlocked your phone and how many notifications you've received.  
34. You can take more control over how you engage with your phone. App Timer lets  you set time limits on apps, and when you get close to your time limit Android will nudge you that it is time to do something else.  
35. Do Not Disturb (DND) mode has more oomph. Not only does it silence phone calls and texts, but it also hides visual disruptions like notifications that pop up on your display. 
36. We created a gesture to help you focus on being present: If you turn your phone over on the table, it automatically enters DND. 
37. With a new API, you can automatically set your status on messaging apps to "away" when DND is turned on. 
38. Fall asleep a little easier with Wind Down. Set a bedtime and your phone will automatically switch to Night Light mode and fade to grayscale to eliminate distractions. 
39. Android P is packed with security and privacy improvements updated security protocols, encrypted backups, protected confirmations and more.  
40. Thanks to work on Project Treble, an effort we introduced last year to make OS upgrades easier for partners, Android P Beta is available on partner devices including Sony Xperia XZ2, Xiaomi Mi Mix 2S, Nokia 7 Plus, Oppo R15 Pro, Vivo X21, OnePlus 6, and Essential PH‑1, in addition to Pixel and Pixel 2.



41. Say hello to the JBL LINK BAR. We worked with Harman to launch this hybrid device that delivers a full Google Assistant speaker and Android TV experience. 
42. We released a limited edition Android TV dongle device, the ADT-2, for developers to create more with Android TV. 
43. Android Auto is now working with more than 50 OEMs to support more than 400 cars and aftermarket stereos. 
44. Volvo's next-gen infotainment system powered by Android will integrate with Google apps, including Maps, Assistant and Play Store. 
45. Watch out! You can get more done from your watch with new features from the Google Assistant on Wear OS by Google. 
46. Smart suggestions from the Google Assistant on Wear OS by Google let you continue conversations directly from your watch. Choose from contextually relevant follow-up questions or responses. 
47. Now you can choose to hear answers from your watch speaker or Bluetooth headphones. Just ask Google Assistant on your watch "tell me about my day." 
48. Actions will be available on all Wear OS by Google watches, so you can use your voice to do tasks like preheat your LG oven while you're unloading your groceries or ask Bay Trains when the next train is leaving. And we're working with developers and partners to add more Actions and functionalities.



49. We've mapped more than 21 million miles across 220 countries, put hundreds of millions of businesses on the map, and provided access to more than 1 billion people around the world.
50. Google Maps is becoming more assistive and personal. A redesigned Explore tab features everything you need to know about dining, events and activity options in whatever area you're interested in.
51. Top lists give you information from local experts, Google's algorithms and trusted publishers so you can see everything that's new and interesting—like the most essential brunches or cheap eats nearby.
52. New features help you easily make plans as a group. You can create a shortlist of places within the app and share it with friends across any platform, so you can quickly vote and decide on a place to go.
53. Your "match" helps you see the world through your lens, suggesting how likely you are to enjoy a food or drink spot based on your preferences.
54. Updated walking directions help you get oriented on your walking journey more quickly and navigate the world on foot with more confidence. So when you emerge out of a subway or reach a crossing with more than four streets, you'll know which way to go.



55. Suggested actions, powered by machine learning, will start to show up on your photos right as you view them—giving you the option to brighten, share, rotate or archive a picture. Another action on the horizon is the ability to quickly export photos of documents into PDFs. 
56. New color pop creations leave the subject of your photo in color while setting the background to black and white. 
57. We're also working on the ability for you to change black-and-white photos into color in just a tap.  
58. We announced the Google Photos partner program, giving developers the tools to build smarter, faster and more helpful photo and video experiences in their products, so you can interact with your photos across more apps and devices.



59. The updated Google News uses a new set of AI techniques to find and organize quality reporting and diverse information from around the web, in real time, and organize it into storylines so you can make sense of what's happening from the world stage to your own backyard. 
60. The "For You" tab makes it easy to keep up to date on what you care about, starting with a "Daily Briefing" of five stories that Google has organized for you—a mix of the most important headlines, local news and the latest on your interests.  
61. With Full Coverage, you can deep dive on a story with one click. This section is not personalized—everyone will see the same content including related articles, timelines, opinion and analysis pieces, video, timeline and the ability to see what the impact or reaction has been in real time. 
62. The separate Headlines section, also unpersonalized, lets you stay fully informed across a broad spectrum of news, like world news, business, science, sports, entertainment and more. 
63. Subscribing to your favorite publishers right in the Google News app is super simple using Subscribe with Google—no forms, new passwords or credit cards—and you can access your subscriptions anywhere you're logged in across Google and the web.



64. Updates to Google Lens help you get answers to the world around you. With smart text, you can copy and paste text from the real world—like recipes or business cards—to your phone. 
65. With style match, if an outfit or a home decor item catches your eye, you can open Lens and not only get info on that specific item (like reviews), but also see similar items.
66. Lens now uses real-time identification so you'll be able to browse the world around you just by pointing your camera. It's able to give you information quickly and anchor it to the things you see.
67. Use Lens directly in the camera app on supported devices from the following OEMs: LGE, Motorola, Xiaomi, Sony Mobile, HMD/Nokia, Transsion, TCL, OnePlus, BQ, Asus—and of course the Google Pixel. 
68. Lens is coming to more languages, including French, Italian, German, Spanish and Portuguese. 
69. Tour Creator lets anyone with a story to tell, like teachers or students, easily make a VR tour using imagery from Google Street View or their own 360 photos.  
70. With Sceneform, Java developers can now build immersive, 3D apps without having to learn complicated APIs. They can use it to build AR apps from scratch as well as add AR features to existing ones. 
71. We've rolled out ARCore's Cloud Anchor API across Android and iOS to help developers build more collaborative and immersive augmented reality apps. Cloud Anchors makes it possible to create collaborative AR experiences, like redecorating your home, playing games and painting a community mural—all together with your friends.
72. ARCore now features Vertical Plane Detection which means you can place AR objects on more surfaces, like textured walls. Now you can do things like view artwork above your mantlepiece before buying it. 
73. Thanks to a capability called Augmented Images, you'll be able to bring images to life just by pointing your phone at them—this works on QR codes, AR markers and static image targets (like maps, products in a store, logos, photos or movie posters).



74. We launched updates to the YouTube mobile app that will help everyone develop their own sense of digital wellbeing. The Take a Break reminder lets you set a reminder to (you guessed it!) take a break while watching videos after a specified amount of time. 
75. You can schedule specific times each day to silence notification sounds and vibrations that are you sent to your phone from the YouTube app. 
76. You can also opt in to a scheduled notification digest that combines all of the daily push notifications from the YouTube app into a single, combined notification. 
77. Soon you'll have access to a time watched profile to give you a better understanding of the time you spend on YouTube.



78. Lookout, a new Android app, gives people who are blind or visually impaired auditory cues as they encounter objects, text and people around them.
79. We're introducing the ability to type in Morse code in Gboard beta for Android. We partnered with developer Tania Finlayson, an expert in Morse code assistive technology, to build this feature.



80. After launching in beta at Game Developers Conference, Google Play Instant is now open to all game developers. 
81. Updated Google Play Console features help you improve your app's performance and grow your business. These include improvements to the dashboard statistics, Android vitals, pre-launch report, acquisition report and subscriptions dashboard. 
82. Android Jetpack is a new set of components, tools and architectural guidance that makes it quicker and easier for developers to build great Android apps. 
83. Android KTX, launching as part of Android Jetpack, optimizes the Kotlin developer experience. 
84. Android App Bundle, a new format for publishing Android apps, helps developers deliver great experiences in smaller app sizes and optimize apps for the wide variety of Android devices and form factors available. 
85. The latest canary release of Android Studio 3.2 focuses on supporting the Android P Developer Preview, Android App Bundle and Android Jetpack, plus more features to help you develop fast and easily.  
86. We added Dynamic Delivery so your users download only the code and resources they need to run your app, reducing download times and saving space on their devices.  
87. With Android Things 1.0, developers can build and ship commercial IoT products using the Android Things platform.
88. The latest improvements to Performance Monitoring on Firebase help you easily monitor  app performance issues and identify the parts of your app that stutter or freeze. 
89. In the coming months, we're expanding Firebase Test Lab to include iOS to help get your app into a high-quality state—across both Android and iOS—before you even release it.
90. We shipped Flutter Beta 3, the latest version of our mobile app SDK for creating high-quality, native user experiences on iOS and Android.. 
91. We launched an early preview of the Android extension libraries (AndroidX) which represents a new era for the Support Library.
92. You can now run Linux apps on your Chromebooks (starting with a preview on the Google Pixelbook), so you can use your favorite tools and familiar commands with the speed, simplicity and security of Chrome OS. 
93. Material Theming, part of the latest update to Material Design, lets developers systematically express a unique style across their product more consistently, so they don't have to choose between building beautiful and building fast. We also redesigned Material.io. 
94. We introduced three Material tools to streamline workflow and address common pain points across design and development: Material Theme Editor, a control panel that lets you apply global style changes to components across your design; Gallery, a platform for sharing, reviewing and commenting on design iterations; and Material Icons in five different themes.
95. With open-source Material Components, you can customize key aspects of an app's design, including color, shape, and type themes.



96. We'll launch a beta that allows developers to display relevant content from their apps—such as a product catalog for a shopping app—within ads, giving users more helpful information before they download an app.
97. We started early testing to make Google Play Instant compatible with AdWords, so game developers can use Universal App campaigns to reach potential users and let them try out games directly from ads.
98. Developers using ads to grow their user bases will soon have a more complete picture with view through conversion (VTC) reporting, providing more insight into ad impressions and conversions. 
99. With rewarded reporting to AdMob, developers can understand and fine-tune the performance of their rewarded ads--ads that let users opt in to view ads in exchange for in-app incentives or digital goods, such as an extra life in a game or 15 minutes of ad-free music streaming. 
100. Developers who sell ad placements in their app can now more easily report data back to advertisers with the integration of IAB Tech Lab's Open Measurement SDK.