A more helpful Google for families this holiday season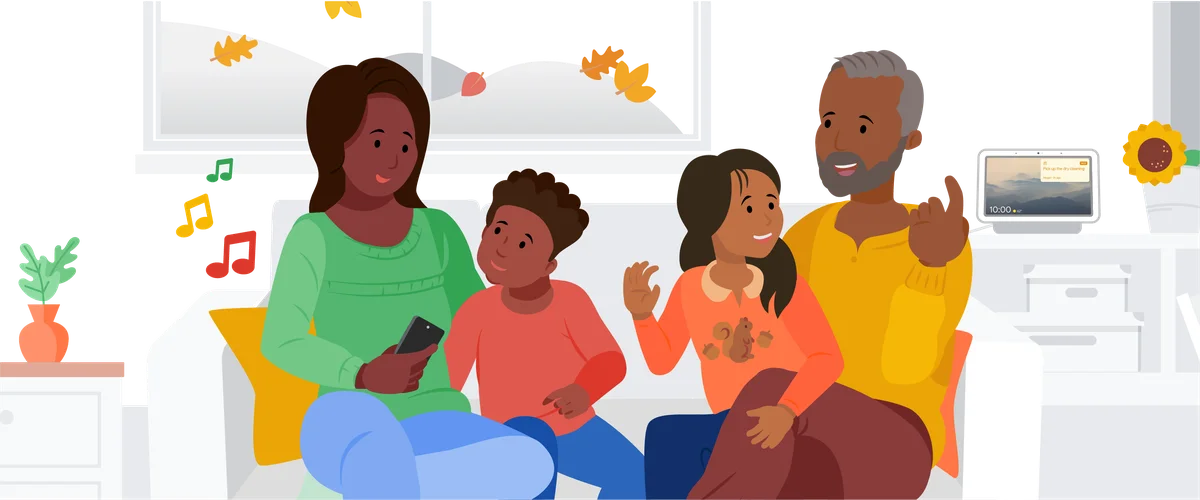 As the holidays approach and hopefully bring some much-deserved rest, I've been reflecting on the things we built this year to help families.
We launched teacher-approved apps on Google Play and Kids Space on tablets, both of which help parents and kids find quality content to help them learn, play and grow. We also launched family mode on Duo to keep kids entertained while on video calls with loved ones. And we introduced a host of smart home features for back-to-school season. But the year isn't quite over—Google Assistant and Google Fi are closing out 2020 with a few new tools for families. 

Say "Hey Google" for ways to keep your family organized at home 
Families turn to Google Assistant for help each day—particularly on Nest Hub Max and other Smart Displays. And just in time for the holidays, we're adding new features that make it easier to stay on track, entertained and connected with the people they love. With new Family Notes starting to roll out today, you can create digital sticky notes to centralize chores and to-dos so everyone stays on track. Just say, "Hey Google, leave a family note that says defrost the pie," or "Hey Google, leave a family note that says we're out of wrapping paper." 
Family Bell has become a popular way to keep organized throughout the day. And now we've added new sound effects and suggested bells on smart speakers and Smart Displays, so your family can get scheduled reminders to start chores, unleash your creativity with art or enjoy quality time together. Simply create a bell by tapping on Family Bell in your Assistant settings, or say, "Hey Google, create a Family Bell." In the coming weeks, we'll also add the ability to pause your bells for a single day—or while you're enjoying time off from work or school.
If you're looking for new activities to try together at home, try asking, "Hey Google, what can I learn with my family?" and choose from one of the learning activities shown on your Smart Display. With content from providers like ABCmouse, you're sure to find something to enjoy. And be sure to ask, "Hey Google, tell me about the animal of the day" to hear fun facts about a new animal every day, listen to the sound each animal makes and try out the daily creative challenge, like drawing the animal in its natural habitat.
For families with kids under 13, parents should watch YouTube content together with their kids.

Plus, we've added a new "interactive" story category on Smart Displays and phones, so your favorite stories come to life when you say, "Hey Google, tell me a story." With new interactive stories from Noggin, Capstone and more, you can now flip through pages, decide how the story unfolds, follow along word-by-word and enjoy animations.
To help families stay connected this holiday season, Assistant users aged 13 and above can now get an easy update on their family's whereabouts with help from Life360 and Google Maps. Just ask, "Hey Google, where's my family?" or ask for someone by name by saying,  "Hey Google, where's Mark?" This feature is now available on Google Assistant-enabled devices including smart speakers (like the new Nest Audio), Smart Displays and Android and iOS phones.
With their parent's permission, children under 13 (or the applicable age in their country) can have a personalized Google Assistant experience when they log in with their own account, powered by Family Link. And finally, to make it easier to find all of these new features, families will soon be able to quickly access these different tools in one central place within the new "Family" tab on Smart Displays. Keep an eye out as this starts to roll out later this year.
Manage phone habits and stay safer with Fi
It's important to be able to manage your household's tech use, no matter the time of year. During the holidays, your family might be on their phones playing and staying connected with loved ones more than usual. To help everyone stay safer on their phones and build healthy digital habits, Google Fi is rolling out new family features over the next week. These features come included with all Fi plans at no extra cost. 
On Fi, you can block strangers from calling and texting your child on their Android phone by only allowing saved and recent contacts to reach them.
You can also set a data budget to decide how much data your child can use before it slows down. This not only helps your family practice healthy tech use, but also makes it easier to manage how much you spend on data each month if you're on the Fi Flexible plan and only pay for the data you use. Being on the Flexible plan can help you reduce your monthly expenses even more if your family spends a lot of time on home Wi-Fi. 
We've also made it easier to set up Family Link from the Fi app on your child's Android phone. With Family Link, you can establish digital ground rules like set content filters, limit screen time and manage app downloads. 
You can learn more about Google Fi family features on the Fi website. If you're getting started, you can bring a phone you already own or get a new phone on Fi that fits your budget. Currently, Fi is offering a free Moto G phone after $100 off and up to $199 in Fi credit when you join or add a member to your group plan.
We hope you'll find these tools useful as the year winds down. Staying connected and creating healthy tech habits are both important, and we're happy to be a part of helping your family do both over the holidays.