A 'ferry' special Street View collect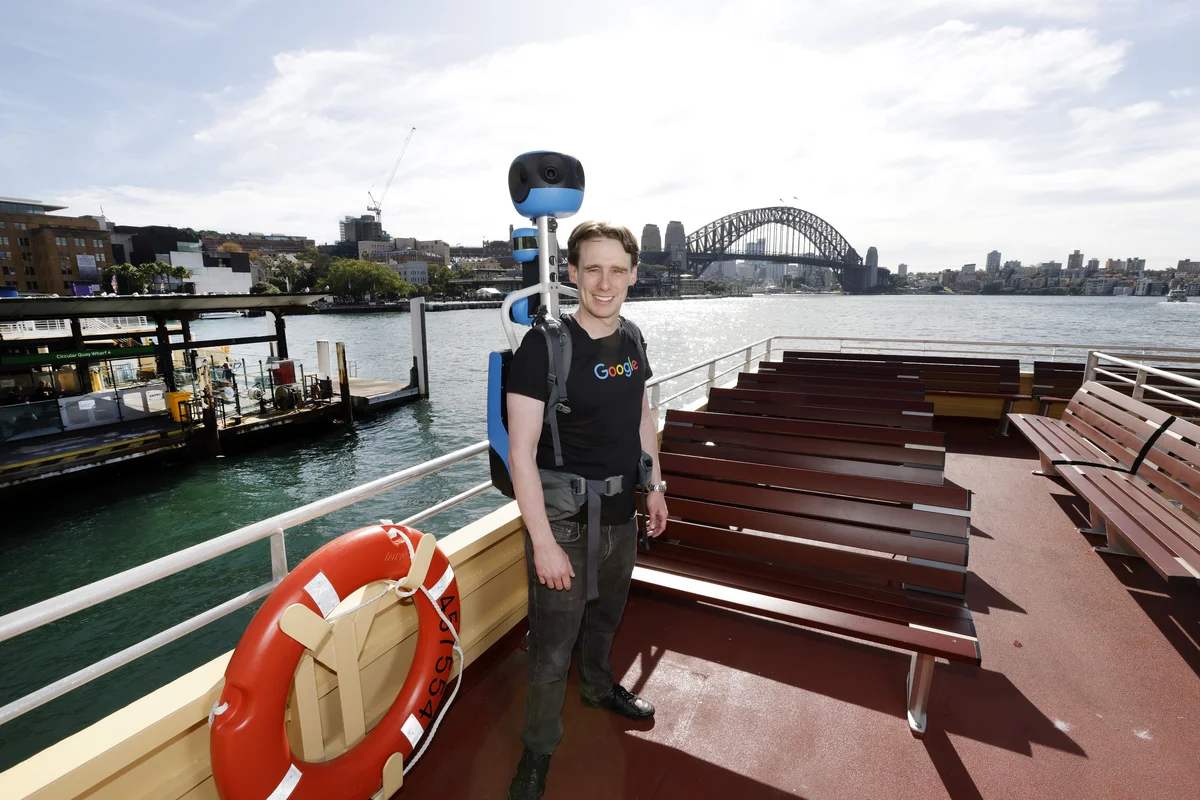 Fifteen years ago, Street View began as a far-fetched idea from Google co-founder Larry Page to build a 360-degree map of the entire world. Fast forward to today, that vision has come to life.
Since 2007, we've gone far beyond capturing streets – expanding to cover cultural landmarks, national parks, beaches, transit stations, airports and more. Street View is now in more than 100 countries and territories allowing people to fully experience what it's like to be in these places, right from their computer or mobile device.
In Australia, we've taken the Street View Trekker – our camera system fitted to a wearable backpack – to capture treasures like the Sydney Opera House, high up to the Blue Mountains, deep underwater in the Great Barrier Reef, across the desert in Uluru-Kata Tjuta National Park – and joined a migration of crabs on Christmas Island crab migration.
This week, we're celebrating Street View's 15th birthday globally. And to mark the occasion downunder, we're announcing a boatiful new Aussie collect.
In partnership with Transport for New South Wales and Transdev we're taking the Street View Trekker for a harbour adventure on Sydney's iconic ferries. When launched later this year, this collection will allow people in Australia and around the world to take a virtual tour of ferries – on the outside deck and inside the cabins – and marvel at the sparkling harbour views. Our shared goal is to help people plan their commutes, so they can travel smoothly and make the most of their journey – and to inspire virtual travelers around the world to learn and appreciate the Sydney ferry experience from afar.
Daniel Nadasi wearing the trekker backpack on the top deck of the ferry
This project builds on our decade long partnership with Transport for NSW across a range of initiatives. Since 2011, we've teamed up to provide ferry timetable information on Google Maps so Sydneysiders and visitors can access up-to-date information, at a glance. In 2018, we supported contactless Opal payments with Google Wallet and Fitbit Pay, to make payments for transport more convenient and seamless via smartphones. And more recently, we collaborated to launch Street View imagery of 130 complex Sydney train stations – and bring more detailed, accessible navigation instructions to Maps.
As we celebrate this 15 year milestone, we are proud to see the evolution of Maps in Australia and around the world. After all, it was an Aussie mapping start-up, Where 2 Technologies, which originally led to the development of Google Maps.
Whether you're looking for the latest ferry information, to get your bearings for your next journey, or just want to get immersed in a stunning virtual world – we look forward to welcoming you all aboard Sydney Ferries on Street View soon!