5 products and features that make the digital world more accessible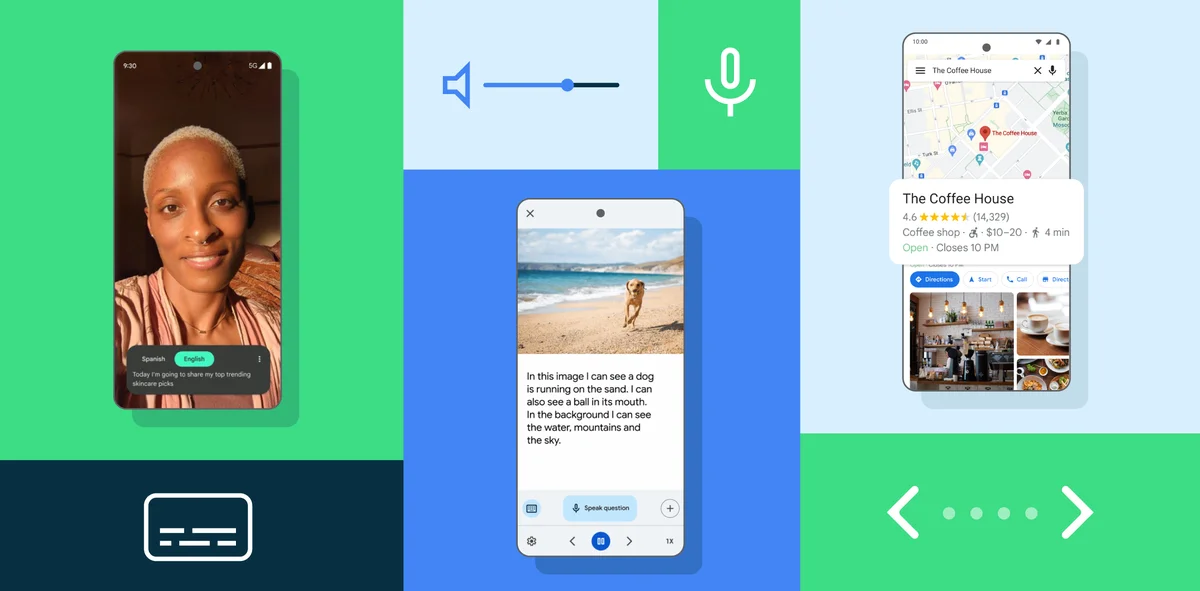 Listen: 5 products and features that make the digital world more accessible
May 18 is Global Accessibility Awareness Day (GAAD), which is a moment for everyone to talk, think, and learn about digital access and inclusion. With over one billion people with disabilities in the world, this work extends beyond a single day — especially for teams at Google that work to make the world a more accessible place. Here's a look at new and recently launched features that are made with and for people with disabilities.
AI is making the visual world more accessible
Lookout's new Image Q&A mode is now in closed beta.
Alt text is a description that content creators can add to visuals, so that people who are blind or low-vision can get a description of what is in the digital image — whether it's a photo on a website or a social media image shared with friends. The problem is a lot of images have low-quality captions and alt text — or often none at all — making visual information inaccessible to a lot of people. In fact, a Carnegie Mellon study in 2019 found that of 1.09 million tweets, only .01% contained alt text added by content creators, which meant that over 99% of those images were not easily accessible to people who have blindness. Now, AI is helping make images more accessible.
Lookout, which was launched in 2019 and designed with the blind and low-vision community, uses AI to help people accomplish everyday tasks, like sorting mail and putting away groceries. Today, a new feature within Lookout called "image question and answer" is launching for a select group of people from the blind and low vision communities. Now, whether or not images have no captions or alt text, Lookout can process the image and provide a description of it — then people can use their voice or type to ask questions and have a more detailed understanding of what's in an image. This feature is powered by an advanced visual language model developed by Google DeepMind.
"This collaboration shows how our multimodal model can directly benefit people's lives," says Colin Murdoch, Google DeepMind chief business officer. "It opens up new avenues for many more applications, especially when it comes to using AI to make the world around us more accessible."
Following months of internal testing with people with blindness and low-vision, we're working with the Royal National Institute of Blind People (RNIB) to invite a limited number of people to test out this feature with plans to make it available to even more people soon.
Wheelchair-accessible places for everyone on Google Maps
Since 2020, people have been able to opt-in to the Accessible Places feature in Maps to more easily identify when a place has a wheelchair-accessible entrance, indicated by the wheelchair icon. Now, we're making the icon visible for everyone on Maps so you can "know before you go" if there's a step-free entrance, which is helpful whether you're using a wheelchair, pushing a stroller, or lugging a suitcase. You can find more information — like wheelchair-accessible seating, parking or restrooms — in the "About" tab so you can plan visits with confidence.
Thanks to contributions from business owners, Local Guides and the Maps community, we're able to provide wheelchair accessibility information for more than 40 million businesses around the world. If you notice a place you've visited is missing accessibility information, you can easily contribute it by scrolling to the "About" tab and selecting "Edit features" on Android or "Update this place" on iOS.
Maps will now show Accessible Places in Maps without needing to opt in.
Live Caption for even more people
Live Caption uses AI to provide real-time captions for anything with sound on your Android device and across your phone and desktop using Chrome and Google Meet. This summer, we're rolling out updates to expand the availability of Live Caption to more Android devices and people. This includes:
A new captions box that optimizes the Live Caption experience on Android tablets
New availability for a Live Caption for calls feature, allowing you to type back responses during calls and have the response read aloud to the other caller. Now available on the latest Pixel devices and expanding to Pixel 4 and 5, as well as additional Android devices, like select Samsung Galaxy phones, and others
Support for French, Italian, and German on Pixel 4 and 5 and additional Android devices, like select Samsung Galaxy phones, and others.
New accessibility updates coming to Wear OS 4
Last week at I/O, we highlighted that big updates are coming to the Wear OS platform. We recently rolled out two new sound and display modes to improve watch customization. Later this year, we'll introduce Wear OS 4, which includes a new text-to-speech experience that is faster and more reliable.
Improving accessibility on Chrome browser
When you type a website into the Chrome address bar, it will now detect URL typos and suggest websites based on the corrections. This increases accessibility for people with dyslexia, language learners, and anyone who makes typos by making it easier to get to previously visited websites despite spelling errors. This feature is now available on Chrome desktop and will roll out to mobile in the coming months.
Chrome on Android recently added new functionality for TalkBack users, making it easier to manage and organize tabs. Previously, when TalkBack users navigated to the tab switcher they had the old tab list view, with limited functionality. Now, they'll have access to a tab grid with additional features like tab groups, bulk tab actions and reordering.
Whether it's Global Accessibility Awareness Day or not, we're committed to creating a world that's accessible for everyone. That's why we're building helpful products and features with and for people with disabilities — all one billion of us.