8 ways we're making daily tasks more accessible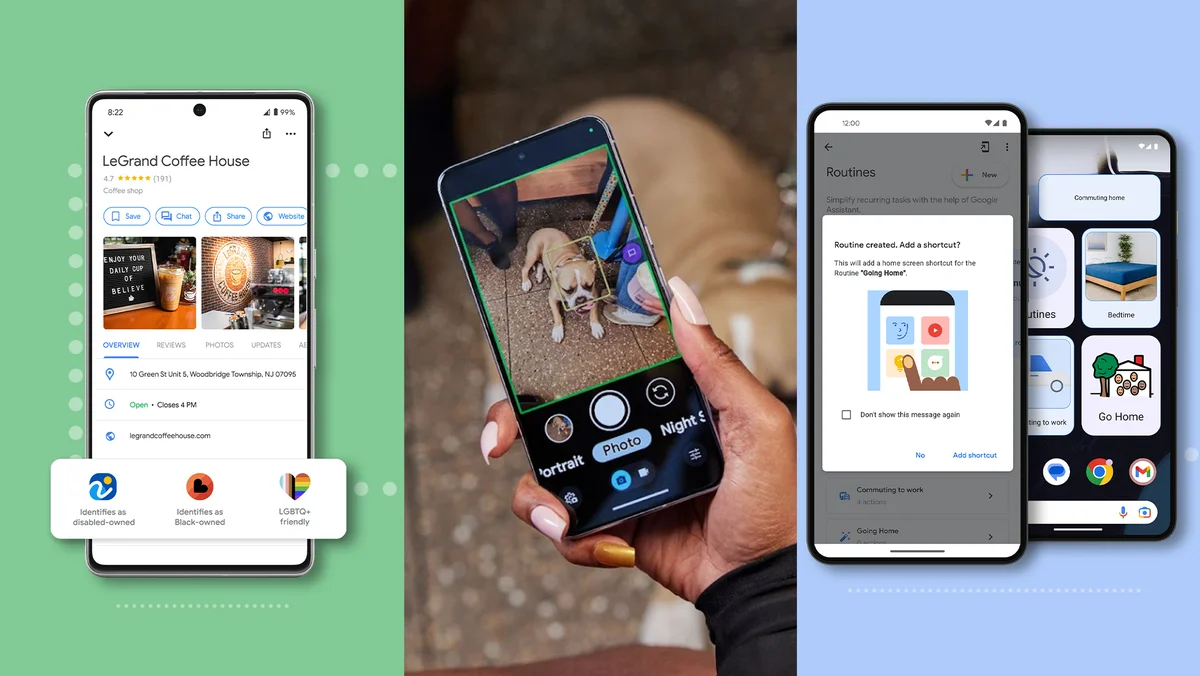 Today we're rolling out new accessibility features and updates that make accomplishing daily tasks faster and easier — like taking selfies, getting walking directions or searching the web. We recently launched Lookout image Q&A mode and accessibility updates on Android 14 and Wear OS 4. Now we have even more accessible features across our products that are built with and for people with disabilities.
Easily find and support disabled-own businesses in Maps and Search
LeGrand Coffee House displays the disabled-owned attribute
A new identity attribute for the disability community is now available on Google Maps and Search in the U.S., giving customers more details about a business and providing merchants an option to self-identify as a member of the community. We worked with members of the disability community, such as Lavant Consulting and our internal Disability Alliance Employee Resource Group throughout this launch, including around naming and icon design. When businesses choose to identify as disabled-owned in their Business Profile, the attribute will appear on their listings in Maps and Search. This update builds on our existing business attributes, including Asian-owned, Black-owned, Latino-owned, LGBTQ+ owned, veteran-owned, and women-owned.
Use screen reader capabilities with Lens in Maps
Lens in Maps (formerly known as Search with Live View) uses AI and augmented reality to help people use their phone's camera to orient themselves in an unfamiliar neighborhood and discover new places around them like ATMs, restaurants or transit stations. To make this more accessible and useful for people who are blind or low-vision, screen reader capabilities in Lens in Maps will be coming to iOS starting today, and to Android later this year. Just tap the camera icon in the search bar and lift your phone. If your screen reader is enabled, you'll receive auditory feedback of the places around you with helpful information like the name and category of a place and how far away it is.
Get around more easily with accessible walking routes in Google Maps
With the option to request wheelchair-accessible walking routes rolling out globally on iOS and Android wherever we have data available, you can get stair-free routes when you request walking directions in Maps. Not only is this helpful for people who use wheelchairs, but it's also useful for people traveling with things like luggage or strollers.
This feature builds on the wheelchair-accessible transit navigation option in Maps that shows you step-free transit routes. If you've already selected the wheelchair-accessible option in your transit preferences, we'll automatically apply this to walking routes as well. If you haven't, just tap the three dots at the top of the screen when you request walking directions, and toggle "wheelchair-accessible" on under route options to receive stair-free directions.
See wheelchair-accessible information in more places
Earlier this year, we made it easy for everyone to find wheelchair-accessible places on Google Maps for Android and iOS. Now we're starting to bring that information to business and place pages on Maps for Android Auto and cars with Google built in, helping you travel with more confidence. When you search for a place in Google Maps and click on it, a wheelchair icon will appear if the destination has a step-free entrance, accessible restrooms, parking or seating.
Customize your Assistant Routines with more options
Every day, people use Assistant Routines to get useful information or to automate daily tasks. Now, you'll be able to customize those routines even more with additional functionality inspired by Action Blocks. You can now select your Routines shortcut style, customize it with your own images and adjust the size of the shortcut on your homescreen. Research has shown that this personalization can be particularly helpful for people with cognitive differences and disabilities and we hope it will bring the helpfulness of Assistant Routines to even more people.
Screenshots showing a home screen configured with custom shortcuts and the different configuration options available.
Search faster in the Chrome address bar
Earlier this year, we introduced a new feature in the Chrome address bar that detects typos and displays suggested websites based on what Chrome thinks you meant. This will help people with dyslexia, language learners or anyone who makes typos get to the content they're looking for faster. Today, this feature is expanding to Chrome on Android and iOS, so you have the same experience across all your devices.
A more accessible camera for your Pixel
We heard from the low-vision community that people love using their cameras to better see the world around them. With Magnifier, you can use your camera to zoom in on something — as you would using a physical magnifying glass. This camera-based app, which was designed in collaboration with trusted partners at the Royal National Institute of Blind People and National Federation of the Blind, is helpful for seeing things with detail up close — whether reading small text or sewing, viewing street signs at a distance, or even zooming in on a concert mainstage from afar. The app can also improve the legibility of text whether you're reading a menu or a document with the ability to adjust controls, including color filters, brightness and contrast. Magnifier is available on Google Play for Pixel 5 and up, excluding the Pixel Fold.
Earlier this month, we also rolled out the newest version of Guided Frame, which uses a combination of audio cues, high-contrast animations and haptic (tactile) feedback to make it easier for people who are blind or low-vision to take beautiful selfies. With this update, Guided Frame now recognizes more than just faces, so you can use your front and rear-facing camera to take photos of your pets, dinner or even documents. This update is already available on Pixel 8 and 8 Pro and rolling out to Pixel 6+ later this year.
We remain committed to building products with and for people with disabilities and hope these new features are helpful for the community. To stay up to date on new accessibility products, please check out our What's New in Google Accessibility series, and for any help with our products visit our Disability Support team.