Get playful with art in four new cultural experiments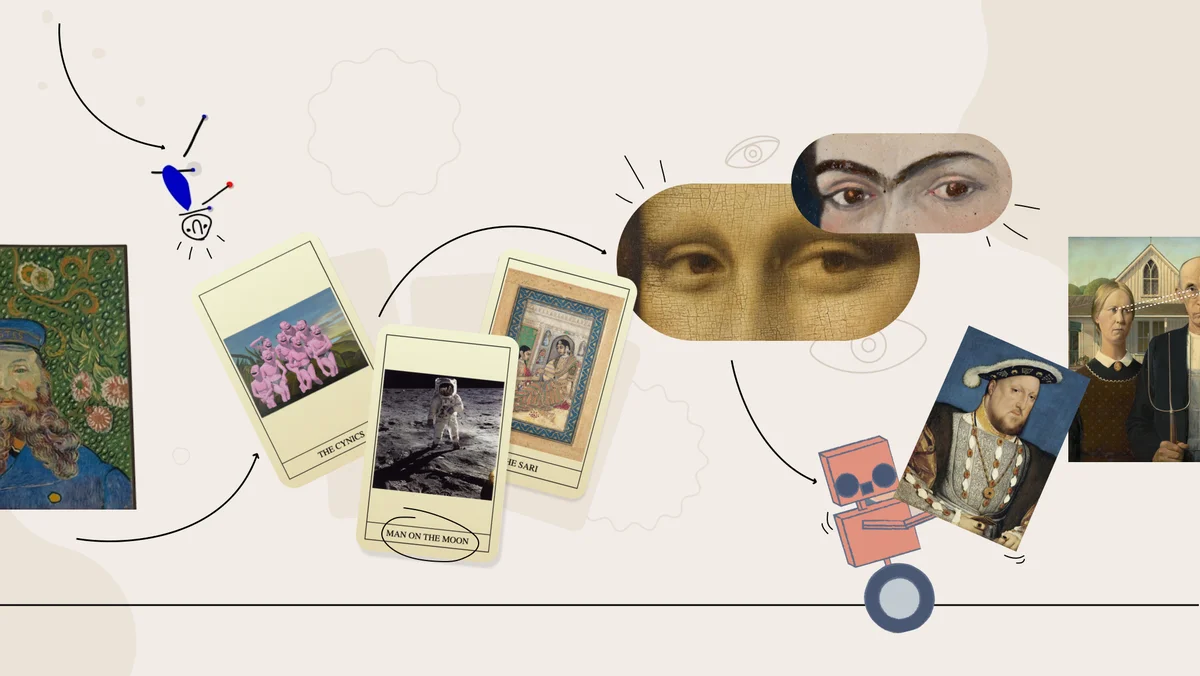 Pippin Barr is an Associate Professor at Concordia University with a PhD in Computer Science. He's also a published author and experimental game designer. His research focuses on the stuff games are made of: what makes them tick and which thought processes lead to their making. He adapted Marina Abrmović's iconic performance work The Artist Is Present into a video game and collaborated with Abramović on a series of experimental games.
Jack Wild is a creative technologist, currently an Artist in Residence with Google Arts & Culture Lab exploring applications of AI and machine learning in a cultural context. His work has a focus on functional design with plenty of personality and playful interaction.
Carol Mertz is an award-winning interactive designer, developer, public speaker and artist with a MFA in Game Design from the NYU Game Center. Her work spans across physical and digital realms, from interactive installations to board games to video games for experimental and mainstream systems.
Discover what they created:
Artot by Pippin Barr
"I made Artot as a way to explore the idea of "interpretation" when looking at works of art. Whether we go to a museum or look at an image on a website, when we look at an artwork we're inevitably thinking about what it might mean. Artot is a joking-not-joking approach to art interpretation that links artworks with the weird and wonderful world of fortune telling: one way to think about an artwork is that it's telling you the future. The idea here is that if you take away the need to think about artworks in terms of the fancier words like "aesthetics" or "chiaroscuro" you can have a lot of fun thinking about them in new ways. It's an invitation to look at artworks with new eyes and a fresh mind. And it might even be the way you learn about that handsome stranger you're going to meet in a month or two!"
Have your fortune read with an Art themed Tarot Deck.
Staring Contest by Pippin Barr
"Staring Contest is a game with a very pure intention: what if we just looked at art? In many settings with artworks it's very easy to let your gaze brush past a wall or an entire gallery of works simply because the sheer quantity is overwhelming. Unless you're a highly trained art-looker, it can be tough to really settle down and just look. In thinking about settings where we do just look at something for an extended time, I thought of the idea of a staring contest and hey presto this game was born. One of the surprises in making it is that in selecting works that include faces (or at least eyes) and in zooming in on those faces during the contest, the game actually encourages reflection on the many different techniques, ideas and approaches artists use when representing faces."
Get up close and personal with famous artworks.
Don't Touch the Art by Jack Wild
"The starting point was to explore new ways to interact with the artworks in the collection — and I ended up cheekily turning this on its head, to make 'not interacting with the artworks' the aim of the game. I'd been inspired by those 'Window Walker' kid's toys and wanted to create a digital version. Your aim is to fall through the gallery without touching the artworks. If at first you don't succeed, keep on trying! — but be warned, the longer you hang on, the less sticky you become, and the quicker you'll tumble!"
How long can you last without touching the art?
Art Handlers by Carol Mertz with Rob Santos
"The idea behind Art Handlers is to put the artwork front-and-center without an expectation of "learning" anything about it. That is to say, the core idea is to focus on growing a feeling of familiarity with the artworks through close-looking, rather than trivia. The "curatorial process" by which players eventually decorate the gallery is haphazard and ultimately dictated by failure, forcing players to confront the feeling of inevitably mishandling the artworks. This process also challenges players to balance their own skill with their desire to see more robust gallery walls.You control a little one-wheeled robot tasked with delivering artworks as far as possible into an infinitely-long gallery. Your past deliveries appear on the walls as you progress, showing an ever-expanding gallery and your ever-improving skill. We teamed up with game developer Rob Santos to bring this project to life. This is a fun arcade-style physics game that gives you exposure to unique pieces of art every day."
How far can you take the artwork into your gallery?
Ready to play? All of these experiments and many more can be found in the 'Play' Tab on the Google Arts & Culture website and on our newly redesigned app which is available now on Android and iOS. Check back daily as new artworks and challenges are revealed.