Google Arts & Culture turns 10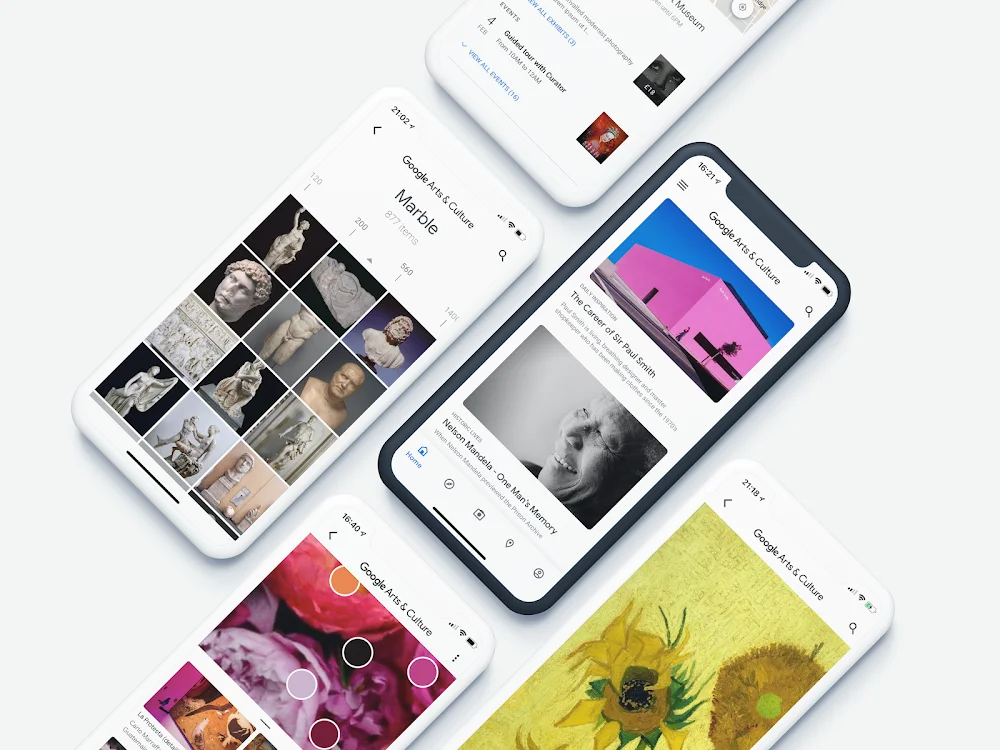 Time flies when working on something you are passionate about. On this day 10 years ago, our team was beginning a 20 percent project and taking the first step toward making more art and culture more accessible. Together, with 17 cultural institutions from 11 countries, we took a leap into the unknown without quite knowing where this journey would lead us. 
Today, millions of people from across the world have come to Google Arts & Culture to learn more about our shared history as humanity. They explore the thousands of exhibitions and stories that bring millions of artifacts — from a 230,000 year-old figurine to a modern day particle collider — to life. Families, teachers, art professionals and the culturally curious use augmented reality to bring artworks to their homes, embark on a virtual school trip through the US National Parks, AI-translate ancient Hieroglyphics or simply enjoy a digital puzzle.

To this day, over 2,000 museums, archives, world heritage sites and local communities have come together on Google Arts & Culture to share, curate and contextualize their treasures in a way that was unimaginable 10 years ago. Back then, the thought of uploading an image to the web — let alone an ultra high resolution digitization — seemed outlandish. But with the partnership and shared passion of culture enthusiasts around the globe, today Google Arts & Culture features an expertly curated reservoir of culture that also shows the paradigm shift in how people can access culture online. 
Everything can be seen through a cultural lens

What struck us most in the past years was how our partners — both independently and in collaboration across borders — showed us how everything can be seen through a cultural lens. Yes, there is the
Mona Lisa
, but there is also
Nigerian pepper soup
,
Australian sporting culture
,
Indonesian batik
or
graffiti in the streets of Brazil
and beyond. This expanded our sense of culture and enriched our understanding of humankind. The same is true for themes that make us think, and offer perspectives that help us to understand our past, and shape our presence and future: you'll find
roads to equality
,
pathways to freedom
or routes through
endangered heritage sites
all seen through the eyes of local communities. Never could I have imagined how much more there is to be discovered about pioneering female palaeontologist 
Mary Anning
, the life of manga artist
Tezuka Osamu
or even
miniature paintings
from my own home country. The breadth of stories, knowledge and treasures in our world  is truly without borders.
A closer look at the many faces of Frida Kahlo through her life, art and legacy.

See the beautiful, the dangerous, the endangered and a jurassic giant brought back to life. Up close.

Go on a journey into the past with ancient art and digital technology

Discover Japan's unique dishes, its foodie culture, its diverse landscape of ingredients and the makers behind it all.

Explore the romantic castles and gardens of France's Loire Valley.

Step on stage with the world's most amazing performers and immerse yourself in 360º shows.

In Kenya heroes are fighters of their communities' land, freedom and spiritual well-being.
The challenge is what brings us together
While our partners broadened what kind of cultural stories they share with the world, they also pushed and inspired us to develop technologies and new formats to bring these stories to life and rouse people's interest. For our part, we work with our partners to develop engaging tools and visually stunning experiences to transform the way people can interact with culture. For example our Art Camera and the launch of a dedicated Arts & Culture app — filled with camera-based features such as the viral Art Selfie, or augmented reality features such as Pocket Gallery or Art Filters — created new ways of engaging with art for our partners and visitors alike. While the first allowed ultra high resolution digitizations, that invite you to zoom in to brush-stroke level of paintings such as Van Gogh's "The Starry Night", the other created a place full of engaging and contemporary features that draw you in. 
Equally important was the foundation of the Google Arts & Culture Lab in Paris — a place where artists come together with creative technologists from Google to experiment at the intersection of art and technology. I recommend everyone to roam NASA's Visual Universe, create a Poem Portrait with Es Devlin, or try the pleasantly distracting "Blob Opera" by David Li. 
Over the past decade, our mission of making world culture more accessible to everyone through technology has evolved, and yet it remains true to its goal because of our partners' outstanding curatorial knowledge and the artifacts they share.
The Art Camera is a robotic camera, custom-built to create gigapixel images faster and more easily.

Art Transfer lets you transform your photos with inspiration from renowned artists.

The Google Arts & Culture Lab is the place where creative coders from Google and artists come together to create new experiments at the intersection of art and technology.

Cardboard: A Virtual Reality headset developed in the Google Arts & Culture Lab.

Where in the world is your art doppelgänger?

With Pocket Gallery you can wander gallery rooms and see some of the world's best art all from inside your own home.

Behind the scenes: The Google Arts & Culture team working with partners at the intersection of art and technology.

It is all about the people behind the scenes 
To our partners, a massive "dhanyavaad" (which means thank you in Hindi). And by partners we mean everyone: the curator spending time to create a stunning online exhibition, the art handlers who help digitize thousands of spaces and archives, the preservation expert sharing fragile treasures, the directors who believe in participating in an online platform and everyone behind the scenes. A heartfelt thank you goes out to every single person who made these 10 years possible.
Culture never stops
Looking back on the past 10 years, there were many surprises, turning points and shared experiences. But it is perhaps the pandemic, and the past year in which we all truly came to understand the strength, impact and story of perseverance that truly lies in the cultural sector. Institutions that had to close their doors to the public found innovative ways to fulfill their missions. We are humbled by their tenacity, and remain committed to supporting them with all the ways technology can help in the months and years ahead.  
The world is hungry for culture and we will continue to find new and unusual ways for everyone to interact, access and learn with culture — and hopefully be inspired to visit the "real thing" when it's safe to do so.