It takes a village: growing together this Black History Month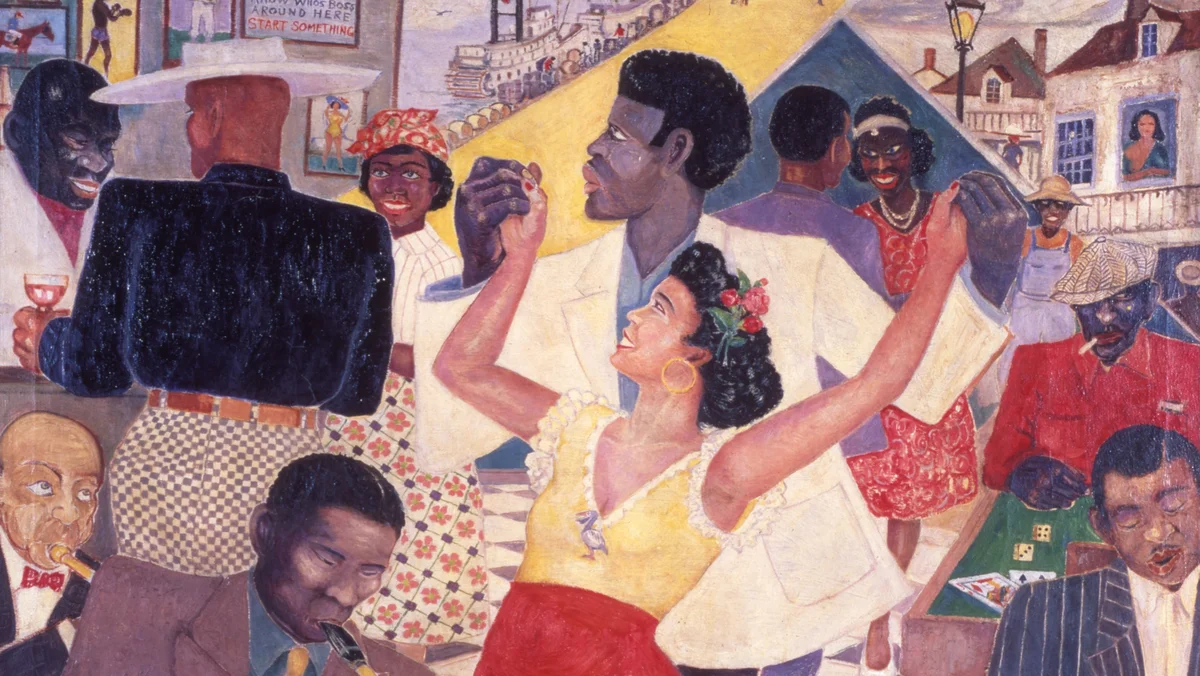 Beale Street Blues, 1943, Palmer Hayden from the collection of the Museum of African American Art.
Over my last few years at Google, I've had the opportunity to work on diversity, equity and inclusion. I've focused on developing programs and events that help Googlers find a sense of belonging and confidently grow as professionals. Doing this work, I get to see firsthand how inclusion can make a difference in people's day to day experiences. For me, it is especially important for our community to come together and celebrate during moments like Black History Month.
It's always difficult when a moment of celebration intersects with tragic events that cause so much pain. The killing of Tyre Nichols is yet another reminder of the work still remaining to achieve racial equity and justice. Times like these bring into sharp focus how important it is to continue to come together and celebrate as a community.
Which is why I'm grateful to the teams across Google who focus every day on ensuring all our products and technology reflect — and celebrate — the diversity of our users and respect people's identities. Product inclusion is just one aspect of Google's ongoing commitment to racial equity and meaningful change.
Below are a few ways we're bringing the Black experience to the forefront of our products and services, and providing support to Black businesses and communities this Black History Month.
Showcasing Black creators
Last year we worked with three nonprofit organizations, Aperture, For Freedoms and FREE THE WORK, to launch the Image Equity Fellowship — a fellowship for 20 artists to receive unrestricted funding, mentoring support and regular workshops to advance their careers. The works of art developed in this fellowship will focus on uplifting stories from communities of color and will be on display in New York City in the spring.
Google Play will also be promoting original artwork created by Roche Cruchon on its homepage and throughout the month will be spotlighting apps, game and book collections created by Black authors and creators. On Chrome browser, you'll be able to change your background to a custom theme commissioned by Black artists. The themes drew inspiration from the #drawingwhileblack hashtag, organized by featured artist Abelle Hayford, and focuses on advancing the call for justice.
Telepathy, by Sabrena Khadija.
If you have Google TV, you'll find a variety of movies and shows celebrating "Black Brilliance" throughout the month, from the arrival of "Black Panther: Wakanda Forever" on February 1, to the new six-part docuseries "The 1619 Project," to a curated content collection of shows and movies commemorating the 50th anniversary of hip-hop. And if you're feeling nostalgic, check out the Brown Sugar app, newly launched on Google TV, featuring the largest collection of classic Black cinema.
Later this month, keep an eye on the Google homepage for our Black History Month-themed Doodle.
Partnering with Black businesses and tech innovators
On February 23, Grow with Google and the U.S. Black Chambers Inc. will host its third National Black-Owned Business Summit, with workshops focused on how to communicate the value of your business and sell products online. Digital Coaches will also host short live training sessions on the program's Instagram and in-person workshops across the United States. To find upcoming workshops hosted by your local Digital Coach, visit the program page.
We'll also continue to support Black and Latino students and entrepreneurs this year. Later this month, we'll share updates to our Google for Startups Black and Latino Founders funds, including a new application and awarding process for recipients. In addition, Google is giving a $300,000 grant to Last Mile Education Fund to close the graduation gap for underrepresented students — including men of color — pursuing computing degrees.

Tech Equity Collective (TEC), an initiative started by Google, accelerates Black innovation and representation in tech by bringing together community and industry partners to create programs and experiences that lead to tangible progress for Black tech innovators. During the month of February, TEC will distribute $1 million from the Tech Equity Collective Impact Fund as a commitment to support organizations that are unlocking opportunities for aspiring Black tech professionals. You can stay connected through the TEC website for announcements and updates.
The Black Googler Network's theme for Black History Month this year is "It Takes a Village." And it certainly does — from people at Google like our Product Inclusion team, to Black creators and entrepreneurs. Join us in community to honor Black history, creativity, legacy and innovation — during Black History Month and beyond.