How Googlers are building for everyone, with everyone
Over the past few weeks, I've been recharged by conversations with people from all walks of life: students participating in National Historically Black Colleges and Universities (HBCU) Week; policymakers at the Congressional Black Caucus Foundation and Congressional Hispanic Caucus Institute's events; and community leaders and Googlers from around the world. There's a shared sense of excitement, and urgency, about the future we're helping to build. And after years of virtual gatherings, many in-person events have had the invigorating feel of family reunions.
A symposium with Black executives and the annual Hispanic Heritage Awards in September were energizing, too. At the award ceremony honoring the leadership and accomplishments of the Latino community, we announced a foundational donation from Google.org to the Smithsonian National Museum of the American Latino, which will center Latino stories as part of the American narrative.
As a result of our ongoing equity efforts, we were recently recognized at the Business Travel Awards in Europe for our Accessibility Travel Desk. Through this program, business travel agents offer specialized pre-trip and on-trip planning services to Googlers with disabilities so they have what they need on the road. For our U.S. employees, we also recently introduced Health+ Communities, which aims to provide personalized care focused on addressing the particular needs of groups historically underserved in medical care, such as the LGBTQ+ community.
There is always more to do to build toward sustainable equity. Here, four Googlers talk about other work in progress.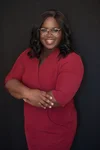 Dr. Frances Armas-Edwards (she/her), Talent Progression Designer
What are you working on?
My focus is on improving the onboarding experience for Black Googlers.
What excites you most about it?
I believe what we do within Google can help make racial equity possible around the world. We designed The Collective, our onboarding experience for Black Nooglers (what we call new Googlers), knowing that beginnings are hard. Whether it's the first day of school or the first month on the job, supportive experiences early on can make a big difference in whether people stay and flourish.
With more than 75% of eligible Googlers opting in to The Collective from all over the world, we were able to launch across eight countries — the U.S., Australia, Brazil, Canada, Ireland, Singapore, South Africa and the U.K. After all the planning we put into curating meaningful programming and manager-specific content, it was so gratifying to see graduates complete the inaugural year. Participants shared how The Collective gave them deeper personal connections and helped them feel restored and affirmed. 93% of them reported that it was worth their time.
In related news:
We've recently refreshed some of our learning and development courses so they're more culturally relevant for Googlers in Asia, Europe, the Middle East and Africa.
Catalyzing change for startups

Jewel Burks Solomon, (she/her), Head of Google for Startups, U.S.
What are you working on?
I'm helping to level the playing field for underrepresented startup founders and their communities.
What excites you most about it?
When I co-founded my own startup in 2013, I became fascinated by the complexity of founders' experiences. Their work can be groundbreaking, unlocking economic opportunity for entire communities. But the process can be particularly tough for founders like me: Fundraising for Black and Latino startups lags far behind the average, and the lack of early capital can have devastating results. Now, in my work leading Google for Startups in the U.S., I've helped close some of those gaps.
We introduced the Google for Startups Black Founders Fund in the U.S. in 2020, and have since expanded to support founders in Brazil, Europe and Africa. In fact, earlier this month, we welcomed 110 new entrepreneurs to the Black Founders Fund — 60 in Africa and 50 in the U.S. And in August, we announced the first 50 recipients of the Google for Startups Latino Founders Fund. We're igniting founders' efforts with hands-on support from Googlers and access to both business and mental health coaching.
Our cash investments are providing pivotal boosts, too. We give non-dilutive funds that can drive immediate impact, without taking equity. And we're opening the door to other investment opportunities: The recipients of our first $10 million in funding in the U.S. have gone on to raise more than 13 times that amount in follow-on funding.
In related news:
We're helping startups across all of Alphabet through capital as well as tech support, training and business advice from leaders at CapitalG and GV. As of this month, Alphabet has paid out the full $100 million in investments committed in 2020 to Black-led venture capital funds, startups and organizations supporting Black entrepreneurs. This can cascade opportunity from underrepresented funders to the founders in their networks, and onto their communities.
Driving toward Africa's digital transformation

Dr. Alistair Mokoena (he/him), Country Director, South Africa
What are you working on?
I'm working on improving equity through tech.
What excites you most about it?
I believe tech can be the great equalizer. In high school, as one of South Africa's many enterprising young people, I had fun selling clothes and cleaning sneakers as a side hustle. With today's improved tech, I can now easily envision its potential in the hands of Africa's many driven and talented small business owners. The average age in Africa is under 24, and many are shopping and selling on mobile devices. But there are challenges: We have a 34% unemployment rate and our internet penetration is at just about 78%, compared to about 90% in countries in Europe and America.
It's wonderful to be part of Google's work to invest $1 billion in Africa over the next five years through a range of initiatives. Recently, we established a Google Cloud region in South Africa — our first on the continent, bringing it into a global network of 35 cloud regions and 106 zones worldwide.
The Cloud project alone is projected to create more than 40,000 jobs by 2030. I'm so excited for what's next for entrepreneurs and next-generation technologies across the continent.
In related news:
In Nairobi, we announced plans for the first African product development center, where we'll develop and build better products for Africans and the world. We're also launching voice typing support on Android for nine more African languages.

Leanne Luce (she/her), Google Search Product Manager
What are you working on?
We've been expanding our business attributes in Search in the U.S. to be more inclusive of underrepresented groups, including the LGBTQ+ and Asian communities.
What excites you most about it?
Helping people find each other, and potentially find community, is one of the most wonderful functions of our Search products. When I was a kid, my family moved from New York City to a remote town far from the diversity of the Big Apple. As someone with Asian heritage, I started understanding what it was like to feel different and disconnected from others.
Businesses can now add the Asian-owned attribute to their Business Profiles, establishing their presence and helping them get seen and supported. Customers who want to intentionally support underrepresented communities can also use the Black-owned, Latino-owned, veteran-owned, women-owned and LGBTQ+-owned business attributes available in Search. I think about how meaningful it would have been for me, as a kid seeking connections, to have an actual map to help me find my community. It excites me that our products offer that.
In related news:
We're also connecting people and building belonging into our products with Plus Codes. Available through our Maps products, APIs and the Address-Maker app, these map the homes of people without precise addresses — in densely populated or remote areas, for instance. Governments, NGOs and private companies in The Gambia, the U.S, India, Kenya and South Africa are using Plus Codes to improve access to everything from deliveries to emergency services. This year, Plus Codes have been added to more than 60 million points of interest in Google Maps, up from 20 million in 2021.