New education apps and accessible content for Chromebooks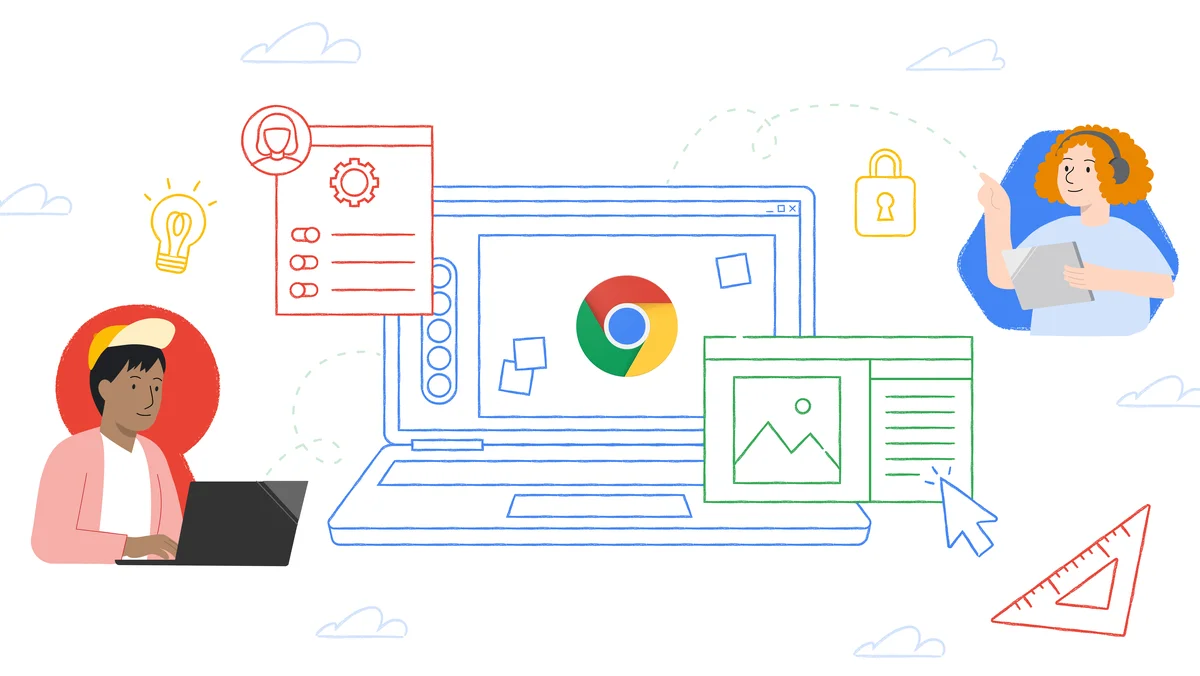 Built-in accessibility tools with reading mode and image to text
Much of the web's content is inaccessible for those who have difficulty reading — in fact, based on our internal analysis, there are more than 360 billion PDFs that are inaccessible for people who are blind or have low vision and rely on screen readers. Over the last 30 years, there's been a major push for web developers and content-creation tools to make their products accessible. But the reality is many PDFs are still inaccessible. So with the help of AI, we're creating built-in Chrome browser features to help fix this issue for everyone. In March, we announced reading mode, a tool in the side panel that makes it easier for students to read text by making it larger, changing the font and removing distractions, is coming to Chrome browser on ChromeOS devices. Now, reading mode will also be available for Chrome browser on all computers.
In 2019, we launched get image descriptions so users could get descriptions of unlabeled images on Chrome browser. Today, we're building upon that capability, and adding even more functionality to PDFs. We're adding the ability to convert images to text for PDFs in Chrome browser on ChromeOS. This means that when a screen reader user comes across a PDF that does not have alt text (a description of the image embedded and readable by screen readers), the screen reader will be able to convert the image to text and read it aloud. Reading mode and image to text will both begin rolling out in the coming months.
With PDF OCR technology, screen reader users will be able to convert images to text for PDFs in Chrome browser on ChromeOS
Access great Chromebook apps with app licensing
Today, we announced the Google for Education App Hub, where you'll find apps that work with Google for Education tools, to get even more out of your investment. One such way is with app licensing, where apps can be provisioned and managed within Google Admin Console. App licensing takes the hassle out of the app management process: Admins can purchase directly from developers, including Adobe Express, Concepts, ExplainEverything, Figma, Lumafusion, Squid and WeVideo, then distribute those licenses via the school directory in the Google Admin console. Admins interested in app licensing can find the apps and how to get them on the App Hub. Figma is already free for all U.S. K-12 schools who use Chromebooks, and just announced they are piloting to bring it to schools in Japan as well. Educators and admins can bring Figma to their districts and classrooms at figma.com/education/chromebooks.
We're also partnering with Adobe to make Adobe Express for Education free for schools using Chromebooks across the U.S. And if you're a developer with a great app that you want to make available to the 50 million students and educators using Chromebooks, you can submit your interest.
Video format not supported

Gif of edu.google.com website new Google for Education App Hub, scrolling through many apps

On the Google for Education App Hub, educators and admins can find apps that connect with Google Workspace for Education and Chromebooks.

With app licensing, admins can provision and manage apps all from the central Google Admin console.

Adobe is partnering with Google for Education to make Adobe Express free for Chromebooks across the U.S.
Keeping Chromebooks secure with more admin controls
Device management tools in Google Admin console now give admins even more control to customize how and when groups of students and educators can access sites, apps and more. ChromeOS Data Controls are now available to admins, so you can set up rules to prevent copy and paste from specific websites (including content created by AI-based tools), screen capture, screen sharing and printing. IT administrators can create an information protection strategy with rules based on data source, destination and user access.
Later this year, users will be able to manage their camera and microphone settings across the operating system in one place. This way, it will only take one click for users to completely turn off their camera or microphone when they want to make sure they're muted.
We're also announcing an expanded set of capabilities for even more security on Chromebooks. We're partnering with industry leaders CrowdStrike, Palo Alto Networks and Netskope through the Security Insights and Reporting connector and the Identity and Access connector. Through integration with the XDR Connector, CrowdStrike customers can now monitor threats for their ChromeOS devices, within the CrowdStrike Falcon platform. This makes it easy and quick for admins to evaluate the risk profile of their device fleet in a single, unified command console. Sign up to try it today.