Our support for early warning systems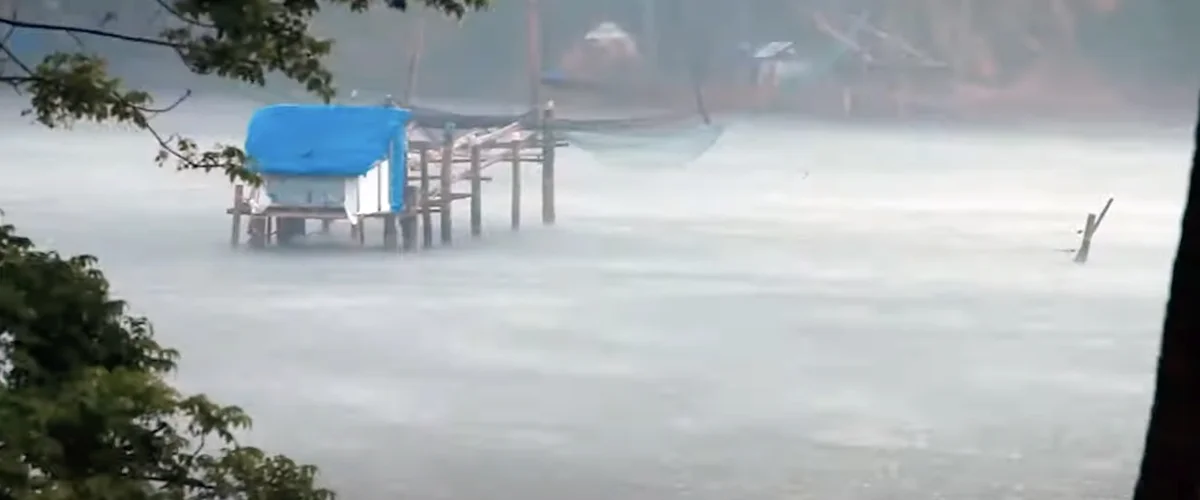 Last month I represented Google at the United Nations' World Meteorological Congress. There, I shared our support for the World Meteorological Organization's (WMO) Early Warnings For All Initiative, which aims to provide early warnings about climate hazards to everyone around the world by 2027. This complements our long-standing efforts to make information available to people in times of crisis, and our AI research to ensure this information is as accurate, helpful and early as possible. For example, we're using AI to track wildfire boundaries and making these available on Search and Maps in the U.S., Mexico and parts of Canada and Australia. We're forecasting floods in 80 countries so people can see when and where riverine floods may occur up to seven days in advance. And we're helping to keep people safe during heat waves by surfacing authoritative information in Search results.
I spoke with the WMO Director of Infrastructure, Anthony Rea, about our shared vision and the critical role of technology and partnerships in making the WMO's goal a reality. Here's a summary of our conversation.
Yossi (left) and Anthony (right) at the World Meteorological Congress.
Yossi: Why did you launch the Early Warnings For All Initiative, and why now?
Anthony: In recent years the dialogue around climate has shifted. The scientific community isn't just talking about what humans are doing to the planet. We're asking what we can do to ensure that societies and nations are prepared for the effects of climate change as the intensity and frequency of events such as wildfires, floods and extreme heat waves increase.
The WMO launched the Early Warnings For All Initiative in November 2022 at COP27, responding to the challenge issued by the United Nations Secretary General, António Guterres. Our ambitious goal is to ensure that everyone on Earth is protected from hazardous weather and climate events by 2027 through access to early warning systems. That involves having the right information to share about hazards before they occur, getting that information to the right people on the ground, and developing the response capabilities of communities so they can take action to save lives and reduce damages.
A big part of the "why" is global equity. Many of the countries that are most severely affected by climate change are not the ones who caused the problem — and they are often the least prepared to deal with it. The WMO is a global community of 193 countries and we intend to leave no one behind.
Can you share a challenge you face and how partners like Google can help?
The last mile, getting critical information to people who need it, is a real challenge. We know we can't do it alone. One reason we're happy to partner with Google is because we recognize your global reach. When people look for information nowadays, the reality is that they go online and they search on Google. That's evident too when it comes to natural hazards. We know that Google has been sharing Public Alerts from governments for over a decade on Search, on Maps and through Android notifications, helping to keep people safe — and we have an opportunity to build on that together.
How do you see the role of technologies like AI in helping to protect citizens from climate-related disasters?
The recent advances in AI are exciting and create opportunities to better forecast hazards and, importantly, their impacts. The WMO community, collectively, generates vast amounts of weather data from satellites and other sources and is committed to the open exchange of data. AI can help process and interpret this data, breaking it down into manageable products for users who may have low connectivity and applying insights to regions that have less observational data. There are now models that produce high-quality forecasts quickly based on current conditions and a training dataset of decades of analysis.
By forecasting hazards ahead of time, we are able to share information earlier on so that people and aid organizations have time to act. Google's flood forecasting initiative is a great example of the application of AI, and WMO is examining how it might be incorporated into the broader suite of data products available to its members.
How important are these types of public-private sector partnerships?
I personally am a great advocate for collaboration between the public and private sectors. Bringing private-sector players like Google to the table and to our global framework creates more opportunities for collaboration and advancement, and allows us to leverage their significant technical and human capabilities. Climate change is one of the greatest challenges of our generation, and I believe in the role of technology and in the impact on people's lives that we can achieve by working together.
Yossi Matias shares Google's support for the Early Warnings For All Initiative.