Bigger and better apps on Android tablets and foldable phones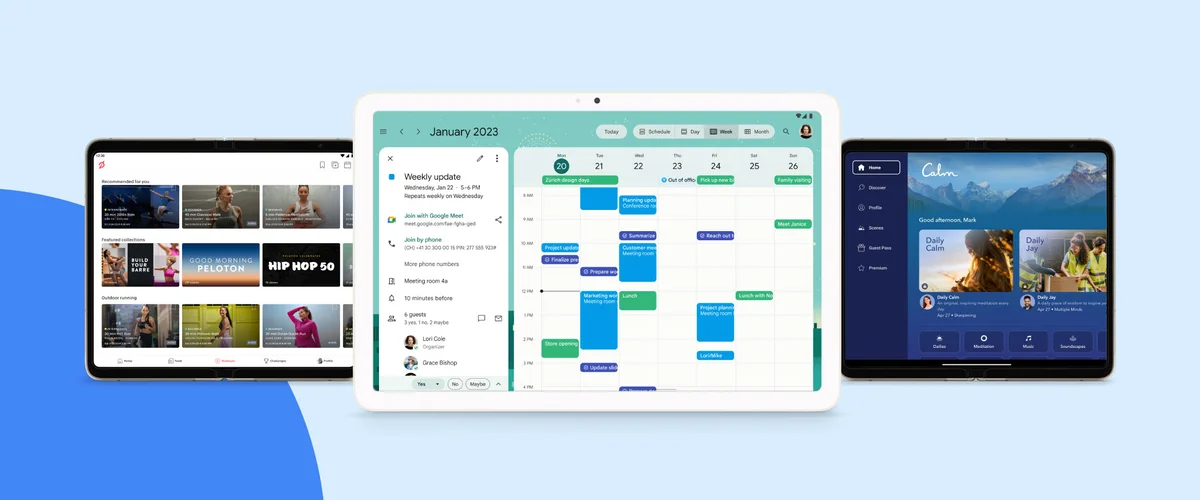 From the start, Android was designed as a flexible operating system to handle all types of screen sizes. Over the last two years, we've focused on redesigning the experience on devices with larger screens, like tablets and foldables phones, with software updates including 12L and Android 13. With so many great large screen devices to choose from, Android makes it much easier for you to take advantage of the extra screen space. For example, we've obsessed over every millisecond to ensure the transition is seamless as you unfold your foldable phone, and helped boost your productivity with improved multi-column layouts and tabletop mode.
We know apps are what make your tablet and foldable phone useful and fun, so this year at I/O, we announced that more than 50 Google apps have been updated to make the most of the larger screen. We've also worked with many of your favorite apps like Calm, Candy Crush Soda Saga and Peloton to ensure they look great and are easy to use. Check out five of the latest apps that have been redesigned for Android tablets and foldable phones:
1. Google Calendar
Google Calendar is launching a new, fully adaptive layout, so you can see more information at once on the larger screen. You can view your monthly calendar on the left and details of your day's events on the right. A new navigation bar on the top makes it easy to switch between different views (e.g. day, week, month). The app also smoothly transitions from a foldable phone's front screen through to the inner screen.
2. YouTube Music
The YouTube Music app optimizes the listening experience on large screens, so when users listen to music, lyrics and related content sit side-by-side with player controls for a more immersive experience. A two-column layout also enhances the playlist experience, allowing users to scan and reorder songs while having access to playlist controls. These layouts respond to any screen size across tablets and foldable phones, so you'll be able to find and listen to the songs you love on all your devices.
3. Calm
Calm updated their app to have a vertical navigation, so you don't have to scroll as much on a larger screen. A vertical navigation is also a more ergonomic design, since larger screens tend to be held by the side, whereas most phones are held from the bottom. If you are using Calm on a foldable phone, the app also seamlessly shifts when you go from using the phone in a folded state to an unfolded state.
4. Candy Crush Soda Saga
Candy Crush Soda Saga is easier to play on your tablet or foldable phone, with a user interface that now uses all the extra screen space and adapts if you play in a portrait or landscape orientation.
5. Peloton
Peloton optimized their app for larger screens, including a new design for foldable phones in tabletop mode. This enables you to take a class hands-free while exercising, without needing to prop your phone. With your phone's screen folded at 90 degrees, the top half of the screen will play your workout while the bottom half displays health metrics.
Helping users discover the best apps on Google Play
These app updates will roll out over the next few weeks. You can find these and other great apps for your tablets and foldable phones on Google Play, which has also been updated. You can now see immersive trailer videos of games you are interested in on the large screen, view app ratings based on the type of form factor you are using, and use one device to effortlessly install apps across all your Android devices.
Play's homepage recommendations will soon highlight optimized large screen apps and you will see editorial collections of apps that work well with tablet specific features like stylus and split screen.
This is just the start of getting the most out of apps on your tablets and foldable phones. Stay tuned for updates this year as more apps improve their design on Android's larger screens, and Google Play adds new ways to make it even easier for you to find the best new apps.