Connect on the go and learn new skills with new Android features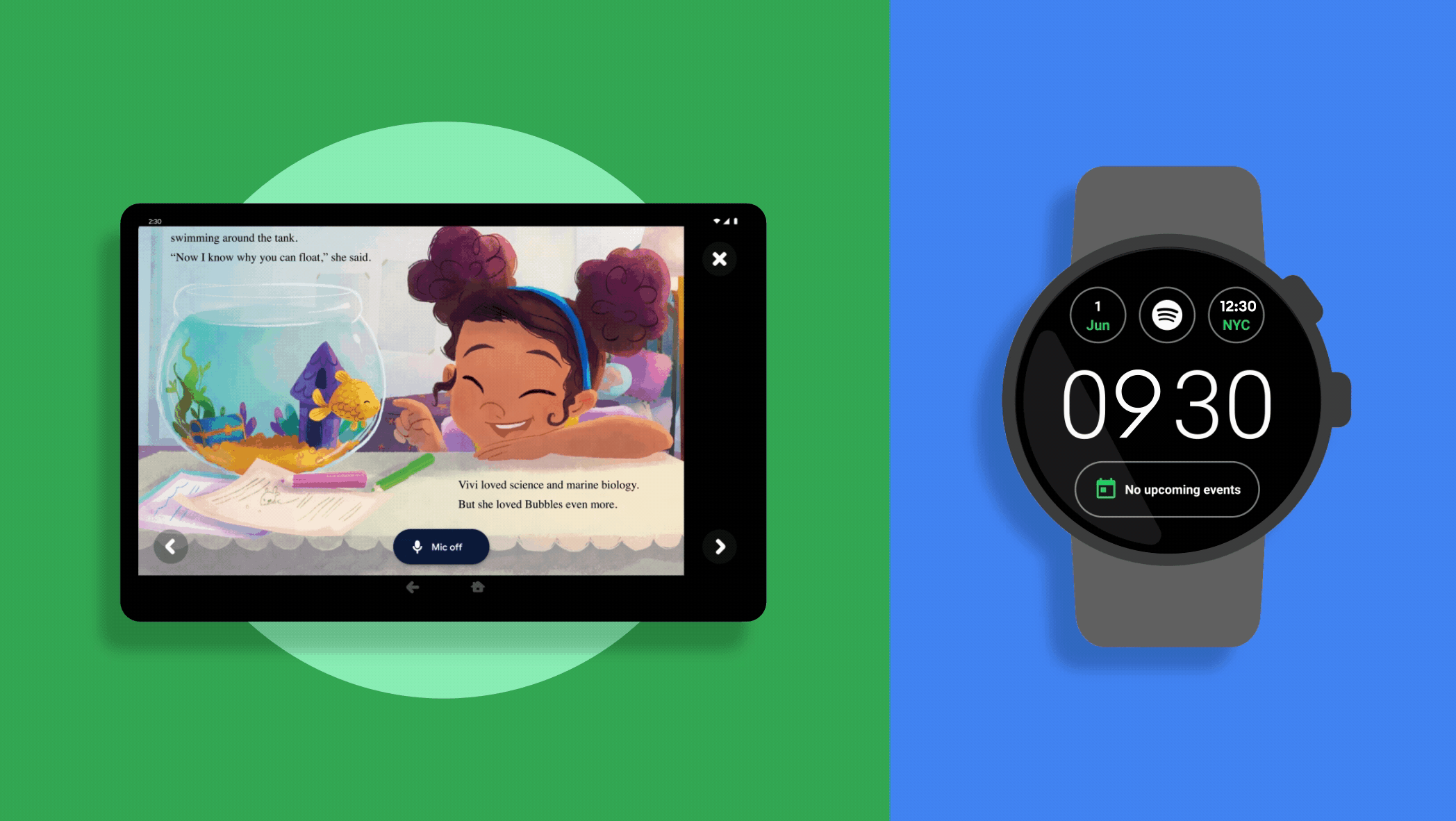 A few weeks ago at Google I/O, we announced features that can make Android devices more helpful, secure and expressive. We're introducing these throughout this year within regular updates, ensuring your devices keep improving in between our yearly OS releases.
Today, we are announcing seven new updates and features rolling out now to help you learn new skills, stay productive on the go and protect your information. Here's what you need to know for your phones, tablets and Wear OS smartwatches.
Build new reading skills
Reading practice is now available, helping new readers improve their vocabulary and comprehension skills using their Android phone or tablet. Try it out on thousands of children's ebooks marked with a "Practice" badge on Google Play Books. You can hear the pronunciation of unknown words, practice mispronounced words and receive feedback in real time.
Improve vocabulary and comprehension skills using Reading practice.
Get your info at a glance
Three new Android widgets have arrived, so you can keep customizing your phone or tablet home screen with more helpful shortcuts. Quickly find personalized movie and TV show suggestions with Google TV, track selected stocks with Google Finance and enjoy headlines curated daily from Google News.
Quickly access Google TV, Finance and News on your Android phone or tablet with new widgets.
Listen to your favorites from your watch
Press play right from your wrist and let Spotify's DJ deliver a personalized lineup of music, stream episodes from your favorite podcasts and listen to what's in your heavy rotation — all with new tiles and watch face shortcuts from Spotify for Wear OS.
Listen to your favorites from your smartwatch with new Spotify tiles for Wear OS.
Stay on track from your wrist
On Google Keep for Wear OS, you can now add a tile for fast access to a selected note or to-do list on your watch. Simply swipe through your tiles and find your pinned note (like a shopping list) to stay on top of things.
Add some fun to your messages
Emoji Kitchen lets you remix your favorite emoji into stickers that you can send as messages via Gboard. Now you can take a bite 🦈 of new aquatic-themed 🐬 🐋 emoji combinations that will help you cool down this summer (or stay cool this winter, if you're in the southern hemisphere 😎).
Dive into new Emoji Kitchen sticker combinations.
Scan the dark web for your Gmail address
Dark web report is now available for most Google Accounts in the U.S. to use on the Google One website and app. You can run scans to see if your Gmail address has been exposed on the dark web, and receive guidance on the actions you can take to protect yourself online. Google One members in the U.S. are able to scan for additional personal information, such as their social security number. Access will also expand to more than 20 countries in the coming months.
Scan to see if your Gmail address has been leaked on the dark web.
The Android team is constantly adding new features and updates to make your devices and Google apps even better. Find out more at Android.com/updates.