Devices & Services
A look at how we're building more sustainable hardware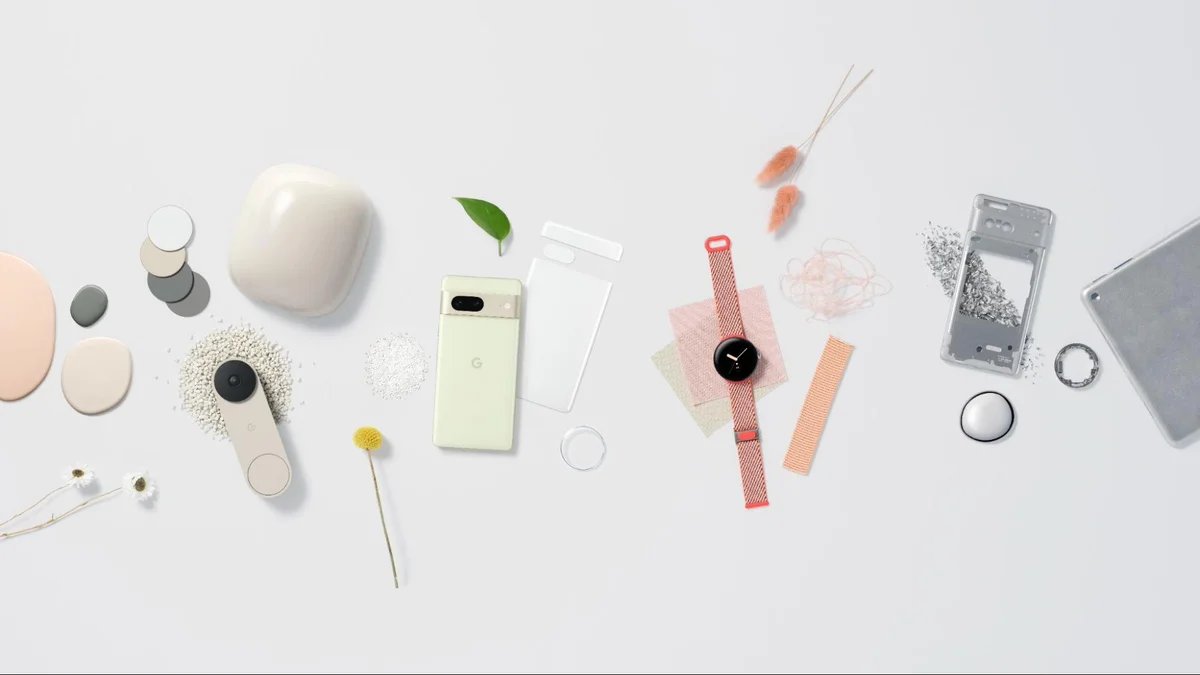 Since the launch of our first hardware products, we've worked to improve the sustainability of how we make our products and the services we create around them. It's a part of everything we do — from sourcing materials to packaging products to designing our retail stores. All of these efforts support our broader approach to sustainability and our goal to achieve net zero emissions across our operations and value chain, including consumer hardware products, by 2030.
Here's a look at the progress we've made over the past year toward advancing hardware sustainability.
Increasing our use of recycled materials
We're trying to reduce how much waste we generate as a company and minimize the demand for new raw materials — this starts with how we source materials that go into our products. Approximately 30% of all materials used in our new products launched and manufactured in 2022 were recycled content.1 This includes recycled material used in our devices' aluminum, stainless steel, rare earth magnet, glass and plastic parts. For plastic specifically, 48% of all materials used came from recycled content.2

Using recycled materials also lowers the carbon footprint of our product manufacturing. For example, the aluminum in the phone enclosures of Pixel 7 and 7 Pro is made with 100 percent recycled content, reducing the carbon footprint of the aluminum portion of the enclosures by over 35% compared to using 100% primary aluminum.3
Providing new ways to repair phones
Last year, we announced our partnership with iFixit to provide genuine Pixel spare parts, tools and documentation on models as far back as Pixel 2 for customers who are skilled in repair and independent service providers. This partnership, alongside our other mail-in and authorized service provider repair channels, expand the choices customers have in Pixel phone repair.
Improving our packaging
Product packaging typically contains many materials — like the plastic film materials you often see on electronic packages — which can be difficult to recycle. That's why we're committed to eliminating plastic from our hardware product packaging by 2025. Our latest packaging for Pixel 7 uses 99% plastic-free materials, getting us closer to this goal.4 Overall, in 2022, we reduced Pixel packaging plastic by 97%, and reduced the volume of packages by 54% and the weight by over 50% when compared to our first Pixel phone.5
Certifying our new retail operations
Our first flagship store in the Chelsea neighborhood of NYC received the highest possible sustainability rating of LEED Platinum from the U.S. Green Building Council. We are targeting the same rating for our store in Brooklyn, NYC, where the certification process is underway.
Collaborating across the industry
Over the past year we've participated in an e-waste recycling pilot in Denver in partnership with Retrievr. The goal is to study how the industry can reduce barriers and increase participation in e-waste recycling. We're also collaborating across the industry to find and promote the understanding of safer flame retardants available for the electronics sector with ChemFORWARD, a trusted nonprofit source for chemical hazard data and alternatives.
Building products that lower energy consumption
We're working to build products that help reduce energy consumption and support clean energy. The 2022 Chromecast with Google TV (HD) was engineered to use 40% less power in active and standby modes compared to the Chromecast in 2018.6
Similarly, Nest thermostats have helped customers cumulatively save more than 117 billion kWh of energy since 2011 — that's enough energy to power 1 million electric vehicles driving around the earth 15 times each.7 And Nest Renew, which came out of early preview in the U.S. last October, has already helped collectively prioritize cleaner energy usage for over 20 million hours with Energy Shift.8 Customers can also upgrade to Nest Renew Premium for only $10 a month, which matches the fossil fuel electricity used in their home with enough clean energy to cover the average U.S. household with high-quality renewable energy credits generated from projects within Google's clean energy portfolio.
Since launching our first hardware products, we've integrated sustainability into everything we do — from materials sourcing and science, engineering and supply chain operations to carbon emissions reductions, waste reduction and more. Still, there is much work to be done. We'll continue to create more sustainable hardware and work toward our sustainability commitments.