Devices & Services
Open for business: A look inside our Google Store in NYC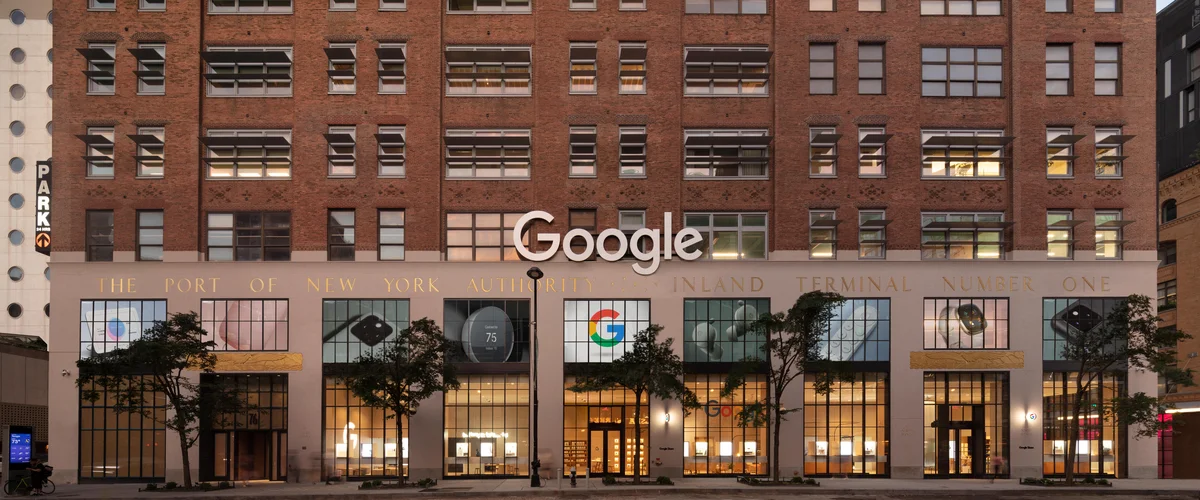 On June 17, our first-ever physical retail store opens its doors for business in New York City. This new space will be a natural extension of our commitment to NYC and provide customers with hands-on interaction with our lineup of devices and services — from Pixel phones and Nest products to Fitbit wearables and Pixelbooks. To mark the occasion, here's a look inside the Google Store in Chelsea  — from our commitments to sustainability to new product experiences throughout the space.
A peek into our process
As we began the process to create our first retail store, the number of details to consider was daunting, but the opportunity at hand was amazing. We wanted our first store to reflect the same approach we take to designing our products: making sure they're always helpful to people. The result is a space we believe is warm and inviting, while providing new ways to celebrate and experience Google through our phones, displays, speakers, wearables and more.
We began with group brainstorms in Mountain View across all our teams which were led by our designer, NYC based architect Reddymade. A concept for this physical space began to take shape — one that we felt lived up to our brand and mission.
Our excitement grew as we built a full-scale mockup of the space at our retail hangar in Mountain View, where we could test every element and make sure each one felt just right: the space, the layout, the technology and the overall experience each guest might have. We considered every immersive way people could learn about all the features of our Pixel phones and Nest products, and see how the best of Google's software and services come to life when using them: products like Google Search, Google Assistant, Google Maps, YouTube, Stadia and many more.
It was equally as important that our first store continue this work, and our commitment to sustainable design began on day one. Every element of the Google Store — the materials, building processes, mechanical systems and more — was painstakingly considered and selected. For example, the veneer on the walls is a soft gray responsibly sourced hickory, each lighting fixture is energy efficient and our custom cork and wood furniture was created with a local craftsman from Greenpoint, Brooklyn. We even attached our carpeting (which was manufactured with recycled materials) in a sustainable way.
We're honored to have worked with the U.S. Green Building Council in this process, and we now can share that the Google Store Chelsea is one of fewer than 215 retail spaces in the world to have achieved a LEED Platinum rating — the highest certification possible within the Leadership in Energy and Environmental Design green building rating system.
Take a look inside
As you approach our new store, the first thing we hope you'll notice are beautiful physical and digital product displays lining the store's windows, which offer a peek into our products and their features. And as you enter the store, you will find a light-filled space that's centered around experiencing the helpfulness of our products. 
Near the main entrance, you'll find a 17-foot-tall circular glass structure (designed and engineered with local New York partners) that we're calling the Google Imagination Space. With custom interactive screens that feature rotating exhibits for visitors to experience the best of our products and technologies, we're beginning with an experience built around Google Translate and our machine learning capabilities. As you speak to the exhibit, you'll experience real-time translation of your speech into 24 languages simultaneously, and then learn how this all happens on the back end using several Google technologies. These same capabilities are also available across many of our devices — right in the palm of your hand.
For those who want to get up close and personal, every part of the store invites hands-on interaction with our products and services. Not quite sure where to start or want to learn more about specific features? An expert store team is on hand to answer questions, offer repairs and troubleshoot issues on the spot. 
Exploring the rest of the store, you'll find new ways to experience the best of Google's hardware and services:
All in one place. The Nest Gallery Wall displays 35 of our home products in their full range of colors and materials to match any home interior and assist you throughout your day. Deciding between a Nest Audio in the color Sage or a Nest Mini in the color Sky? Now you can easily see what best fits in with your own home.  

Discovery Boxes. New custom transparent LED screens line the interior windows providing information about our newest products, their features and new solutions that are unlocked when you use them together.


Step in and play in our Sandboxes. These rooms let you experience our products in real-life scenarios. In our Nest Sandbox, you can see how all our Nest products provide useful solutions in a simulated living room. 

In our Stadia Sandbox, you can play games on Stadia.


In our Pixel Sandbox, you can check out Pixel's newest camera features within a custom light installation.


All your technology questions answered. The Here to Help support desk has associates available to assist with any needs, including Pixel on-site repair. 

Hands-on learning. Our Workshop space will host regular events and workshops, such as story time for families, cooking demos with Nest, photography lessons on Pixel, YouTube concerts and more.
We're so incredibly proud of the work our teams have accomplished together since we first began this project almost four years ago, and we look forward to introducing Google's first store to the world. We can't wait for you to experience it firsthand, starting June 17 at 10 a.m. Eastern, and see all the great things we've been working on.
All photos courtesy of Google and Paul Warchol