7 ways to stress less with Fitbit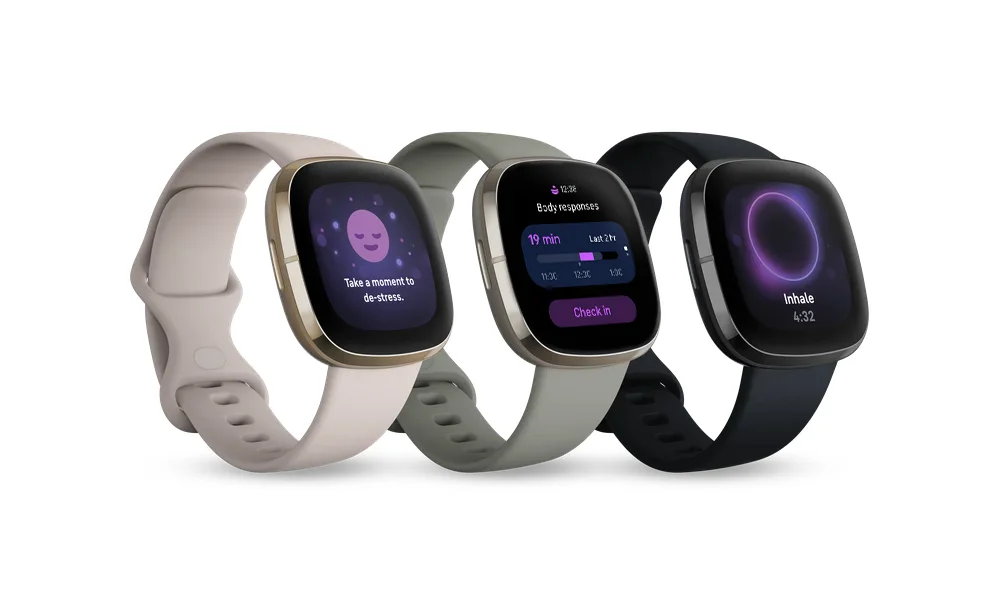 You know that tingly, heart-pumping adrenaline sensation that signals you're stressed? Well, you're not alone. Many of us have dealt with more stress than usual over the last few years and are looking for a bit of calm. In fact, Google Search trends reveal that searches for "how to reduce stress" reached a 10-year high in the U.S. over the past year and "how to slow down" reached an all-time high in the U.S. in 2023.
Learning to manage stress benefits your overall well-being — from how well you sleep and your relationships to your overall mental health. In recognition of Mental Health Awareness Month, here's a look at Fitbit features that can help you track, understand and manage stress. So the next time you feel stress coming on, keep calm and try one of these features.
1. Identify signs of stress in your body.
If you've been in a stressful situation and started to feel your heart race and your palms sweat, you've seen firsthand how your body can send signals that something's out of whack. These are the same signals that the Body Response feature on Sense 2 can detect thanks to a continuous electrodermal activity (cEDA) sensor that measures small changes in your micro sweat levels all day. The Body Response feature uses this activity and metrics like heart rate, heart rate variability and skin temperature to identify if you're in a potentially stressful situation.
The Body Response feature on Sense 2 detects acute signals from your body to determine if you're experiencing a body response that could be stress.
2. Log your mood.
Once you get a Body Response notification, you'll also receive a prompt to reflect. You can log your mood and reflect on the emotions you were feeling at the time of the stressful event. Then choose from a set of activities, like a quick breathing exercise or a walk, to help manage stress in the moment or revisit later when you choose to in the Fitbit app. Sometimes you'll even get a Body Response notification when you're experiencing something positive — like if you're excited about a first date or a big presentation at work. Reflecting on both the positive and negative moments may help you identify daily and weekly trends so you can see how your body reacts to all that life throws at you and take action.
:Log your mood after receiving a Body Response notification to help identify patterns over time and reflect on potential stressors.
3. Get feedback on how you're managing stress — right from your wrist.
Other Fitbit devices, like Charge 5 and Sense, have an on-wrist EDA Scan app. Rather than continuous, all-day stress tracking, this feature detects your electrodermal responses during a breathing or mindfulness session from your device to help you understand how your body is doing in that moment.
The on-wrist EDA Scan app allows you to check your EDA responses in the moment while completing a breathing session.
4. Understand what your stress levels are each day.
The Stress Management Score helps you understand how your heart rate, sleep, and activity levels impact your physiological stress. Your score will be 0-100, with a higher score indicating your body is showing fewer physical signs of stress. Plus with Fitbit Premium, you'll get a detailed score breakdown. Use this score to better plan out your day. If your score is higher, it suggests your body is showing signs of more stress, so try to fit in a breathing exercise or walk. If your score is lower, it suggests you're less stressed, so maybe it's the day to tackle a big project.
The Stress Management Score helps you understand how well your body handles stress each day.
5. Practice mindfulness.
Now that you have an idea of what affects your stress levels, you can take small steps to lower it. The Relax app can help you find moments of calm throughout the day with personalized, deep breathing sessions. Plus, you can try over 400 mindfulness sessions in Fitbit Premium focused on everything from mindful walking to unwinding before bed. A recent Fitbit study found that those who regularly engaged in mindfulness activities saw positive changes in their resting heart rate, Sleep Score and Stress Management Score.
Find hundreds of options for mindfulness sessions in Fitbit Premium.
6. Prioritize better sleep.
Speaking of sleep, it's important to prioritize getting a good night's rest as you work to manage stress. Sleep Profile, available with Fitbit Premium, is derived from a month-long analysis of your sleep, including ten advanced sleep metrics to help you better understand your sleep patterns and tendencies.
Sleep Profile is a monthly personalized analysis of 10 key metrics designed to help you improve your sleep habits and quality.
7. Know when you should exercise or recover.
Fitbit Premium's Daily Readiness Score uses insights from your body to help you understand when you're ready to perform at your physical best. Knowing this can help you decide when you should work out or prioritize recovery. Each morning, you'll receive a personalized score from 0-100 based on your heart rate variability (HRV), recent sleep and activity, along with suggestions for Premium content to help you make the best decisions for your body.
Your Daily Readiness Score helps you determine whether you should work out or prioritize recovery on any given day.
All of these tools make it easier to incorporate healthy, stress-relieving activities into your daily wellness routine including sleep, exercise and mindfulness. Now you have more ways to stress a little less.