Manage your health and fitness with Fitbit Versa 4 and Sense 2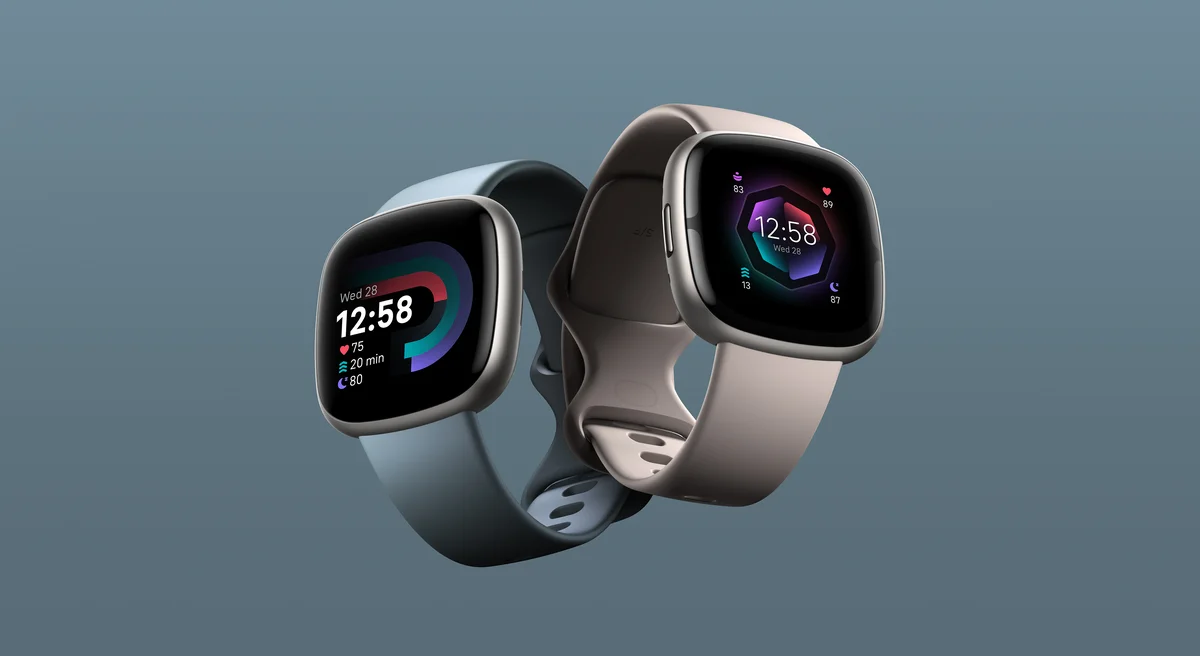 Our latest smartwatches, Versa 4 and Sense 2, put health and fitness front and center. Powered by the new Fitbit OS, these devices are easy to use and designed so you can see what matters most to you, faster.
Thinner and lighter, they have been redesigned to feel more at home on your body, 24/7. The button, which was last featured on Versa 2, is back – with a new location that's easier to access during your workout.
Meet our most advanced health-focused smartwatch, Sense 2, powered by an on-wrist continuous EDA sensor for all-day stress management.
Packed with features
Stay on top of the metrics that matter most to you, from 24/7 heart rate monitoring and activity tracking to real-time stats, walk/run detection on your wrist, sleep tracking and stress tracking. Equipped with more than six days of battery life and fast charging (12 minutes of charging = 1 day worth of battery life!), these smartwatches are sure to keep up.
Wear your device to bed to benefit from advanced sleep tracking tools, including our new Premium feature, Sleep Profile. It uses 10 sleep metrics to show you what type of sleeper you are, spot key patterns and help you improve your sleep quality. You can also see how well your body is handling stress with your Stress Management Score so you know when to take a moment for guided breathing, meditation or a reflection.
Versa 4 and Sense 2 are compatible with both iOS and Android and packed with smart features including extended app and text notifications, glanceable alerts, smart replies (Android only) and more. Plus, coming soon, you'll be able to access Google Maps and Google Wallet right on your wrist.
Meet our newest iteration of Versa that helps you put fitness first, Versa 4 is equipped with all-day heart rate and activity tracking, smart detect for your run/walks, and more.
Next-level workouts with Versa 4
Versa 4 has a focus on fitness. Choose from more than 40 exercise modes (more than double we've ever had!) all available on-wrist, including new options like HIIT, weight lifting, CrossFit and dance. Head outside with built-in GPS, or find something new with more than 1,000 workouts and mindfulness sessions in Fitbit Premium. Whatever you decide, Active Zone Minutes and in-the-moment heart rate zone alerts, help you track how your effort is adding up.
With Premium, you have access to Daily Readiness Score to help you know when to push hard or take a rest day. Each score is coupled with recommended actions, from an Active Zone Minutes goal and tips for recovery and associated content.
Our most advanced health-focused smartwatch, Sense 2 offers a variety of on-wrist features to help you keep track of your overall health including real-time workout stats, built-in GPS and more.

Sense 2 is designed to help you reach both your physical and mental health goals, powered by on-wrist stress management tools to prioritize holistic health and wellness.

No matter the workout, Versa 4 helps you stay accountable and monitor your progress to reach your fitness goals with 40+ exercise modes.
Stress less with Sense 2
Sense 2 takes Fitbit's stress tracking tools even further, with a new Body Response sensor to track continuous electrodermal activity (cEDA) for all-day stress management right from your wrist. Along with cEDA, it uses metrics like heart rate, heart rate variability and skin temperature to help you better understand when your body experiences potential signs of stress. That way, you can be aware of your potential triggers and create a stress management practice to build your resilience over time. Following a Body Response notification, Sense 2 recommends different ways to manage stress in the moment including mood logging, guided breathing, mindfulness sessions, on-wrist or in the Fitbit app.
In addition to the Body Response sensor, the smartwatch is equipped with Fitbit's other sensors to deliver a holistic view of your overall health. We've used a technique that turns metal into vapor, allowing us to integrate the metal electrodes of these sensors directly into the display glass of the device. This creates an even more simplified, streamlined look without sacrificing our technology.
Sense 2 can help you get your stress under control with continuous EDA tracking for all-day stress management, and prompts to reflect on what might be triggering your stress.
All-new accessories for smart style
We're introducing a second collection of bands from Brother Vellies. Designed by Brother Vellies Founder Aurora James for Fitbit, these woven leather bands are now available in black and oak for $54.95, only on Fitbit.com.
Easily switch up your style with a brand new collection of designer bands from Brother Vellies for a more elevated look.

Designed by Brother Vellies Founder Aurora James, these premium Horween® leather bands are made for Fitbit to bring luxury to your wrist.

The new, lightweight leather band is available in black and oak.

The new, lightweight leather band is available in black and oak.
Additional accessories to style your Fitbit smartwatches include three new infinity bands in blue mist, pink sand and waterfall blue ($29.95), sport bands in glow up/frost white and sea blue/ocean ($34.95), vegan leather bands in flax and indigo ($49.95) and Horween® leather band in garnet color ($49.95). All new accessories work with the newest smartwatches, and Fitbit Sense and Versa 3.
Versa 4 is available for $229.95 and Sense 2 is available for $299.95 (USD), and both include a six-month Premium membership (for new or returning customers). Beginning today, pre-order Versa 4 and Sense 2 online at Fitbit.com and select global retailers, with worldwide availability this fall.