The Nest devices that save sleep-deprived parents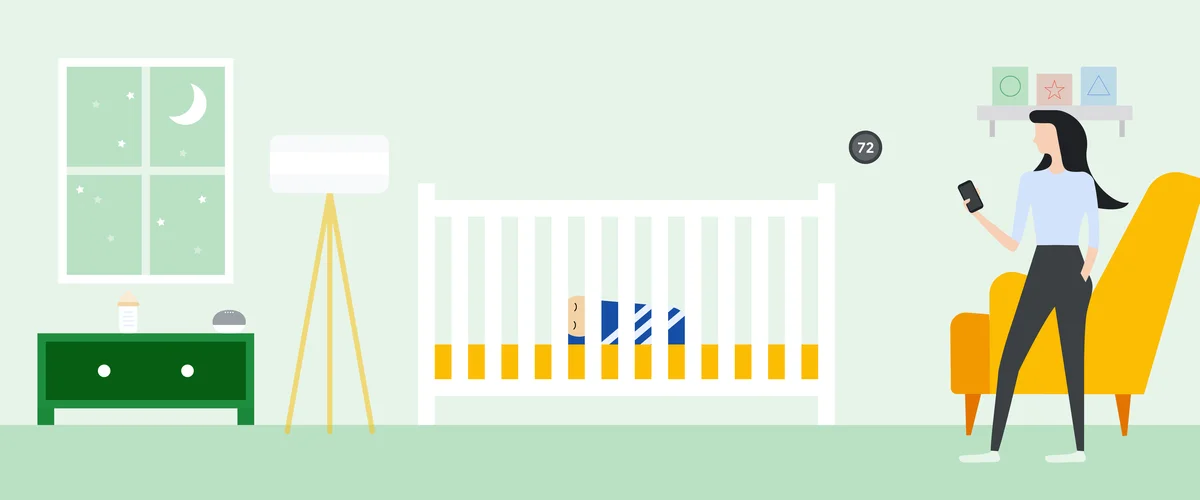 When my daughter Ruth was born this January, she was a handful. Literally. In the early months of her life, she refused to be put down, fussing and screaming unless we were holding her, walking up and down the hallways of our home. I became a sleep-deprived zombie, shuffling around with one arm free to get some much-needed coffee. And that was on a good day. 
I needed all the help I could get. And for me, some of that help came in the form of Google Assistant. Thanks to the Google Nest devices around my house, I was able to get things done a little easier by saying, "Hey Google, turn the temperature down" or "Hey Google, play some soothing music."  
If you're thinking about the frazzled parents in your life this holiday season, there are a variety of Nest products that might be just right for your gift list. Here are a few suggestions to get you started. 
For the parents who are music lovers
Whether your kid blisses out to classic rock or gets hyped up to the umpteenth playing of "Twinkle Twinkle Little Star," music is key to getting a little bit of peace in the house. The new Nest Audio can play songs via your favorite streaming music subscriptions with a simple voice command.
For the nursery that absolutely must be perfect
In our house, the temperature can fluctuate depending on what time of day it is. That makes it tough to make sure Ruth is at a comfy temperature for naps and nights. Luckily, the new Nest Thermostat offers Quick Schedule, which lets you set a custom temperature at different times of the day. That way, we can make sure Ruth's nursery is at the right temperature at night, but our office isn't stiflingly hot during the day. Plus, the thermostat is simple to use and at an affordable price, which makes it an easy fit for many families.   
For the family looking for shows to watch together
With the COVID-19 pandemic making families stay home more than usual, that means it's extra crucial to find shows everyone agrees on. Thankfully, the new Chromecast with Google TV gives you personalized recommendations based on what you like to watch. And its new remote lets you control your smart home using Google Assistant.  
For the couple constantly shouting across the house
We have various Nest devices throughout the house, and we use them to communicate with one another. If I'm feeding Ruth in the nursery downstairs and she's hungrier than I expect, for example, I say, "Hey Google, broadcast to Kitchen Display: 'I need another bottle,'" so my husband can bring down a bottle. And when tracking how much she drank, we'd ask the Assistant to convert milliliters to ounces, or just do basic addition and subtraction when we were too sleepy to calculate how much she had to eat. Data-loving parents like me can also use a list to track feeding amounts and nap times via Keep, Docs or other note-taking apps. 
For the grandparents who miss their little ones
My daughter was born in the months before the COVID-19 pandemic hit the United States, so we were lucky to have family come by and help out until she was about two months old. But by March, we were quarantined, leaving the grandparents sorely missing their granddaughter. With our Nest Hub Max, we can make hands-free video calls on Google Duo—and when the baby naps, we can quickly decline a few overenthusiastic calls from Grandpa's Nest Smart Display or smartphone app. And the Hub Max's camera angle moves with us throughout the room, so we can get chores done (or just keep Ruth happy) while we keep in touch. 
These days, Ruth can handle being put down. (Well, at least sometimes.) But I know that Nest will keep being a helping hand as she gets older—and especially when she asks me to play cartoons on repeat.