Stadia Savepoint: December updates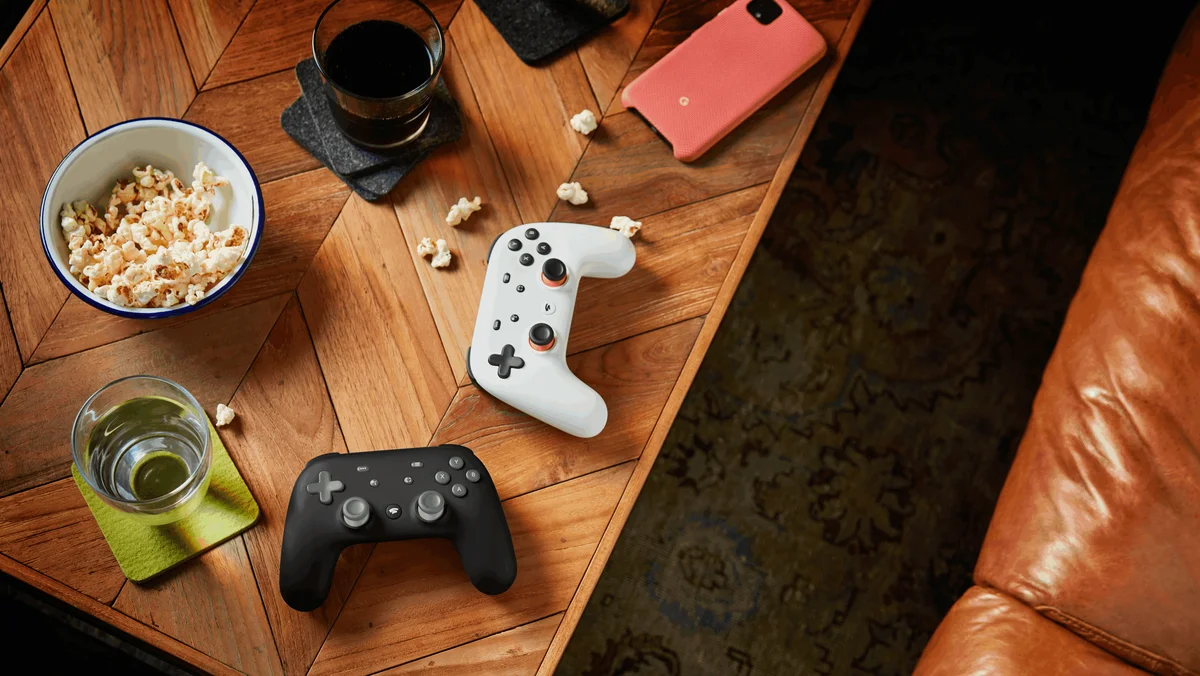 It's time for another round of our Stadia Savepoint series, recapping the new games, features and updates on Stadia.
Last month, players explored plenty of new titles on the Stadia store, including two free-to-play shooting games, Nine to Five and Super Animal Royale. And players jumped into The Jackbox Party Pack 6 and Party Pack 7 to create their own fun with family and friends over the holidays. Meanwhile, fans of solo adventures soared through space and time in the sci-fi combat game Chorus.
December also marked the introduction of weekend-long events that allowed all users to play Rainbow Six Siege and Assassin's Creed Odyssey at no additional cost. New players just created a Stadia username (or logged into their existing Stadia account) and then it was game-on!
Play Stadia on LG Smart TVs
Download the Stadia app on LG Smart TVs running webOS 5.0 or later to play your favorite games using a compatible controller. Find more information on our support page.
Play your favorite games on LG Smart TVs running webOS 5.0 or later by downloading the new Stadia app.
Stadia Pro updates
Six new games were added to the Stadia Pro library in December. And today, an entire library of games is available to play with Stadia Pro: Crayta, HITMAN, République, Journey to the Savage Planet: Employee of the Month Edition, PixelJunk Raiders, AVICII Invector, Ys VIII: Lacrimosa of DANA, Trine 4 - The Nightmare Prince, The Legend of Heroes: Trails of Cold Steel III, MotoGP™20, Moonlighter, Terraria, The Darkside Detective, PAW Patrol Mighty Pups: Save Adventure Bay, It Came From Space And Ate Our Brains, Epistory - Typing Chronicles, Killer Queen Black, GRIME, ARK: Survival Evolved, Darksiders II Deathinitive Edition, Little Big Workshop, Wave Break, Legend of Keepers: Career of a Dungeon Manager, DreamWorks Spirit Lucky's Big Adventure, Hello Engineer, Cake Bash, Control Ultimate Edition, Saints Row IV: Re-Elected, DIRT 5, Kemono Heroes, Hundred Days - Winemaking Simulator, Wavetale, Destroy All Humans!, Wreckfest, The Falconeer: Warrior Edition, Transformers: Battlegrounds, FORECLOSED, Unto The End, Darksiders III, Bloodstained: Ritual of the Night, Shantae: Risky's Revenge, Darkside Detective: A Fumble in the Dark and DreamWorks Dragons: Dawn of the New Riders.
New content coming to Stadia announced in December:
DYNASTY WARRIORS 9 Empires