Making every day safer with Google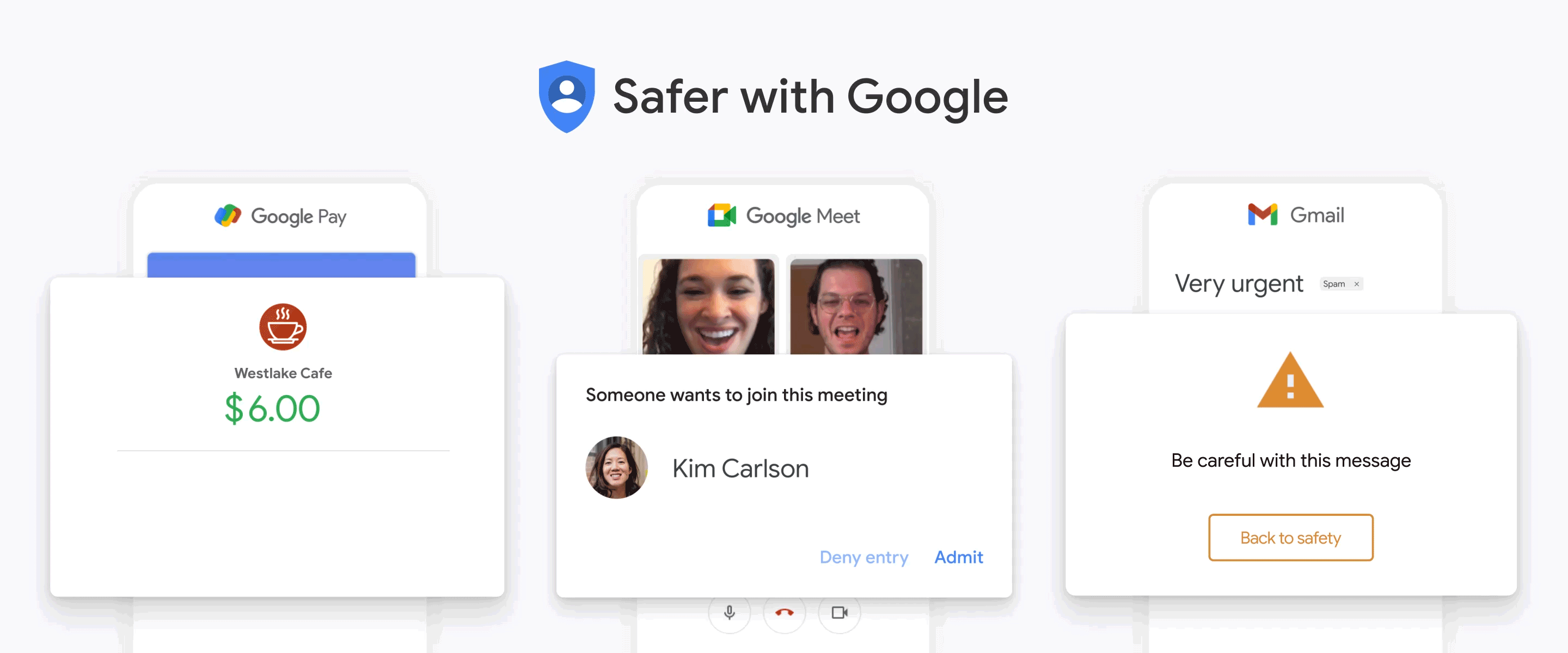 People around the world use Google products every day to help with things big and small — whether it's teaching an online class full of students using our Workspace apps or paying for coffee with Google Pay. Keeping you safe online means continuously protecting the security and privacy of your information. The safety of our products is driven by three core principles: treating your information responsibly, protecting it with world-class security and keeping you in control. 
Today, as we celebrate Safer Internet Day, we're sharing the progress we've made to create a safer internet, and how we'll continue to innovate so that every day you're safer with Google. 
How we keep you safe in the products you use every day
In 2020, an Ipsos survey found that more than 50% of Americans said they had become more concerned about their online safety than ever before. And we saw this reflected in what people searched for in 2020:
People were searching how to strengthen their online security. Searches for "online safety tips" increased by 250% in 2020, and searches for "how strong is my password" increased by 300% in 2020.
People were searching for reassurance about their online behaviors. "Is shopping online safe" was searched twice as much in 2020 than 2019. The most common inputs for searches of "Is [blank] online safe" in 2020 were: "Is ordering online safe," "Is using a debit card online safe" and "Is buying online safe."
We understand your concerns, and that's why we provide automatic protections across all of our products to ensure no matter what you're doing — browsing the web, managing your inbox or seeing family on Meet — we're keeping you safe. And security has been core to making these services safe: Safe Browsing protects more than four billion devices, Gmail blocks more than 100 million phishing attempts every day and Google Play Protect scans over 100 billion apps every day for malware and other issues. 
We also help keep your data safe with customized recommendations in Security Checkup, an easy, personalized way to secure your Google Account. And Password Checkup helps to keep you and your passwords safe not just on Google, but across the web — since launch in 2019, we've seen a 30% reduction in breached credentials. 
Together with Stanford, Google explored what factors make someone targeted by email scams. We found that multiple factors correlate with higher risk: where you live, what devices you use and whether your information appeared in previous third-party data breaches. You can read more about this research on the Cloud blog.

Google Fi VPN exits beta on Android and will expand to iPhone  
Today, Google Fi announced that the Fi VPN for Android is exiting beta and is expanding to iPhone, which means you can get the benefits of the VPN on all phones while also getting a faster, stronger connection across your apps and services. The Fi VPN helps you stream, browse and download on an encrypted, private connection — so you can have peace of mind knowing that websites can't use your IP address to track your location, and you're shielded from hackers even while you're using unsecure networks, like public Wi-Fi. 
Bringing election security support with Advanced Protection Program to U.S. states
As we have in previous elections, in the many months leading up to U.S. Election Day 2020, we've made it a priority to equip campaigns with the tools they need to strengthen their own security, protect themselves against digital attacks and reach voters. We helped Defending Digital Campaigns (DDC) distribute more than 10,000 Advanced Protection kits to more than 140 Federal campaigns ahead of the 2020 elections. Today we announced we're expanding our collaboration with DDC to extend beyond federal campaign efforts to include security training and tools for state Parties and campaigns. Our Advanced Protection Program delivers the strongest protections available against phishing and account hijacking and is specifically designed for the highest-risk accounts.
In addition to our continued work with DDC, we're also announcing  the launch of a new cybersecurity training initiative, Cybersecurity for State Leaders, driven by the National Cybersecurity Center and supported by Google. This program aims to educate state lawmakers and staff on ways to strengthen their defenses against digital attacks. The training will be conducted in all 50 states over the course of 2021, with a targeted focus on state legislators and their staff.
We have been at the forefront of keeping people safe online for the last 21 years, and we plan to keep it that way. Check out our top five safety tips and visit our Safety Center to learn all the ways Google helps you stay safe online, every day.