Google Search's evolution in Asia Pacific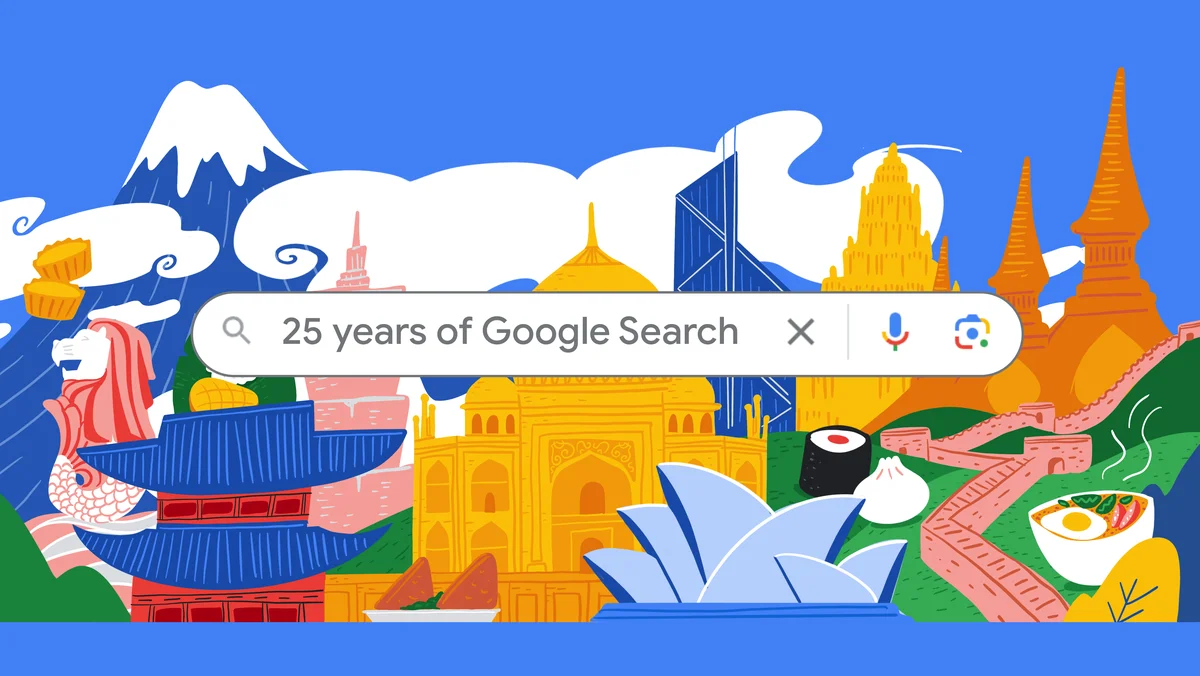 What was the last thing you searched on Google? For me, it was "best snowskin mooncake in Singapore" — a classic treat to celebrate the Mid-Autumn Festival that is approaching this weekend. No matter what you're searching for, our goal since Google Search launched 25 years ago has remained the same: to deliver the highest-quality information to everyone.
And all these years later, as our CEO Sundar Pichai has said: it's still our biggest moonshot, with so much more to do. 15% of searches we see every day are ones we've never seen before — meaning we have to constantly improve Search to make sure we're staying relevant with what people are asking. We make thousands of improvements to Search every year, and particularly with advancements in AI, we are continuing to reimagine what Search can be.
As we celebrate our 25th birthday this week, here's a quick look back at moments along the journey we've taken to make Search more helpful for people across Asia Pacific.
Search in your language
Back in 1998, Google started as an English-only service. From the start, we knew that helping people all around the world meant we would need to expand it to their languages. So within two years, we were operating in 14 languages including Japanese, Korean, and Simplified and Traditional Chinese. With this expansion, more people could search for content in their preferred language. In fact, just adding these four Asian languages made Search available for 75 million web pages in Asian languages for internet users around the world.
But that was just the beginning of our journey in Asia Pacific. When we opened our first office outside the US in Tokyo in 2001, we knew it would become a base to get to know the region better — and for us to improve our products for the people of Asia Pacific. And as we continued to add languages to Search (40+ Asian languages and counting), we saw an opportunity to expand on the results as well. While information in English is widely available online, in other languages it can be difficult to find. Thanks to advances in neural machine learning translation, in 2017 we launched a feature in India to help people access web pages originally written in other languages and read it in their preferred language.
New ways to search
Text search is where we began, but over time we've continued to create more intuitive ways to help people find information. For example, many people find it easier to speak their thoughts than to write them out — and advances in machine learning allowed us to launch Voice Search in 2008. This is particularly popular in India, where the percentage of Indians using voice search queries each day is nearly twice the global average.
And rather than reading, some people find it easier to listen to information — leading us to introduce the ability to listen to search results. We first brought this feature to India in 2021, so people could hear information in Hinglish and five Indian languages. Today, you can even search what you see with your camera, and just recently we launched a Search experiment in Japan and India that uses the power of generative AI to help people understand and explore topics. When we introduced Bard, our conversational generative AI experiment, Korean and Japanese were the first non-English languages we expanded it to.
Local knowledge from trusted partners
Over the years, partnerships have also played an important part in keeping Search locally relevant. From early warnings for extreme weather alerts to health information during the COVID pandemic, we work closely with organizations across the region to get people the right information at the right time. During the 2019 elections in India and Indonesia, we helped voters navigate the registration and voting processes by collaborating with local election commissions. Flood forecasting started as a pilot in partnership with Indian and Bangladeshi governments — and its success led us to scale the feature to other countries around the world.
Particularly in times of need, we want to make it as simple as possible for people to get results in a timely manner. Partners like ThroughLine (headquartered in New Zealand), the largest verified network of mental health and crisis helplines around the world, help us surface the highest-quality information when it matters most. As another example, our work with partners like Japan's Medical Note Co. helps people find doctor-verified information about common diseases.
Partnerships can also be about small moments of delight. We've collaborated with iconic Asian brands like Japanese video game companies Sega and Bandai Namco Entertainment to create special "easter eggs". So when you searched for "Sonic the Hedgehog" or "Katamari", you would see an animated Sonic figure — or a mini version of the Katamari Damacy game (try it out for yourself!). And of course, our BTS easter egg left KPop fans all over the world in "24/7 Heaven".
From making information more accessible across languages to working with trusted partners for their expertise, it's been inspiring to see how Search has helped people across Asia Pacific. Whether it's building in emerging technologies like generative AI or exploring new non-text ways of querying, I'm looking forward to seeing what we'll bring to Search in the years to come.
More from this Collection
25 years of Google — and a look at what's ahead
As we celebrate our birthday, here's a look back at how our products have evolved over the past 25 years — and how our search for answers will drive even more progress over the next quarter century.
View all 10 articles