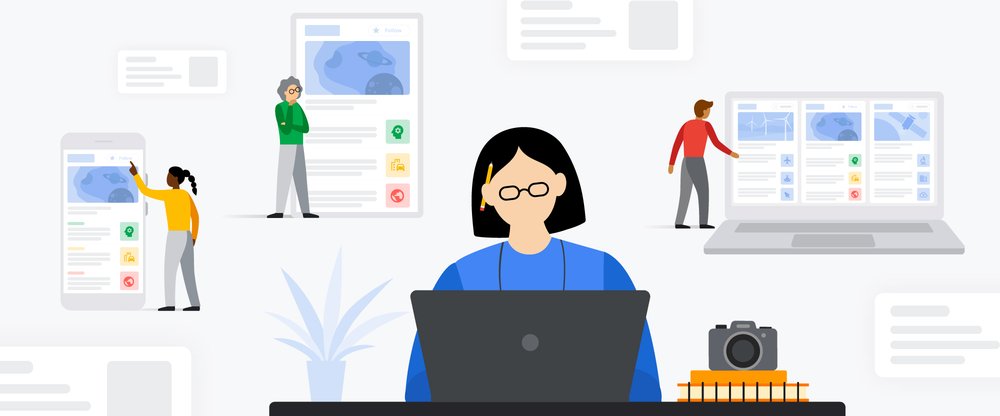 Google News Showcase, a product and licensing program for news publishers, will begin rolling out in Portugal today as "Destaques Jornalísticos no Google" in Portuguese. Participating publishers from local, national and independent Portuguese outlets can give readers more insight into the topics they choose to highlight, through curated story panels which can appear on Google News and Discover.
This is part of our global investment in news and reinforces our commitment to Portugal and journalism. With News Showcase (Destaques Jornalísticos), publishers can provide additional context about stories via curated panels, and add related articles, timelines and more. Publishers get more control of their presentation and branding, helping them be more visible to their dedicated readers and to those who are just discovering them.
Google has signed partnerships with 28 Portuguese publications, including O Jornal Económico, Jornal de Notícias, Observador, O MIRANTE and Jornal do Fundão. News Showcase (Destaques Jornalísticos) panels can appear on Google products, currently on News and Discover, and direct readers to the full articles on publishers' websites, helping them deepen their relationships with readers. In addition to the revenue that comes directly from these more-engaged readers, participating publishers will receive monthly licensing payments from Google.
Logos of our News Showcase partners
"Quality journalism has a paramount importance in a free and democratic world. It gives everyone the knowledge to play an active role in society as the world evolves, beyond witnessing history," says Marco Galinha, CEO of Global Media Group, who owns several titles in Portugal, including Dinheiro Vivo, Jornal de Notícias and TSF. "Sharing our quality information, strengthening our audience and connecting even more people is what we expect from Google News Showcase (Destaques Jornalísticos no Google)."
Since News Showcase (Destaques Jornalísticos) launched in October 2020, we've signed deals with more than 1,000 news publications around the world and have launched in more than a dozen countries: India, Japan, Germany, Brazil, Austria, the U.K., Australia, Czechia, Italy, Colombia, Argentina, Canada and Ireland. More than 90% of the publications that are part of News Showcase (Destaques Jornalísticos) represent local or community news. Local news is an essential way for readers to connect to their communities and ensure they get the news that impacts their day-to-day lives.
An example of how News Showcase panels will look with some of our partners in Portugal
"A Voz de Trás-os-Montes is a local newspaper, seeking, over time, to reinvent itself in the production of content and the formats in which it is presented, whether on paper or digital." says João Vilela, Director at A Voz de Trás-os-Montes. "Google News Showcase (Destaques Jornalísticos no Google) assumes itself as a product that will enhance the presence of this title in the digital world, also promoting the practice of quality, reliable and independent journalism, and providing readers with a good experience in accessing regional information."
To further strengthen these relationships, we offer News Showcase (Destaques Jornalísticos) readers the ability to read select paywalled content from publishers. This feature means readers will have the opportunity to read more of a publisher's articles, encouraging them to learn more about the publication — and potentially subscribe.
"Earlier this year, we challenged Google and the Portuguese Press Association to work together to find solutions to support a sustainable Portuguese media ecosystem, and in particular the local and regional media, in order to respond to the digital challenges, based on a framework that respects individual rights and copyright and ensures that the Portuguese citizens continue to have access to credible and relevant information", says André de Aragão Azevedo, Secretary of State for the Digital Transition. "We are proud to see such great progress and we are in full support of initiatives like this."
Google News Showcase (Destaques Jornalísticos no Google) is our latest effort to support publishers of all sizes and the news ecosystem in the country. Through the Digital News Initiative (DNI) Fund, Google has invested nearly eight million euros to support 32 Portuguese projects, tackling major challenges such as boosting digital revenues to telling local stories and exploring new technologies. In 2020, with the spread of the COVID-19 pandemic, the Google News Initiative offered financial support to 71 Portuguese newsrooms through its global Journalism Emergency Relief Fund. Around the world, the GNI, alongside a $300 million investment, has supported more than 7,000 news partners in over 120 countries and territories.
Google also sends eight billion visits each month to European news websites from products like Search and News, which publishers can monetize with online advertising and subscriptions on their websites and apps. Our ad technologies enable news organizations to sell their ad space to millions of advertisers globally — including advertisers they wouldn't have access to without these services.
Beyond working with publishers on their digital transformation, it's vital we also support access to accurate and reliable information. Since 2015, the Google News Lab has trained 2,550 Portuguese journalists and journalism students on a range of digital tools to help them research, verify and visualize their stories. We've also supported a number of Portuguese specialists including Media Veritas, a project by the Portuguese Press Association to promote media literacy and combat misinformation, and we contributed 25 million euros to the European Media and Information Fund, managed by the Calouste Gulbenkian Foundation, European University Institute and the European Digital Media Observatory to strengthen media literacy skills.
"Rather than a threat, digital can be an opportunity for publishers. This is why APImprensa is supporting its members (regional and local) to deploy all the advantages of participating in the Google Showcase project," says João Palmeiro, President of the Portuguese Publishers Association. "The advantages are a unique opportunity to understand how to compete in the digital world using tools that can bring more information, knowledge and skills to newsrooms and to the digital business.
Google News Showcase (Destaques Jornalísticos no Google) helps readers discover even more news and provides publishers with a new online experience to deepen their engagement and relationship with their audience. We are happy to contribute to the news ecosystem, support the open web and continue to provide access to information in Portugal and elsewhere.