Leveling the playing field in sports — and at Google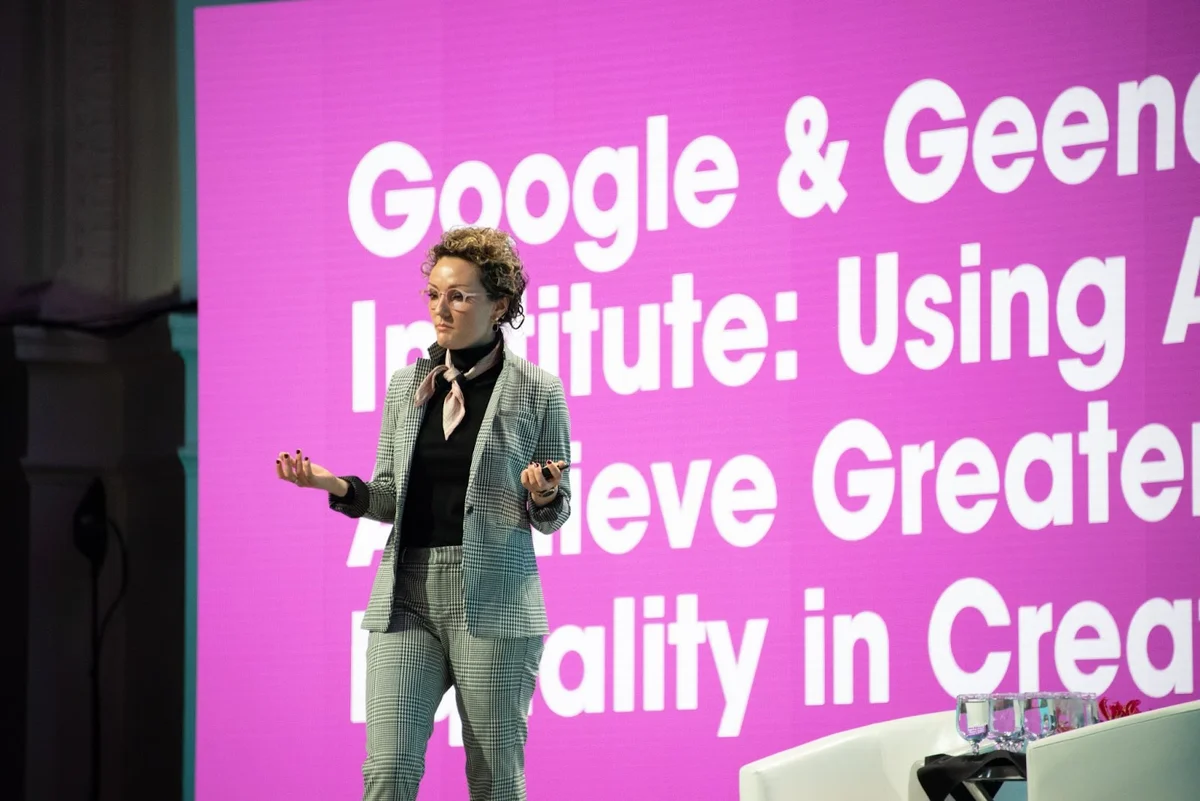 As a middle schooler, Mackenzie Thomas would wake up at 5 a.m. to watch SportsCenter. "I hoped to see my childhood heroes Mia Hamm, Briana Scurry and Lisa Leslie," she says, "but instead I memorized tons of MLB and NBA scores." Even then, she saw how differently the media celebrated women athletes compared to men. Now she's dedicated to driving equity on and off the court. 
Today Mackenzie leads marketing inclusion, and her days are spent asking hard questions and ensuring that Google is focusing on historically underrepresented voices in tech and in media, where only 4% of television sports coverage is dedicated to women's sports, for example. And she's a core member of the team responsible for driving Google's partnership with the WNBA and National Women's Soccer League (NWSL).  
Fresh off of Google's sponsorship of the WNBA All-Star Game and presentation of ESPN Film's latest 30 for 30 documentary featuring Maya Moore — and as we prepare to watch the world's top athletes compete in Tokyo — we talked to Mackenzie about Google's efforts to bring equity to sports and what it means to her personally.
Mackenzie's love of sports started at a young age.
How would you describe your job at a dinner party?
My team works with the people who design and build some of Google's most used and loved products like Search, Maps, Photos and News to make them more equitable, more inclusive and simply work better for everyone. We also work to ensure people see positive portrayals of themselves in the stories Google tells. So for example, we partnered with community-based organizations to drive equity in our COVID-19 vaccine response and worked with the trans community to make reminiscing with Google Photos more inclusive.
Tell me more about Google's efforts to bring gender equity to sports.
During the 2015 Women's World Cup, I was frustrated about the explicit lack of media coverage, pay disparity and product features for the biggest stage of women's soccer. Fast-forward to late 2019, we asked ourselves, "What if we applied the notion of Title IX to our own investment in sport?" So we started what we colloquially called "Project IX," an effort that spread throughout media, marketing and engineering teams across Google and YouTube. The goal being to better support and highlight women's sports, all year, not just in big moments.
What are some of the specific ways you tried to do that?
While many of us are former athletes, the real experts are outside Google. We had countless conversations with the WNBA and NWSL, player's associations, nonprofits and media partners like Just Women's Sports, Women's Sports Foundation and AthleteAlly. This helped us zero in on what role Google can and should play in championing gender equity. 
As a tech company, we can focus on our products by taking accountability and making sure we're not just focusing on monetary investment but examining how every decision we make can be more equitable. For instance, over the past few years, we've made it easier to follow more than 250 women's leagues on Search. 
The WNBA sponsorship was a big deal for Google. How does that fit into Project IX and what's next?
Working with the league and ESPN to deliver 25 nationally televised games this season and a dedicated segment for women's sports in ESPN's SportsCenter were important first-steps and what Project IX is all about. The WNBA is on the forefront of social and racial justice, so as we deepened our commitment to racial justice, this partnership made sense. 
As part of Project IX, we wanted to increase our media spend in sports, not just during huge moments like the WNBA Playoffs, but throughout the season. We quickly saw the lack of content on broadcast. So over the next three years, we're adding 300 hours of women's sports content to broadcast and digital to help increase representation, create more opportunities for advertisers and importantly, allow more people to see just how stellar these athletes are.
How have your personal experiences molded this work?

Even though I drifted away from considering myself an "athlete" when I graduated from high school, I've remained tied to the relentless pursuit of justice through sport: Colin Kapernick kneeling for racial justice, Megan Rapinoe and her teammates fighting for equitable pay, Cece Telfer and Schuyler Bailar advocating for trans rights. I believe it's on all of us with privilege to build a more just world. 
How do you personally challenge the status quo? 
As a queer, able-bodied, cis, white woman, there are spaces in which I'm "othered" and more often, spaces where I undeniably contribute to "othering." To quote the great Shirley Chisholm, "If they don't give you a seat at the table, bring a folding chair." I'd like to take that one step further and pledge to bring a stack of chairs -- for queer, Black, Latino, Indigenous, disabled and trans voices.