Adapting products to meet teachers' changing needs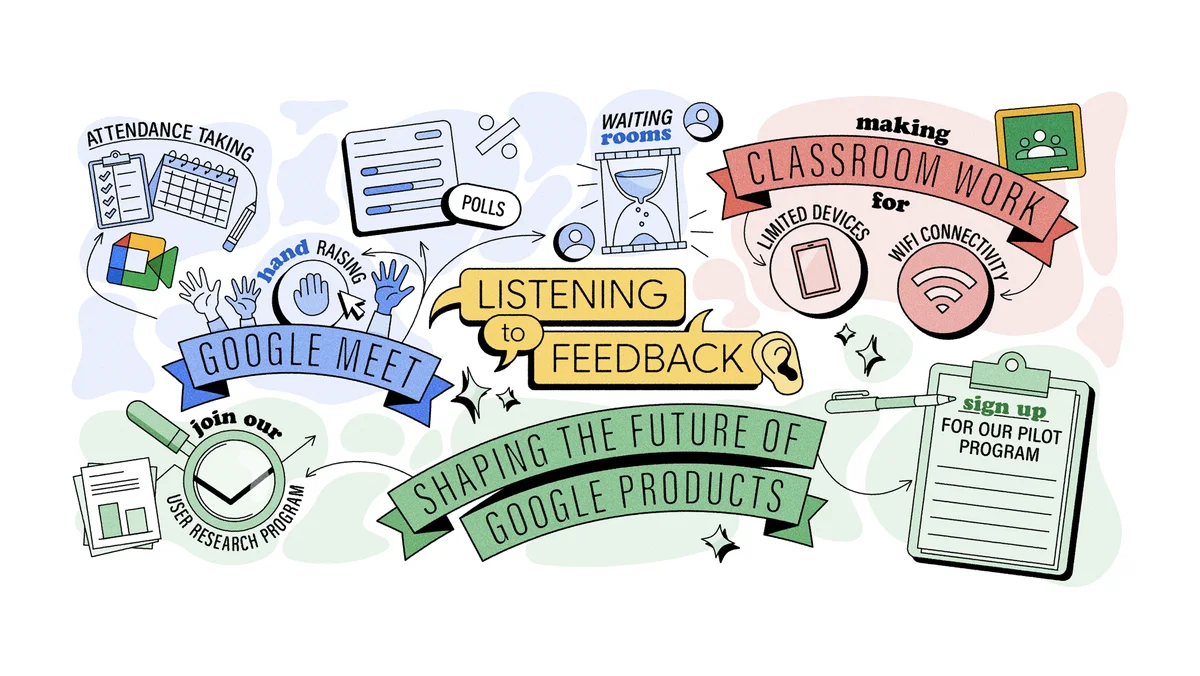 Editor's Note: Join us for Google for Education's product launch event, The Anywhere School 2022, to find out about the latest features to help students pursue their personal potential.
As we build our products, it's essential to listen to user feedback. That's how we help make them useful for the people using them — and more inclusive, too. Our Google for Education team has a long history of directly involving schools in user research studies to better understand what they need. This connection to educators and students has made it easier to adapt our products as schools' unique needs change over time. Here's how we've done just that.
Making virtual teaching more engaging with Google Meet
In 2020, the instructional demands on teachers radically changed overnight, prompting many teachers to use Google Meet to host their virtual classrooms. But Google Meet was originally designed for businesses — not classrooms — and the product was not meeting the needs of educators, students or their parents and guardians.
"Students are using the tools in a way that makes it hard for teachers to do their job," a tech admin based in the U.S. told us. "Teachers can't mute students, or put them in groups, they can't ask questions easily to take the temperature of the class. Students are also jumping on the video without supervision – and that's an issue. I wish there was more control."
To improve the experience, the Google Meet team worked quickly to figure out what teachers did need from the product, and spent a lot of time learning from teachers directly. The team was able to incorporate this feedback into the product design, resulting in new functionality like attendance taking, hand raising, waiting rooms and polls. "With the upgraded Meet experience, I find it very practical and friendly to manage the class and communicate with the students," a high school teacher in Mexico told us, "obviously improving the overall experience for students."
The Google for Education team working in schools to gather user research.
Google Meet became a core piece of the virtual classroom, better connecting teachers with their students and reducing the stress of managing the new remote environment. And these changes ultimately benefited everyone interacting with Google Meet, including businesses and those using it for personal use.
Making Classroom work for limited device access or Wi-Fi connectivity
We took a similar approach to improving the user experience of Google Classroom by adding features to help close access gaps. Educators noted that in areas where students didn't have computer or tablet access, students were completing homework by hand and submitting photos of their work with a mobile device. But Google Classroom did not have the functionality to grade photos. The team took that feedback, and a new feature was added that let teachers interact with students' submitted photos, ensuring greater access to learning across more types of devices.
Teachers from around the world also told us that because Google Classroom access was only available with Wi-Fi, this increased learning barriers in countries with limited Wi-Fi access on phones, especially when adding more data costs money. So we made some features of Google Classroom available offline for Android devices, like reviewing class announcements and assignments, editing downloaded assignment attachments and managing offline files. "Over 20% of our students do not have access to the internet at home," a superintendent in the U.S. told us. "We needed a way to provide access to their work. The offline feature allowed that for students."
One other improvement benefited all teachers who use Google Classroom across multiple classes. The team quickly prioritized building features to resolve this issue, saving teachers' (very precious!) time and energy.
Help shape the future of Google products
User feedback is critical to ensure we continue building more inclusive and helpful products – and focusing on the features that teachers need and want most. When communities are sharing their experiences with Google, we have a better understanding of how to adapt to their needs. If you would like to start sharing feedback with us, here's a few ways to get started: