Lessons from helping 10 million during the pandemic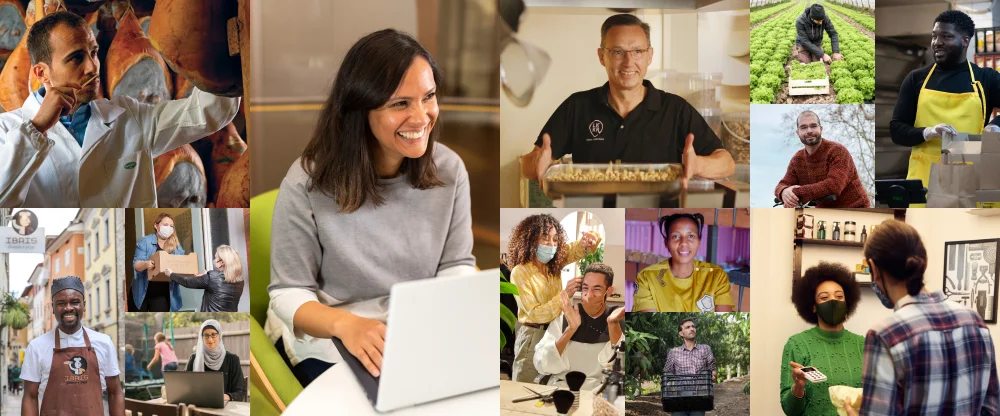 2022 marks the third year of the pain of the COVID-19 pandemic. Though we've yet to see the long-term impact it will have on how we live, work, study and grow, I've never seen a time where technology has been as helpful to as many people as it has been over these last three years.
The same technology that has kept so many going will be key to the economic recovery, but we must also make sure no one is left behind.
In 2015, when I first started this role at Google, the EU released a report highlighting a digital skills gap that threatened to leave a million jobs unfilled. Seeing a unique challenge and opportunity for Google to help, we launched Grow With Google, which aims to help accelerate economic recovery through our technology, tools and training. Through Grow with Google, we've trained 88 million people around the world in the skills they need to build their career, launch or grow their own business.
With the onset of the pandemic, we sought to build on these efforts. The acceleration of technology was keeping businesses afloat and helping communities connect — but it also risked leaving some people behind.
So in June 2020 we set ourselves a new target, pledging to help 10 million people and businesses in Europe, the Middle East and Africa (EMEA) find jobs, digitize and grow by the end of 2021. This important milestone has now been reached, and surpassed.
We approached this challenge by:
Providing businesses with the tools they need to thrive
Research has found 80% of small businesses increased their use of digital tools during the pandemic. So we've launched more than 200 new features since March 2020.
For example, with Business Profiles, we made it easier for businesses to manage their presence directly on Google Search and the Google Maps app and connect with customers online. These tools have helped businesses and people adjust and thrive during the pandemic. In fact, boutique French retailer Indira de Paris now attributes 70% of their sales to digital, thanks to these features.
We have also launched new features on Search and Google Maps enabling restaurants to inform customers they now do delivery — or for local stores to say they offer curbside pick-up. People can now find this information on Search and Maps for more than six million restaurants and retailers in Europe. To help retailers to connect with more customers, we made it free for retailers to list their products on the Shopping tab throughout Europe, the Middle East and Africa. To help retailers stand out online, in over 10 EMEA markets, we launched tailored recommendations for every business with our new tool, Local Opportunity Finder.
Supporting people and businesses to learn new digital skills
To make the most of the digital opportunities available to them, people and businesses need the right skills. Across Europe, the Middle East and Africa, as part of our Grow with Google efforts, we focused on providing digital skills training.
We have worked alongside partners to launch initiatives aimed at supporting local businesses and communities to make the digital transition. With the German Retail Association (HDE) we launched the ZukunftHandel initiative, which has provided over 70,000 retailers with coaching and other support.
Long before the coronavirus, it was clear the jobs of the future would require a new set of digital skills. McKinsey now estimates that more than 25% of people may need to transition new jobs because of the pandemic. In response, we launched new Google Career Certificates to help people reskill for roles in high-growth areas such as IT support, project management, data analytics or UX design. People like Jelena in the UK have also benefited from the 100,000 scholarships we are providing in partnership with local governmental and non-governmental organizations. Jelena participated in a Project Management course from the Google Career Certificate program and is now a digital project coordinator for various charitable initiatives.
A picture of Jelena Stephenson in the UK who completed the Project Management course from the Google Career Certificate programme
From our experience we feel there are five key lessons to share as we all continue the journey to economic growth and recovery in 2022.
1. The digital transition will continue at pace in 2022.
The future will be about businesses having the right skills and using the full range of digital tools to take advantage of the opportunities technology presents. Research has found that small businesses in Europe with a sophisticated use of digital tools were able to build a "digital safety net" during the pandemic, resulting in 80% better sales and 60% better revenue. For example, German fashion company das schöne leben ran their first in-house Search campaign during the pandemic and has tripled their direct online orders with customers of all ages throughout Germany.
2. Obtaining new skills will support the transition and expand the digital opportunity to more
Research by Google and McKinsey from 2020 shows that more than 90 million people in EMEA may need to learn new skills for future jobs, and that some people will need to change careers entirely. The past two years have only accelerated those changes further. Our work has provided us with numerous examples of businesses and individuals making the most of this opportunity. Noemi in Italy learned new skills so she could help local small businesses to digitize and grow, while Alba in Madrid used her Career Certificate to secure a job in IT support. Our Grow with Google and Career Certificate programs will continue to provide people with these skills.
3. For lasting impact, we must ensure that this opportunity is open to all
The pandemic has reinforced growing inequalities both between economies and within them. We know certain groups are more impacted than others: those without a college degree, ethinic minorities and women. To address this, we need new ways of thinking. We know that digital skills and tools, with the right support, can unlock everyone's potential. In our efforts, we have seen countless examples of this — from Ibrahim in Italy, to the many women-owned businesses using Google tools across Europe. We will continue to work hard to reach everyone and will continue to work with a diverse group of organizations like MExoxo in Greece, which supports women, refugees and LGBTQ+ women in entrepreneurship.
4. Current challenges call for greater collaboration between organizations, communities and governments.
Partnerships have been the cornerstone of our work in supporting communities and governments. In France, working in partnership with Pole Emploi in some regions has helped job seekers identify gaps in digital skills and ways to access them. In 2022, expanding the digital opportunity and driving digitization should see this work continue. This will require continued collaboration on policy efforts, such as those led by the European Commission, as well as careful consideration of the regulations that will support a digital-led recovery.
5. The green economy will be the bedrock of the present and future.
The pandemic has demonstrated our collective ability to tackle major challenges — but coronavirus is not the only crisis we are facing. As we look to recover from the pandemic, the same focus must be given to fighting the climate crisis. Entrepreneurs are already working with governments and organizations to develop the technologies capable of addressing this challenge. Through the Google for Startups Accelerator: Sustainable Development Goals Project 2030 and anchoring over €2 billion of green infrastructure investments in Europe by 2025, we are backing those who are striving to find these solutions. We also want to help businesses and individuals make the right choices, working with SolarPower Europe's #SolarWorks program to raise awareness of the diverse range of careers available in solar as well as promoting sustainable choices through the products we provide. In the U.K. we have worked with Planet Mark to offer training to help small businesses their journey towards sustainability.
The pandemic has presented enormous challenges to communities and economies across the world. While difficult work is still required to respond to and recover from the public health crisis, our work in helping 10 million people and businesses in Europe, the Middle East and Africa to find jobs, digitize and grow has underlined to me that there are also enormous opportunities. The future we need to build is an inclusive, sustainable and digitally accelerated one — and we are here to play our part.