7 ways we're helping to reduce plastic pollution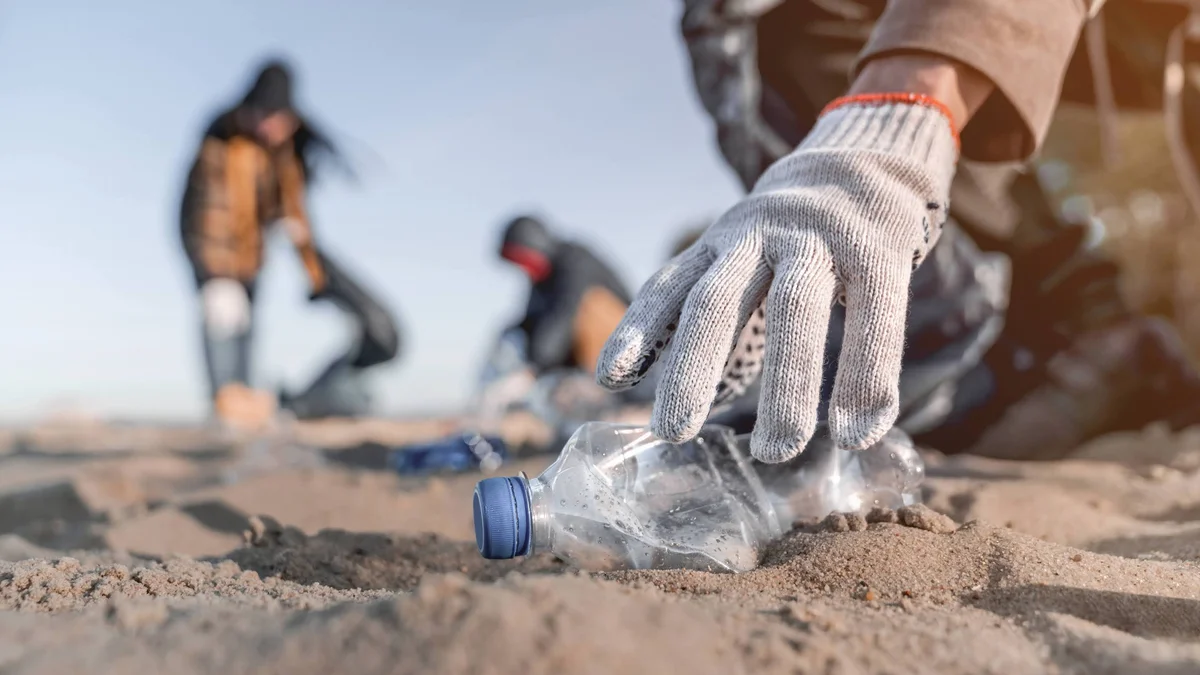 Ninety-one percent of all plastic produced is designed for single-use purposes — used just once and then thrown away. Plastic takes hundreds of years to decompose, and it can release harmful chemicals into the environment. And despite growing awareness of how dangerous it is, plastic production is set to double in the next 20 years.
This World Environment Day, we're joining the global call to beat plastic pollution. Here are seven ways we're working hard to do that.
1. Making it easier to recycle
It can be difficult to figure out what personal items are recyclable — including plastic goods like bottles, bags or clothes — and where to recycle them.
In 2021, we introduced a new group of recycling attributes for Google Business Profiles on Search and Maps, allowing local storefronts and shops to show the recycling services they offer and helping people share this information with others in their community. Now you can search for nearby recycling drop-off locations — through searches like "plastic bottle recycling near me" — all over the world.
2. Helping people find pre-owned items
It's no secret that the fashion industry contributes significantly to emissions and waste: Clothing is responsible for about four percent of carbon emissions. What's more, each year the fashion industry uses 342 million barrels of petroleum to produce plastic-based fibers such as polyester, nylon or acrylic.
We've introduced new features in Google Shopping to help people make more sustainable fashion choices, like shopping for pre-owned items. Within Search, you'll see labels that highlight pre-owned products so it's easier to make eco-friendlier shopping decisions.
3. Reducing waste with machine learning
Less than 10% of our global resources are recycled, and nearly a fifth of items that are sent to recycling plants aren't supposed to be there. This is made worse by inefficiencies and inaccuracies in the waste sorting processes at material recovery facilities.
To help combat these issues, we introduced CircularNet, a set of machine learning and AI algorithms to support the way waste management facilities identify, sort, manage and recycle materials.
We're continuing to improve the models in partnership with experts in the waste management and recycling industries. And we hope that, with time, CircularNet enables better and more efficient recycling strategies.
4. Supporting others focused on making change
We also know how important it is to support others with big ideas to tackle these challenges. Google.org grantee Gringgo, for example, uses technology to improve waste management systems. They've launched a number of apps, including one for waste workers to track the amount and type of waste they collect. In their first year, the Gringgo team was able to improve recycling rates by 35% in their pilot village, Sanur Kaja in Bali. Azure Alliance, a recipient of the AVPN APAC Sustainability Seed Fund supported by Google.org, has taken a more hands-on approach. They've developed the Azure Fighter, an unmanned and fully electric boat that snatches floating debris like plastic from harbors, lakes, ponds and waterways.
Google for Startups has also sought out companies focused on using technology to solve sustainability challenges. Through an accelerator, the team provided mentoring and technical support to 11 startups focused on everything from food waste to fashion recycling and reuse. One company, Nuvilab, uses AI to analyze food waste and improve operational efficiency in restaurants across South Korea.
5. Using sustainable materials in our hardware
As part of our goal to achieve net-zero emissions across our operations and value chain — including consumer hardware products — by 2030, we've focused on building more sustainable hardware.
In 2022, approximately 30% of the materials used in new products we launched and manufactured were recycled content.1 And as part of our commitment to plastic-free hardware packaging by 2025, our latest packaging for Pixel 7 uses 99% plastic-free materials.2
Beyond building more sustainably, we're also working to create new products and retail spaces that help reduce energy consumption, support clean energy and reduce waste. We also established a partnership with iFixit to give our customers more phone repair options — and in turn, extend the life of each device.
6. Reducing the plastic in our offices
We want to show others a better way forward by becoming a circular Google. We're looking into swapping single-use disposable products in our onsite food service operations with more reusable solutions, whether it's snack wrappers or packaging used during distribution and delivery. Reducing, and ultimately eliminating, single-use plastics will help stem the tide of plastic polluting our planet.
In April, we also launched our Single-Use Plastics Challenge, which gives food companies with packaging that's free of single-use plastic the opportunity to test their solutions in Google's U.S.-based cafes and kitchens.
This work builds on our ongoing efforts to map out the types of single-use plastic products purchased through our supply chain and partner with distributors that use more reusable, durable containers to transport goods. We're also working with some of those companies to help them shift away from single-use plastics in their operations.
7. Visualizing plastic pollution
Plastic degrades into smaller pieces called microplastics, which then end up in the air we breathe. To highlight this concerning and dangerous process, Google Arts & Culture worked with data artist Giorgia Lupi to visualize these particles in a virtual exhibit. The interactive Plastic Air experiment offers a glimpse into the composition of plastics in the air — a mix that could include, for example, granules from bottles, fragments from broken CDs or fibers from polyester textiles — and ways to take action.