Google Allo
Say hello to Google Allo: a smarter messaging app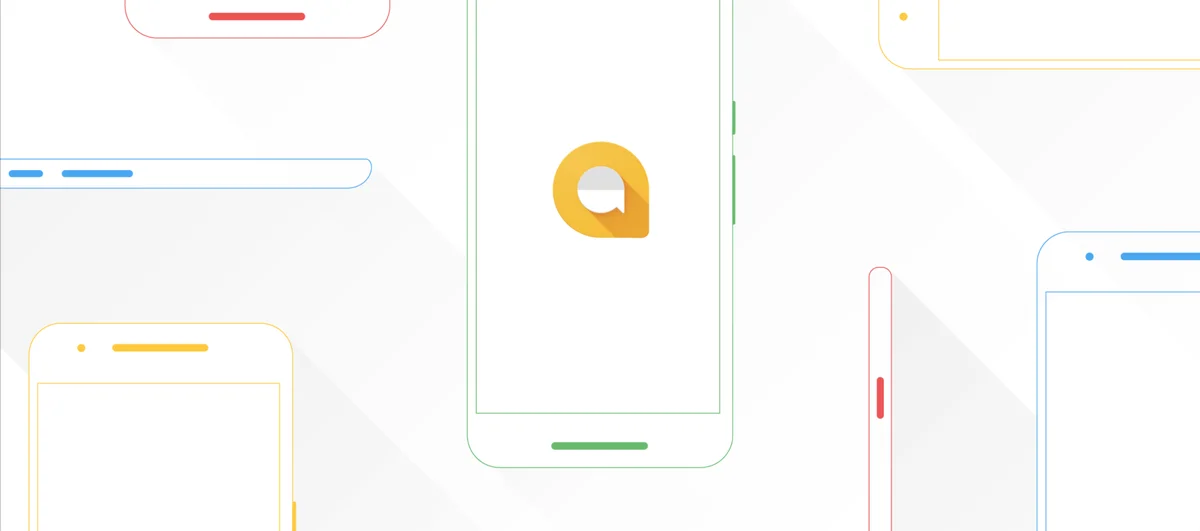 Whether it's planning a night out or just catching up, we all rely on messaging to stay in touch with friends and loved ones. But too often we have to hit pause on our conversations — whether it's to check the status of a flight or look up that new restaurant. So we created a messaging app that helps you keep your conversation going, by providing assistance when you need it.
Today, we're releasing 
Google Allo
, a new smart messaging app for Android and iOS that helps you say more and do more right in your chats. Google Allo can help you make plans, find information, and express yourself more easily in chat. And the more you use it, the more it improves over time.
Respond quickly with Smart Reply
Google Allo makes it easier for you to respond quickly and keep the conversation going, even when you're on the go. With Smart Reply, you can respond to messages with just a tap, so you can send a quick "yup" in response to a friend asking "Are you on your way?" Smart Reply will also suggest responses for photos. If your friend sends you a photo of their pet, you might see Smart Reply suggestions like "aww cute!" And whether you're a "haha" or "😂" kind of person, Smart Reply will improve over time and adjust to your style.
Express yourself with photos, emojis and stickers
Chat is more than just text, so we've created a rich canvas for you to express yourself in Google Allo. You can make emojis and text larger or smaller in size by simply dragging the "send" button up or down. Make photos your own by scribbling on them before you send. And we've worked with independent artists and studios around the world to create more than 25 custom sticker packs, because sometimes a "sloth riding a pizza" says it all.
Meet your personal Google Assistant
In Google Allo you'll also be introduced to a preview edition of the Google Assistant. With your Assistant in Allo, you can have a conversation with Google — ask it questions and let it help you get things done directly in your chats. You no longer need to leave a conversation with friends just to grab an address, share your favorite YouTube video, or pick a dinner spot. Just type @google to bring your Assistant into any group chat. And of course, you can also chat one-one-one with your Assistant in Allo.
Here are just a few ways your Google Assistant can help in Google Allo:
Make plans with friends. You can easily move from discussing dinner with friends to making plans for the night, right in your chat. Just add the Assistant to your group chat and ask for movie times, local restaurants and more. You can also research travel destinations, flights and hotels together with friends.
Get answers. Get the latest info on everything from news, weather, traffic, sports, or your upcoming flights status. Ask the Assistant to send you daily updates on the information you care about.
Have some fun. Ask your Assistant to share that funny YouTube video or play games with friends right in your group chat — for instance you can compete to guess a movie title based on a series of emojis.
The Google Assistant is the next chapter in a journey Google has been on for many years to assist people in their everyday lives. We're starting with a preview edition to show you just one way that your Assistant will work for you in chat. Over the coming months, your Assistant will be available in more Google products, working seamlessly throughout your day at home or on the go. The Assistant will initially be available in English, with more languages coming soon.
Chat in Incognito mode
We take privacy and security seriously in Google Allo. All chats in Google Allo are encrypted using industry standard technologies like 
Transport Layer Security
 (TLS). But we went a step beyond this and we created a mode within Google Allo called 
Incognito
(h/t 
Chrome
). When you chat in Incognito mode, messages have end-to-end encryption and additional privacy features like discreet notifications and message expiration.
You can also message friends who aren't yet using Google Allo through 
SMS
 or, for those using Android, 
app preview messages
.
We can't wait for you to say hello to Google Allo! We're beginning to roll out Google Allo for Android and iOS, and the app will be available worldwide in the next few days.