All talk, no type: 20 things you can do with your voice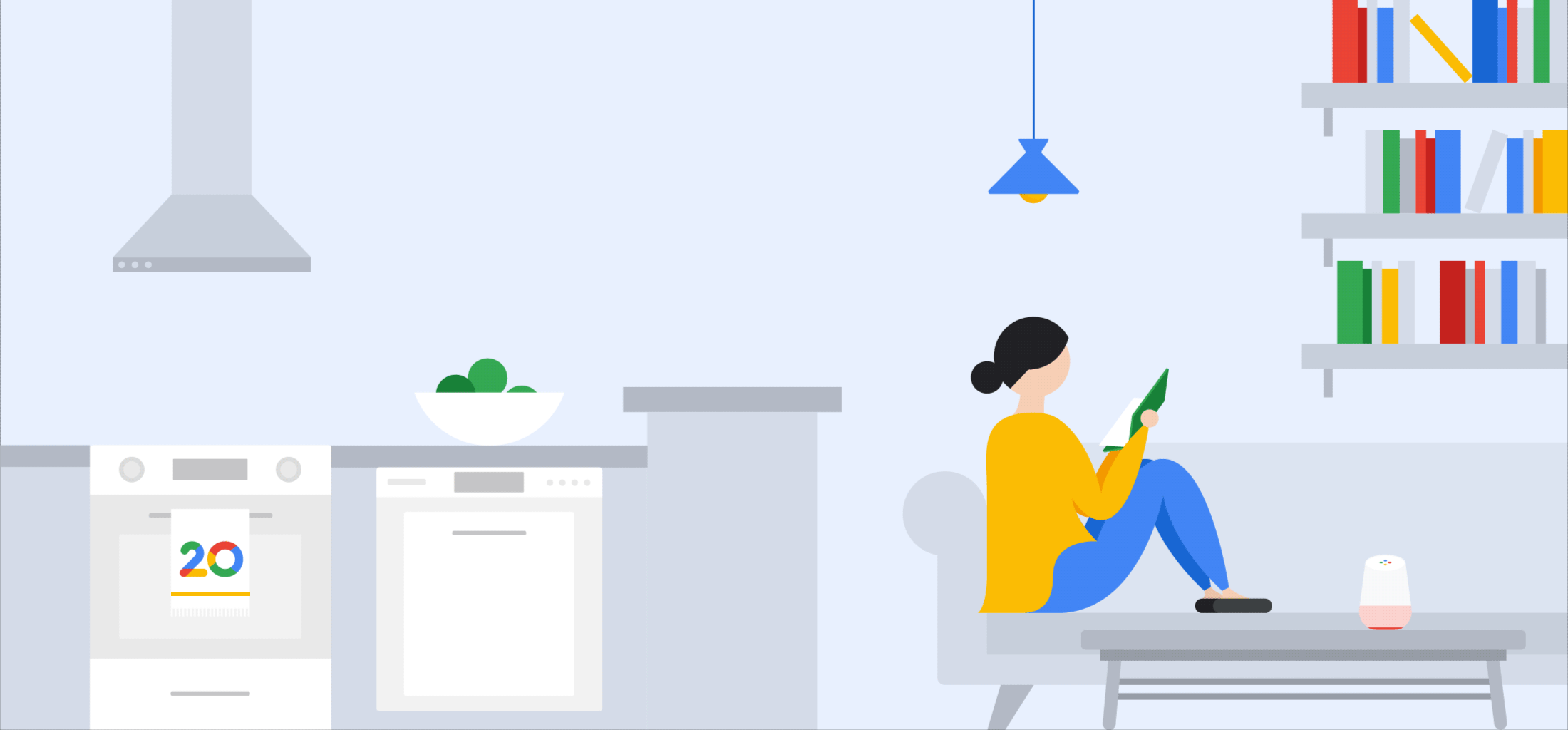 When Google started, the Search bar was the window to a whole world of information. Twenty years later, and you can now access all that information with the sound of your voice. Thanks to the Google Assistant, you can talk to speakers, cars, watches, TVs, laptops and phones to ask questions, save time and get things done. Try out these 20 tips and see how much you can get done with the sound of your own voice.

For the home
1. Did someone say dessert? Say "Hey Google, let's make chocolate chip cookies" for step-by-step baking instructions. And if you have a Smart Display you can even follow along visually. 
2. Hands covered in cookie dough? No problem. Simply ask your Assistant for a little help to set a timer, or multiple concurrent timers, without touching a thing.  
3. You can also ask for conversions: "Hey Google, how many teaspoons are in a tablespoon?"
4. Out of flour? Say it ain't so. Actually, go ahead and say it. With Google Express you can order delivery for household essentials from stores like Walmart and Target. Tell your Assistant or Google Home: "Ok Google, buy me flour." 
5. Knock knock, who's there? Is it the grocery delivery at your door? Just ask your Google Assistant. If you have a Nest Hello doorbell, the Assistant will alert you when someone rings the doorbell and give you the option to view the live stream right from your phone, TV or Smart Display.
6. Straight talk: Everyone loves fresh-baked cookies. Broadcast a message to the Google Homes throughout your house to let the whole family know when the cookies are done. This feature also comes in handy when it's time to leave for school or round up the family for dinner.  
7. Now it's time to sit back and enjoy the fruits cookies of your labor. Whether you're cozy on the couch or your hands are full with cookies, you can stay right where you are. If you have a Chromecast, Smart Display, or a smart TV with the Google Assistant built-in, you can stream your favorite show, fast forward and adjust the volume—all with the sound of your voice.
For the road
8. Running late for a coffee date with your friend? Keep your eyes on the road and ask your Assistant on your phone for some help—
"Hey Google, text Ashley that I'll be there in 20 minutes."
9. Better yet, save time and pre-order your favorite lattes and breakfast pastries from Starbucks without ever taking your hands off of the wheel. And while you're at it, reserve a parking space with SpotHero on the go.
10. Forget about stopping to ask for directions. Say,
"Hey Google, how long does it take to drive to the closest Starbucks?"
and get quick driving directions from Google Maps or Waze.
11. Keep your hands on the wheel, and the good times rolling. Ask your Assistant to resume listening to a podcast or audiobook. You can also cue your favorite driving playlist from apps like Spotify or Google Play Music. 
For fun
12. Have some good old-fashioned family fun with games, jokes and trivia on the Assistant. To join in on one of our latest games say, "Hey Google, play Toy Story Freeze Dance."
13. ¿Cómo se dice "bilingual?" You can now speak two languages interchangeably and the Assistant will respond in kind. Currently the Assistant understands any pair of languages within English, German, French, Spanish, Italian and Japanese. 
14. Start your day on a positive note. Say "Hey Google, tell me something good." This experimental feature (available on the Assistant in the U.S.) gives you a daily dose of good news.
15. Walk your talk, literally. If you have a Wear OS by Google device that supports fitness tracking, then say "Ok Google, start my walk." Google Fit will start tracking your distance and can even tell you your heart rate and step count. 
16. You don't even have to leave your house to break a sweat. With Google Home and Chromecast, just ask to cast workout videos from YouTube to your TV. 
17. Talk is cheap, but group dinners aren't. Send your friends money for last night's meal without ever reaching into your pocket. Just tell your Assistant to send money via Google Pay.   
18. When it comes to Fantasy Football leagues, you can do more than just talk a big game. The Assistant will dish out week-to-week lineup advice based on CBS Sports Fantasy expert rankings and SportsLine data, just ask "Hey Google, ask CBS Sports if I should start Matt Ryan or Cam Newton this week."
19. Do all of these things have your brain spinning with ideas? Take five to meditate and process it all by saying "Ok Google, talk to Headspace." 
20. And finally, in honor of Google's birthday month, we've been saying using this one a lot: "Hey Google, sing me Happy Birthday!"