The Google Assistant comes to more devices at home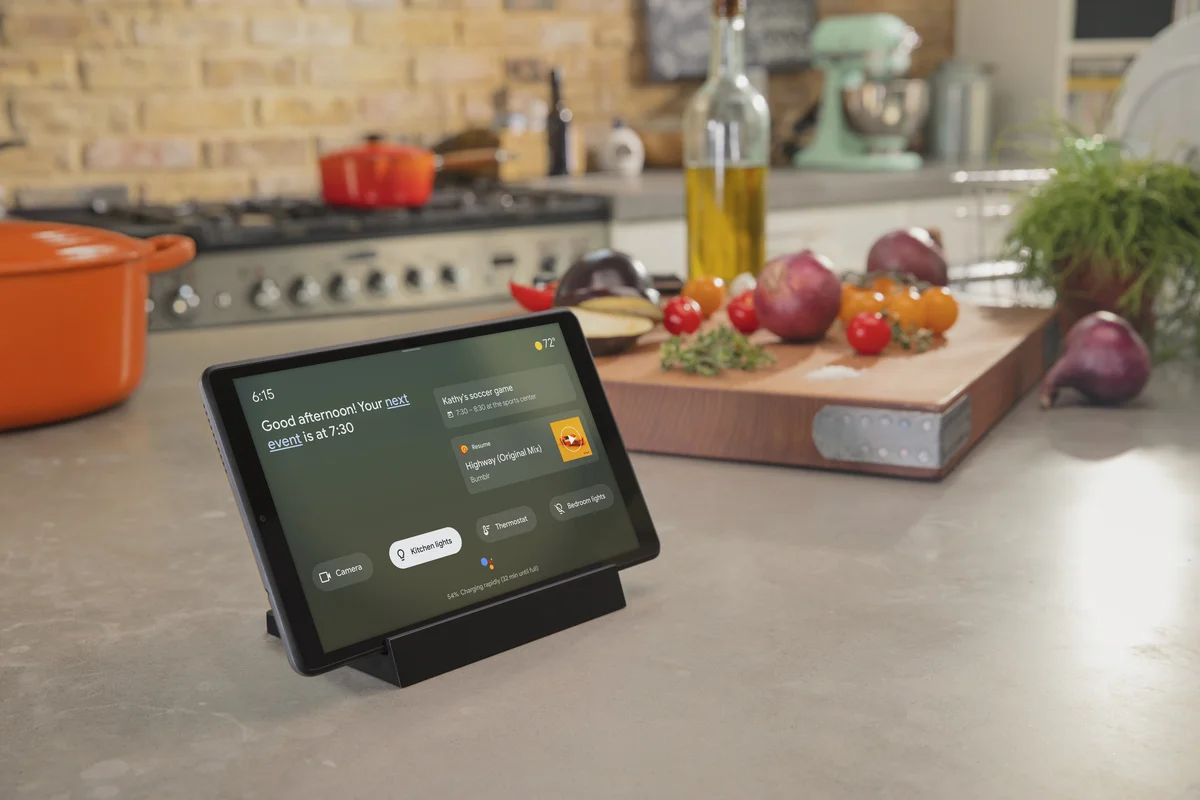 With the Google Assistant, we're helping you get things done around the house—whether your hands are full in the kitchen, you're too tired to get up from the couch after a long day or you're rushing to get out of the door. Just ask the Assistant to play your favorite show, turn off the lights, arm your security system, pre-heat the oven or set the thermostat to 72 degrees. So you can use the Assistant on a device that works best for you and your family, we're at IFA 2019—one of the largest trade shows for consumer electronics and home appliances—to highlight the partners that have brought the Assistant to new speakers, phones, headphones, TVs, and smart home appliances. 
Making your Android phones and tablets more helpful in the home 
While your mobile device is charging on a nightstand, living room table, or kitchen counter, it can still help you stay on top of your day. Google Assistant's Ambient Mode is a new visual overview that makes it easier to see notifications and reminders, start a playlist and control smart home devices on the lockscreen of your device. When you're done, your screen will turn into a personal digital photo frame linked to your Google Photos account to add another personal touch. Ambient Mode will be available on the upcoming Lenovo™ Smart Tab M8 HD (when placed in its smart charging station) and Lenovo Yoga™ Smart Tab (when you pop out its handy kickstand), as well as when you start charging your new Nokia 7.2 and 6.2.
Introducing the Google Assistant's Ambient Mode
The Assistant already works with popular messaging services to help you read and send messages. Now you can make hands-free audio and video calls with the Assistant starting in the WhatsApp Android app. Just say, "Hey Google, WhatsApp video John." 
Find the Assistant on portable smart speakers and Smart Displays, new TVs and headphones

A few months ago, we brought the Assistant to your Sonos and Bose speaker systems for the first time. They're now available in the U.S., U.K., Germany, Canada, France, Australia and The Netherlands, with more countries to come before the end of the year. Even better, the Assistant will be available to help you anywhere in the house and the backyard, with new battery-powered smart speakers, like the Sonos Move, Bose Portable Home Speaker, and JBL Link Portable. 
And so you can pick an entertainment experience that fits best for you, this week the Assistant is coming to a wide range of new voice-activated speakers and soundbars, including the JBL Link Music, Phillips AW25 and TAPN805 (soundbar), Konka G1, SEIKI Tough and Cigar, high fidelity Braun Audio LE01, LE02 and LE03. We're also expanding the Assistant to more Android TVs from top brands, including Hisense, Sony, TCL, Philips, Changhong, Haier, Skyworth, Metz, Vestel, Sharp, JVC , XGIMI Projector, RCA and SmartTech. 
Meanwhile, we worked with Lenovo to announce a new 7-inch Smart Display that has been redesigned to fit in smaller spaces in your house. The Lenovo Smart Display 7 comes with all of the Assistant visual features you expect on a smart display for controlling connected devices or catching up on the news and will be available next month in select European countries and will roll out to more markets over time. The recently launched Lenovo Smart Clock will be expanding to new countries around the world, including Spain, Norway, Denmark, The Netherlands and Sweden, to help improve your bedtime and morning routines. 
More Assistant-powered headphones are also on the way, including the JBL LIVE300 TWS, Harman Kardon FLY ANC, Bose NC700, Cleer Flow II and Halo, Phillips PN505 and PH805, and Sony WI-1000XM2 and WH-H910N. When you pair them to your phone, you can talk to the Assistant instantly with just a touch of the button on the headphone, whether you want to skip a track to hear the next song, listen and respond to your messages, or set reminders.

Together these new Assistant-powered devices, along with Google Nest product, lets you easily control all the connected devices in your home, from lights, to thermostats, appliances, all in one simple place. This week, the Assistant will be supported in Home Connect to work with home appliances, like dishwashers, washers, dryers, hoods, and vacuums, from brands Bosch, Siemens, Neff, Thermador and Gaggenau. You can also upgrade your kitchen with the Assistant with the upcoming Electrolux Oven and Liebherr SmartDevice. The Bosch SmartHome Plug, Thermostat and Light, as well as the Nuki Smart Lock and door opener, will also work with the Assistant.
With the Assistant now available in more than 30 languages and 80 countries, and all these new devices, you have even more ways to get help, whether you're at home on the go.