How Google Assistant helped me spend more time outside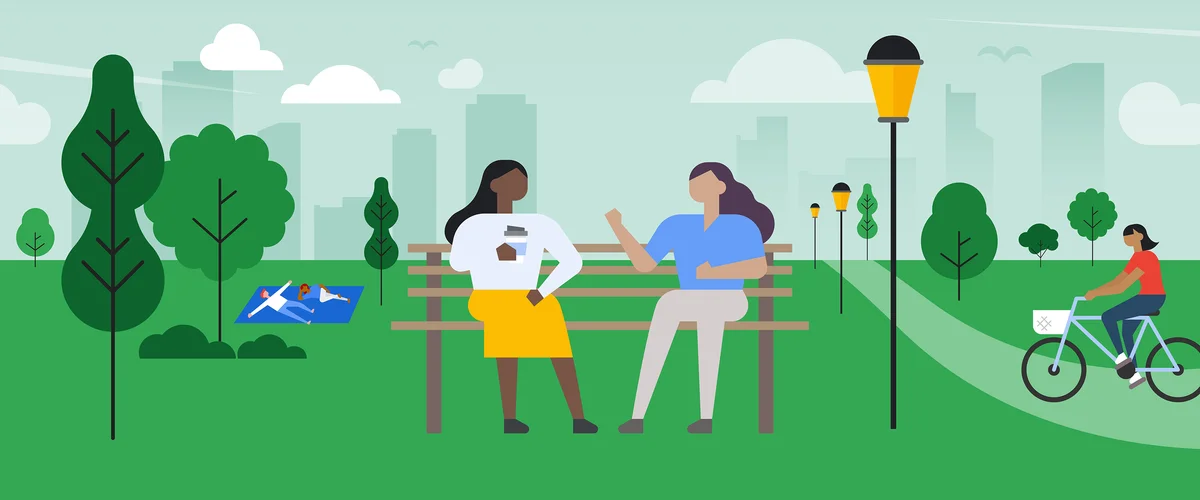 Summer is my favorite season, and whenever it comes around, I always try to soak up as much sunshine as I can. But with my schedule, it can be tough to carve out quality outdoor time. So as we hit the end of summer in the U.S., I set a challenge for myself — to get outside every day during the week. And as a member of the Google Assistant team, I knew Assistant could help give me that extra nudge out the door. Here's how it went.
Monday
After a full day of meetings at the office, I needed to clear my head. Instead of just heading home like I normally would, I asked my Assistant, "Hey Google, what parks are nearby?" It showed a handful of options near me. I ended up heading to Murphey Candler Park, one of my favorites in Atlanta, for a long walk to help me recharge my batteries.
Murphey Candler Park in Atlanta was one of the nearby park options Assistant shared with me.
Tuesday
I typically work out on Tuesdays, so in the spirit of my outdoor challenge, I decided to go for a swim. To help keep me accountable and on schedule, I told my Assistant, "Hey Google, remind me to go for a swim at 5 p.m." When I got that 5 p.m. nudge, I packed up for the day and headed to the pool at my apartment complex.
I took my Tuesday workout to the pool, thanks to a helpful reminder from my Assistant.
Wednesday
During a walk around my neighborhood, I started thinking about my weekend plans. The weather forecast showed that Saturday was going to be particularly beautiful, so I texted my friends to see if they'd be up for a picnic. After we agreed on a place and time, I said to my Assistant "Hey Google, add 'picnic with friends' to my calendar for Saturday at 4 p.m." to make sure it was blocked on my schedule.
Thursday
One of the things I love most about working at Google is celebrating work anniversaries, or what we call "Googleversaries." My friend Akilah hit her third Googleversary on Thursday, so we headed to the pool after work to celebrate. For an extra treat (and to cool off), we decided to get some ice cream — but we didn't want to lose our poolside spot. This was the perfect opportunity to try out our new Assistant feature with Uber Eats. With a quick, "Hey Google, order ice cream on Uber Eats," Assistant opened my Uber Eats app to show us nearby delivery options and let us customize our order. Soon enough, our ice cream was on its way.
Enjoying our ice cream order from Uber Eats.
Friday
I wanted to start my weekend on the right foot, and my friend Jessica immediately came to mind. She's an avid hiker and is always looking for someone to explore new trails with. So as I was packing up at the office, I told my Assistant "Hey Google, text Jessica, 'Let's go hiking.'" We did a three-mile, scenic hike on the East Palisades Trail — a great way to wrap up the week and my outdoor challenge.
Assistant can help you easily send a text, especially when you have your hands full.
These Google Assistant features made it easy to stick to my goal of getting outside every day, and they're continuing to help me soak up the rest of the summer. I hope they do the same for you!