Lost in translation? Try interpreter mode with the Google Assistant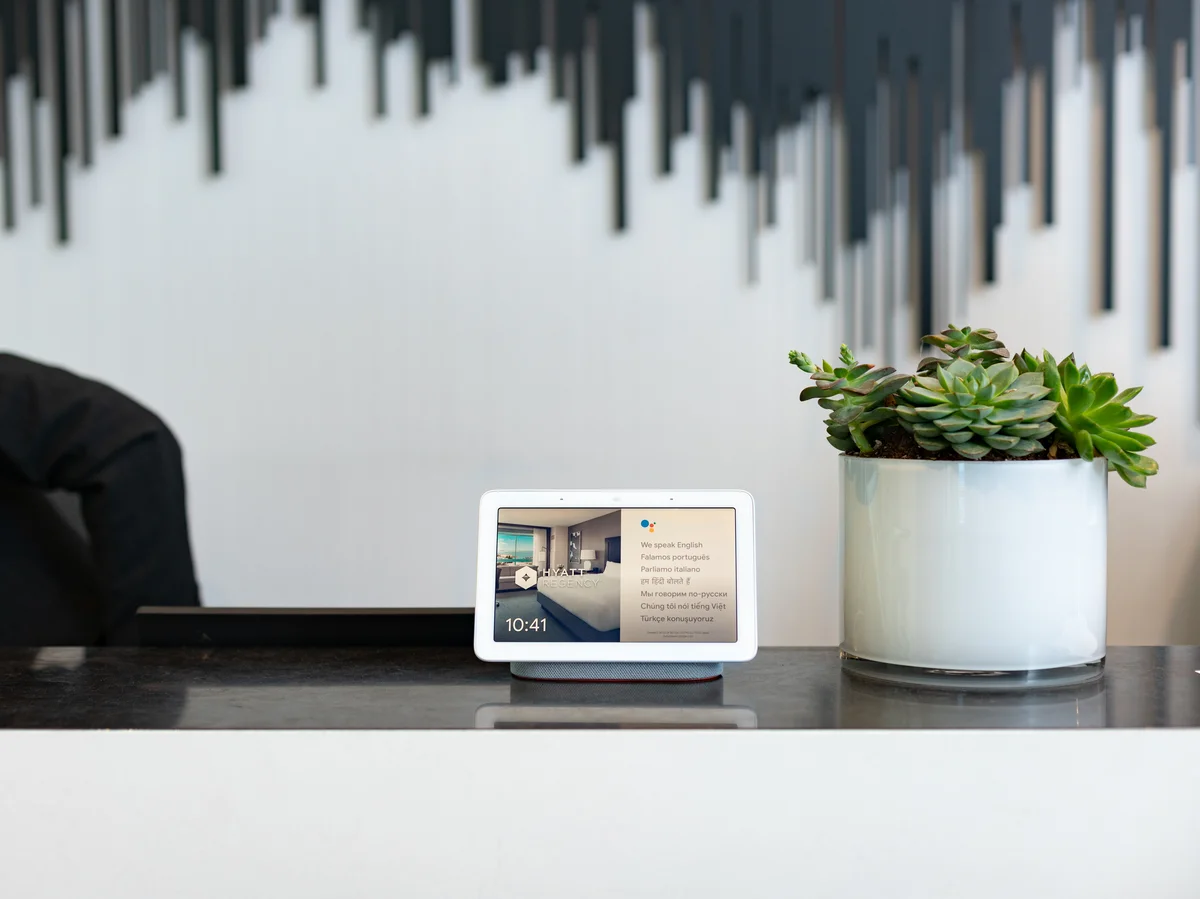 It's easier than ever to meet new people and explore new places—but language barriers that prevent us from talking to each other still exist. With the Google Assistant, we're focused on creating the best way to get things done—regardless of who you're communicating with or what language you speak. To help you connect with people you're talking to, we recently introduced a new feature called interpreter mode that translates your conversations in real time.
We've been piloting interpreter mode at the concierge and front desks of hotels like Caesars Palace in Las Vegas, Dream Downtown in New York City and Hyatt Regency San Francisco Airport, where guests are using it to have free-flowing conversations with hotel staff—even if they don't speak the same language.

If you want to test out interpreter mode but don't have an upcoming stay at these hotels—don't worry! You can now use this feature to translate across 26 languages from the comfort of your own home. Give it a go on Google Home devices and Smart Displays, where you'll both see and hear the translated conversation. Simply ask your Assistant, "Hey Google, be my Thai interpreter" or "Hey Google, help me speak Spanish" to get started.

To give you an idea on how people from around the world have been using interpreter mode, let's check out how travelers have used it at hotels to experience and navigate new destinations.

Caesars Palace Las Vegas hosts thousands of guests each year from across the globe, and interpreter mode brings simpler, faster and more effective translation capabilities directly to their guests. Previously, if the concierge staff at Caesars Palace needed to help a non-English speaking guest, they'd have to dial their in-house translation service and pass the phone back and forth with them. Now, with interpreter mode on the Google Home Hub, concierge staff can personally provide guest recommendations in real time—leading to better service, plus quicker and easier guest transactions. In a city known for its entertainment and cuisine, guests are using the feature in languages like Spanish, Portuguese and Italian to speak with the concierge staff for help booking concerts and live theatrical performances, securing restaurant reservations, and getting directions around the Las Vegas Strip.
At Dream Downtown, the technology helps guests find exactly what they're looking for when they turn to the concierge staff for assistance. Spanish, Mandarin and French have been the three most popular languages translated, and patrons are using interpreter mode when they need to do things like check into their rooms or request amenities like towels or ice. During New York Fashion Week, a guest from France urgently needed to find supplies to complete a design project—but she only spoke a little bit of English. Using interpreter mode, she was able to translate the word "tape measure" for Dream staff, who then helped her find one at a store nearby. The guest was pleasantly surprised at how quickly she was able to get assistance—and she finished her design, right on time for the fashion show.

At Hyatt Regency San Francisco Airport, where the concierge team welcome numerous international guests due to the hotel's proximity to the airport, Korean, Japanese, and Mandarin have been the top translated languages. Guests typically use the feature to get help with questions about San Francisco landmarks, tourist destinations and to discover restaurants nearby. Most recently, a Korean guest used interpreter mode to help plan out his first trip to San Francisco. Without interpreter mode, he wouldn't have been able to take advantage of local recommendations from the concierge.

Interpreter mode can help businesses better serve their guests through an improved customer experience. And this technology can be a helping hand wherever language barriers exist, including at hotels, airports, restaurants, customer service kiosks, organizations aiding humanitarian efforts and much more. If you're part of a business interested in bringing this technology to your customers, we'd love to hear from you.