Our favorite "smart" stocking stuffers this year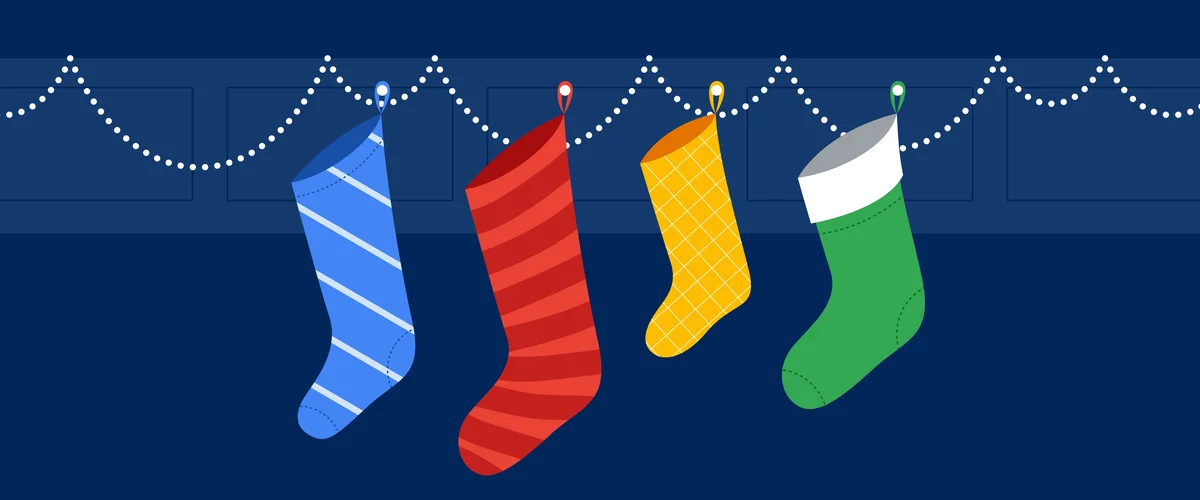 It's never too early to start your holiday shopping. We all know how tough it can be to find that perfect gift to fit all the different people in our lives, and the last thing anyone wants to do is give (or get!) something generic. 
That's why we're stepping in to recommend some of our favorite smart devices that come with help from Google. So take a look and see if you can't cross a few names off your shopping list.
For the fitness enthusiast
Fitbit Sense and Fitbit Versa 3
Staying healthy and active is important, especially with holiday treats around. To help fitness lovers keep track, check out the new Fitbit Sense and Versa 3 smartwatches, which now come with voice support from Google Assistant, starting in the U.S. Just long-press the left shortcut side button and say, "start run" or "what's the weather?" to easily get things going. And of course, you're easily able to set timers and alarms and control your smart home devices. When paired with an Android phone, you can also play music on your phone, ask about your sleep or send a text message directly from your wrist.  
Fossil's latest Gen 5E Smartwatches now come in new sizes and styles to fit more wrists at a more affordable price. Powered with Wear OS by Google, you'll be able to track your progress with activity goals and make hands-free payments. You can also quickly get help from Google Assistant thanks to its built-in speaker. 
You can also try out Pixel Buds to get a wireless, comfortable, hands-free experience for listening to music  while you're shooting hoops or practicing yoga—without reaching for your phone. Just say "Hey Google," to change your playlist, send a quick text or hear what's on your calendar. And Pixel Buds are waterproof, in case things get a bit sweaty. 
For the movie or TV buff 
Can't decide what to watch? Give them the all-new Chromecast with Google TV, it has their favorite Chromecast features and now comes with Google TV entertainment experience. Google TV brings together movies, shows, live TV and more from across their favorite apps and subscriptions and organizes them just for you. You'll even get personal recommendations based on what you like to watch. And with the new voice remote, you can quickly ask Google to find a specific title or search by mood, genre, actor and more. 
More Smart TVs with Google
If you grab a new big screen TV from Hisense, LG, Roku, Samsung or Vizio, you'll also be able to use your voice to get help from Google. There's no more searching for the remote to turn down the volume. 
And for a home theater experience, you can try the Bose Smart Soundbar 300, which you can also control with your voice. 
Nest Hub Max is also a great option if you're looking for an all-in-one device to better manage your day and stay entertained with help from Google. With its powerful speaker and larger screen size, you can enjoy your favorite TV shows or movies on Netflix and Disney+ right from the kitchen table. With our new visual experience, you'll also be able to easily see your important reminders based on the time of day, access your playlists and podcasts and control all your smart devices in the house with just a few taps or by asking Google.  
For the music lover
Nest Audio is our newest smart speaker made for music lovers and powered by Google Assistant. Its full, clear and natural sound can fill any room in your home with your favorite songs, albums and playlists. You can even pair two devices for stereo sound, or create a speaker group with other compatible devices to play music throughout your home. And starting on Nov. 22, you can save $30 when you buy two Nest Audio devices. 
If you're looking for an on-the-go music machine, there's the JBL Link Portable. With help from Google, you'll be able to make music requests, access Spotify, YouTube Music and Apple Music. It's fully wireless, waterproof and durable so it's perfect for outdoor activities. 
For the gamer
Stadia is a great way to instantly play AAA video games on screens you already own, from laptops to compatible phones, without a console. When paired with the Stadia Controller, you'll have dedicated buttons that let you capture and stream your game content with YouTube, and another button to use Google Assistant to start a game or quickly get answers to questions.
For those of you lucky enough to get your hands on the next-generation gaming system from Xbox, you can control the console with Google-enabled smart speakers or Smart Displays. Try saying "Hey Google, turn on Xbox," and "Hey Google, play Halo Infinite on Xbox." If you own a Google-enabled speaker, pairing couldn't be easier: Xbox will notify users on the console to link with Google Assistant if they have a Google device in their home (And even if you don't have the latest Xbox, Assistant will work with the last-generation version, too).
For the minimalist 
If you know someone who appreciates the little things, you should consider the new Lenovo Smart Clock Essential. It's affordable and has a clear display that shows the time and weather—plus it comes with Google Assistant. Start your morning with routine by saying "Hey Google, good morning" and it can share things like your meeting schedule, the local weather and a morning news podcast. 
And of course, you can make sure you get hands-free help from Google Assistant in any room of the home with Nest Mini. Small and mighty, Mini sounds great, is made from partially sustainable materials and comes in four fun colors: Coral, Sky, Charcoal and Chalk.