100 versions of Chrome later: What we learned along the way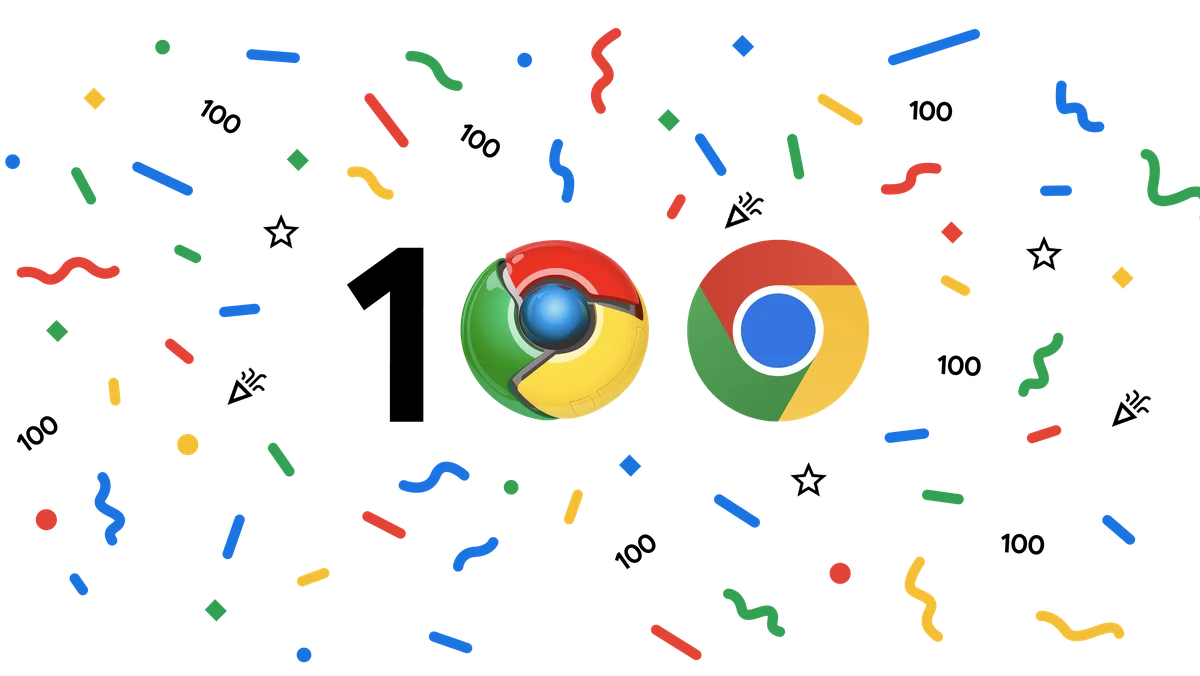 When we introduced Google Chrome back in 2008, our goal was to build a browser that was fast, secure, and easy to use. For over a decade, we've worked with the larger ecosystem to drive innovation on the web forward and build a user and developer experience that helps people and developers get things done. We continue this work today.
It's humbling to know that billions of people around the world turn to Chrome, and we're constantly challenging ourselves to make it faster, safer, more helpful and more accessible for everyone. Personally, I've been inspired by how we've driven HTTPS adoption, made payments and password management better and helped developers create incredible Chrome extensions. In short, it has been amazing to see the thousands of tiny updates from the team that came together to make Chrome better and better.
We recently rolled out the 100th major update for your Chrome browser — and to mark this milestone, I asked some members of the team to share a few of their favorite features and improvements.
Building the fastest browser
Max Christoff, Senior Engineering Director
There's no such thing as a browser that's too fast. Speed has shaped our work since Chrome's launch in 2008. After more than a decade, we've continued to find new performance wins by obsessively sweating the engineering details. In the past year and a half alone, we've made Chrome an additional 43% faster. But having the fastest browser on the planet doesn't help if your device runs out of battery or memory, so we'll continue working to make Chrome more efficient — on all platforms, from low-end phones to high-performance workstations.
Prioritizing your privacy and security
Sabine Borsay and Patrick Nepper, Senior Product Managers, Chrome Trust & Safety
From the beginning, we designed Chrome with your safety and privacy in mind. Chrome comes with a powerful password manager to make signing in safe and seamless across your devices. It will also warn you if your passwords have been compromised and help you fix weak ones with a single tap. Along with providing strong default protections, we try to make privacy controls easy to find, understand and use. After a complete redesign of Chrome's security and privacy settings two years ago, we have a new guided tour of key privacy controls, so you can make choices that work best for you.
Building a simple, safe and beautiful Chrome
Alex Ainslie, UX Director
Looking back on the past decade, I'm proud of the human-centered work the Chrome team has done to build a browser that's powerfully simple — that's shown in features like tab groups and password autofill. Along the way, we've published work on usable security, designed a tiny dino game and updated Chrome's visual design. Chrome's designers, researchers and writers focus on crafting a browser specifically for each device by taking into account operating system conventions, input methods and hardware capabilities. We want to get the #littlebigdetails right and welcome your bug reports and feedback about how we can make Chrome work better for you.
Designing a more inclusive experience
RK Popkin, Group Product Manager
Looking back, I'm proudest of the work we've done to bring the web to more people. Chrome is now the most popular browser for screenreader users, and we use the latest AI advancements to describe pictures across the web for blind and low vision users. We've added Live Captions to video/audio content for users who are Deaf or hard of hearing, and our DevTools accessibility tree helps others build better for people with disabilities. Chrome also uses neural machine translation to translate the web in 108 languages — this past month, we translated over 25 billion webpages! We've also collaborated with Black and Latino artists to bring their visions to Chrome's new tab page, giving people a new way to make Chrome reflect themselves. We're excited to release more collaborations in the future.
Supporting a free and open-source web browser project
Paul Kinlan, Senior Staff Developer Advocate & Lead of Chrome Developer Relations
As a web developer before joining Google, I was fascinated with Chrome because it was an open source browser project (the project itself is called Chromium) and built on web standards, meaning anyone could contribute and improve it. Today, Chromium powers many of the most popular browsers, including Microsoft Edge and Amazon Silk, while also enabling the web to be built into Android apps, TVs and VR headsets. Thanks to our commitment to shorten the release cycle and ship a new version of Chrome more often, we're now able to make improvements and fix issues quicker, and projects like Interop 2022 will help enable web developers to build experiences that work everywhere.
Deploying Chrome at work or school
Philippe Rivard, Senior Product Manager, Chrome browser enterprise
People everywhere transitioned to remote work and school during the pandemic, and many of them relied on Chrome to help. What people might not know about is the work that IT teams around the world did to make this seamless and secure, thanks to tools like Chrome Browser Cloud Management. This allowed IT teams to manage Chrome across operating systems, directly from the cloud. I'm proud of the work my team has done to help organizations of all sizes make the most of the web. Now, many organizations are moving to hybrid working models for the foreseeable future, and Chrome will continue to support IT teams as they handle this added complexity.
Helping you search and get things done online
Yana Yushkina, Product Manager, Search in Chrome
We've all left too many tabs open in fear of losing valuable info — that's why I'm most excited about Chrome Journeys. This helps you revisit time-intensive research by pulling your previously visited sites based on topic. Or to skip tabs altogether, Chrome Actions helps you jump right to opening a new Doc, translating a page or sharing a site.
Keeping up with content you care about
Janice Wong, Product Manager, Content Discovery
At its core the web is all about content — both the people consuming it, and people creating it. Last year, we made it easier for you to follow and get updates from your favorite web publishers right from Chrome. You can also discover content from new websites that's relevant and interesting to you in Chrome on Android and iOS. I'm excited to help even more people keep up with their interests and discover new ones from the new tab page.
Thank you for trusting Chrome and for helping us continually improve it via your feedback — here's to the next 100 milestones!