Devices & Services
Glass Enterprise Edition 2: faster and more helpful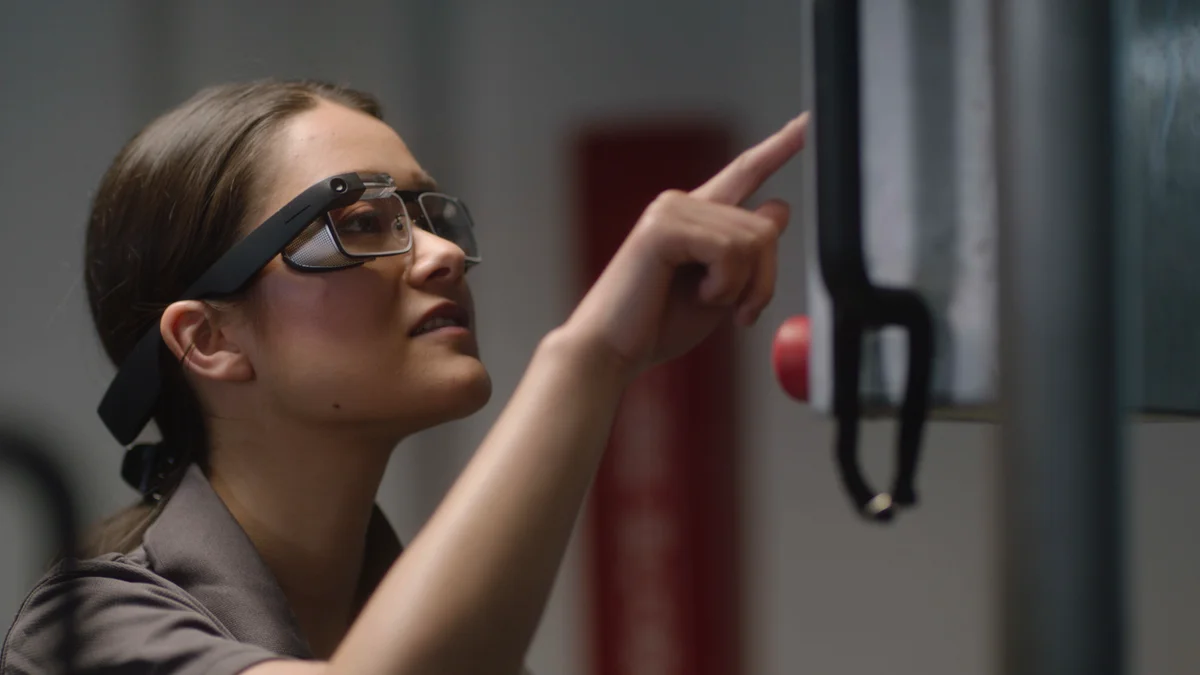 Glass Enterprise Edition has helped workers in a variety of industries—from logistics, to  manufacturing, to field services—do their jobs more efficiently by providing hands-free access to the information and tools they need to complete their work. Workers can use Glass to access checklists, view instructions or send inspection photos or videos, and our enterprise customers have reported faster production times, improved quality, and reduced costs after using Glass.

Glass Enterprise Edition 2 helps businesses further improve the efficiency of their employees. As our customers have adopted Glass, we've received valuable feedback that directly informed the improvements in Glass Enterprise Edition 2. 
Glass Enterprise Edition 2 with safety frames by Smith Optics. Glass is a small, lightweight
wearable computer with a transparent display for hands-free work.
Glass Enterprise Edition 2 is built on the Qualcomm Snapdragon XR1 platform, which features a significantly more powerful multicore CPU (central processing unit) and a new artificial intelligence engine. This enables significant power savings, enhanced performance and support for computer vision and advanced machine learning capabilities. We've also partnered with Smith Optics to make Glass-compatible safety frames for different types of demanding work environments, like manufacturing floors and maintenance facilities.
Additionally, Glass Enterprise Edition 2 features improved camera performance and quality, which builds on Glass's existing first person video streaming and collaboration features. We've also added USB-C port that supports faster charging, and increased overall battery life to enable customers to use Glass longer between charges.
Finally, Glass Enterprise Edition 2 is easier to develop for and deploy. It's built on Android, making it easier for customers to integrate the services and APIs (application programming interfaces) they already use. And in order to support scaled deployments, Glass Enterprise Edition 2 now supports Android Enterprise Mobile Device Management.
Over the past two years at X, Alphabet's moonshot factory, we've collaborated with our partners to provide solutions that improve workplace productivity for a growing number of customers—including AGCO, Deutsche Post DHL Group, Sutter Health, and H.B. Fuller. We've been inspired by the ways businesses like these have been using Glass Enterprise Edition. X, which is designed to be a protected space for long-term thinking and experimentation, has been a great environment in which to learn and refine the Glass product. Now, in order to meet the demands of the growing market for wearables in the workplace and to better scale our enterprise efforts, the Glass team has moved from X to Google.
We're committed to providing enterprises with the helpful tools they need to work better, smarter and faster. Enterprise businesses interested in using Glass Enterprise Edition 2 can contact our sales team or our network of Glass Enterprise solution partners starting today. We're excited to see how our partners and customers will continue to use Glass to shape the future of work.