Devices & Services
Google Pixel Slate: perfect for work and play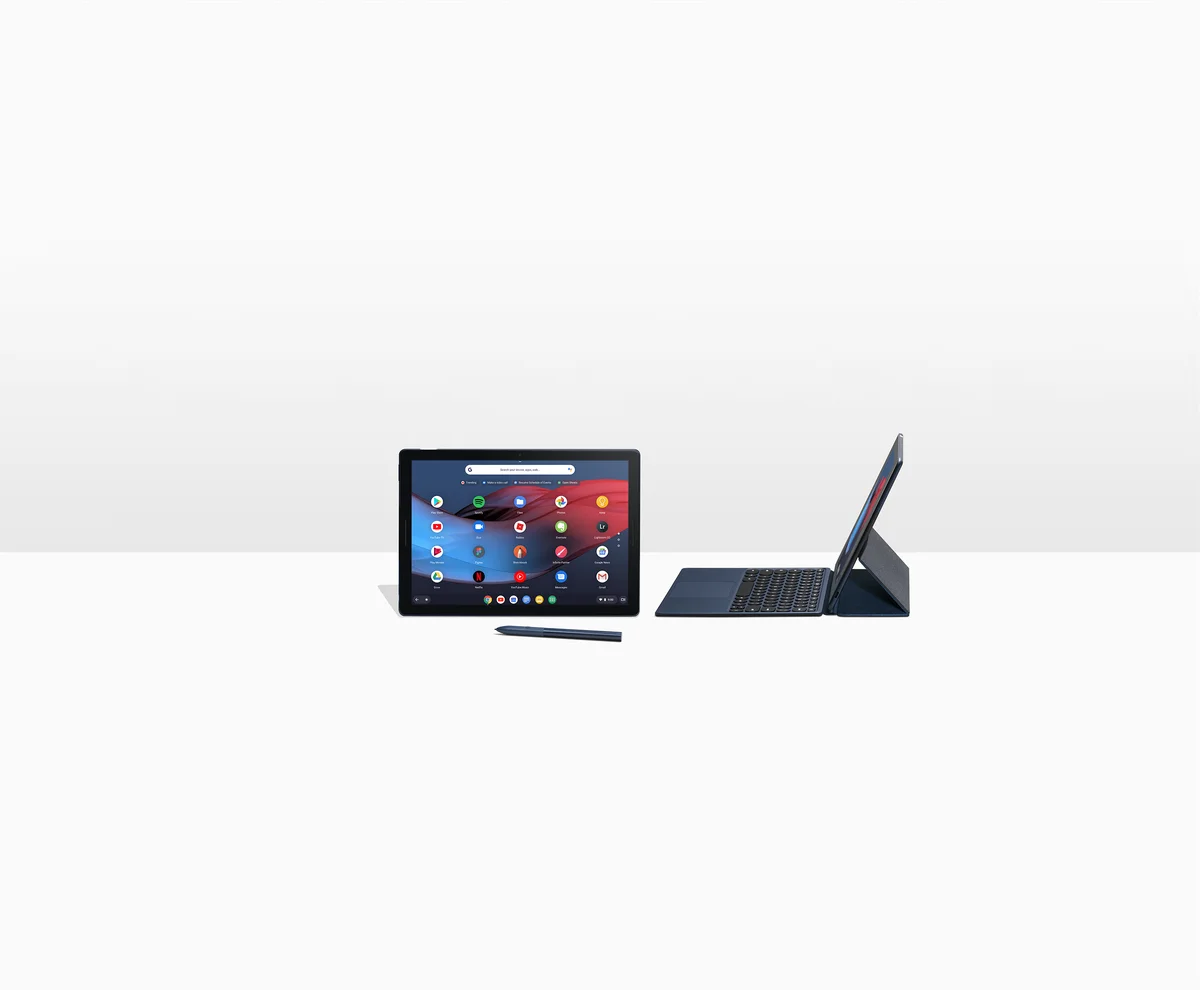 Our devices should be as versatile as we are—keeping up with quick transitions between work and play. That means devices should boot up fast, last all day and get better the more you use them. And it's why a versatile operating system, matched with high-performance hardware, is so important. 
Last year, Chrome OS took a big step forward to become even more versatile for all your computing needs, adding the Google Assistant and apps from the Google Play Store. We tied it all together with Pixelbook, our high-performance Chromebook. And today we're sharing a new addition to the hardware family: Google Pixel Slate.
Google Pixel Slate is designed to entertain and help you do more in a fresh, mobile form. We combined a touch-first user interface, optimized Android apps and powerful desktop-style features in Chrome OS to deliver a no-compromise device.
Versatile hardware design
Pixel Slate feels great in your hands thanks to its evenly balanced center of gravity, rounded edges and curved 2.5D glass. At just 7mm thin and 1.6 lbs with a display that covers nearly the entire front of the device, Pixel Slate was designed to maximize what matters most to you.
Movies, photos and games come to life in brilliant resolution with Pixel Slate. We engineered the device with a stunning, detailed display so sitting back to enjoy a movie is better than ever. The all-new Molecular Display™ packs 293 pixels per inch—that's 6 million pixels—for the sharpest picture.
Your music sounds great too. Pixel Slate has dual front-firing speakers that were algorithmically tuned to perfection for crisp highs and clear lows. And there's no better way to see and hear the difference than with three months of YouTube TV* on us with the purchase of a Pixel Slate or Pixelbook.
You can also connect with the people you care most about. Pixel Slate includes 8MP cameras on both the rear and front, and the front-facing Duo Cam provides an extra wide field of view with exceptional low light performance. You can even take great photos using portrait mode, which uses on-device machine learning to keep a single point in focus.
Lastly, Pixel Slate comes with up to 12 hours of battery life with typical mixed usage, so you can use it for a day of work or class, then watch movies on your train ride home.
Reimagining Chrome OS for a touchscreen
Pixel Slate is powered by a reimagined Chrome OS that enables easy navigation on a touchscreen. It's designed to be held in your hands, while giving you a full desktop experience. You can even run Linux if you're a developer. It makes getting things done easy, with the Google Assistant built in, a new launcher, machine learning-generated suggestions for the apps you use most, and multitasking tools like split screen. It's also got a full desktop Chrome browser—with all your favorite extensions—so you won't be limited by the mobile version of a website on Pixel Slate.
And what would modern computing be without apps? GSuite apps, which are used by more than a billion people worldwide to collaborate better, work great on Pixel Slate. Google Play gives you access to millions of apps from notetaking to gaming, entertainment, fitness and much more, both online and offline. When you're done interacting with all this content, we've built in digital wellness features like Night Light and Do Not Disturb to ensure you can disconnect when needed. You can even set digital ground rules for your family with Family Link, which gives you control over how your children's devices are used.
As with every Chrome OS device, Pixel Slate boots up in seconds and, when online, updates in the background so you always have the latest security and features without any of those annoying update notifications and interruptions. Pixel Slate adds an extra layer of protection with the Titan security chip so your information, device passwords and OS are protected on your device.  
Pixel Slate is easy to unlock too. With Pixel Imprint™, the power button doubles as a fingerprint sensor, so you can unlock it just as quickly and securely as you do on your Pixel phone.
Pixel Slate Keyboard and Pixelbook Pen
If you want to be seriously productive, you need a great keyboard. Pixel Slate Keyboard, which pairs perfectly with Pixel Slate, includes a full-size, backlit keyboard, with round Hush Keys™ that let you type quietly, a dedicated Google Assistant key and an extra large trackpad. The folio is adjustable so you can comfortably work at any angle, then it turns into a slim protective case when you're on the go.
Pixel Slate also works with Pixelbook Pen, which launched last year and had the lowest latency of any digital pen out there. This year it's even better and comes in a new Midnight Blue color.
Get yours soon
Starting at $599, Pixel Slate comes in several configurations. Pixel Slate Keyboard is $199, and Pixelbook Pen is $99. All three will be available later this year** on Google Store, and at major retailers in the U.S., Canada and the U.K.
*Promotion available in the U.S. only. Pixelbook promotion starting on November 1. Pixel Slate promotion starting the date it becomes available for pre-orders. Terms and restrictions apply.
**This device has not been authorized as required by the rules of the FCC, Industry Canada or CE. This device is not, and may not be, offered for sale or lease, or sold or leased, until authorization is obtained.