The art of collaboration: from Sheets to the streets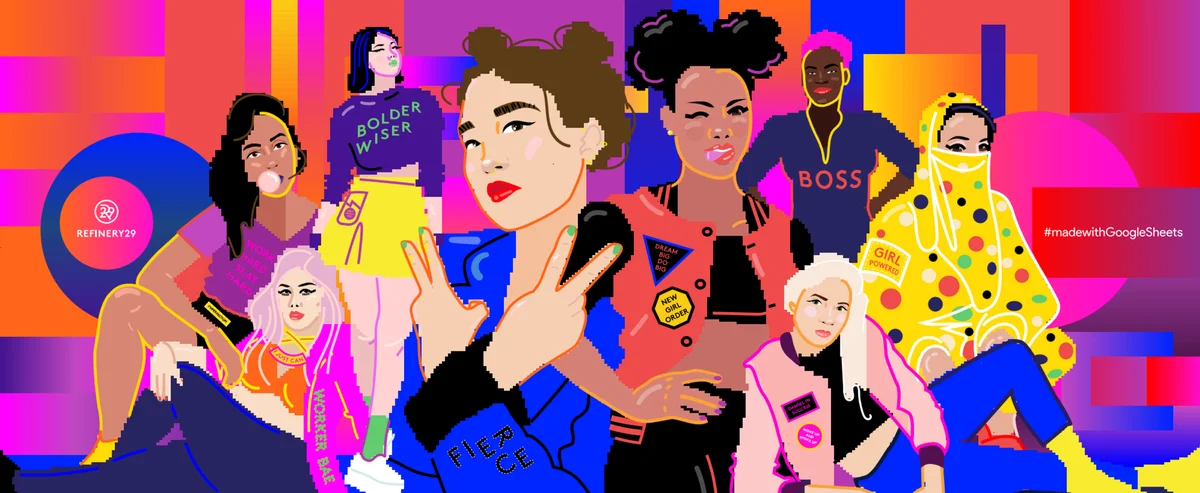 Warhol & Basquiat. Buñuel & Dalí. Rauschenberg & Johns. There are countless examples of artists collaborating to bring a shared creative vision to life. So we wondered: Could technology help bring together two artists who might not otherwise meet? What would they create…if their canvas were a spreadsheet? And how could we celebrate and share their work of art with the world?
In partnership with Refinery29, a lifestyle digital media company, we linked up with renowned illustrators Marina Esmeraldo in Barcelona, and Mallory Heyer in NYC. We gave them a simple creative assignment—to "break the grid"—which literally can mean pushing the "grid" of Google Sheets to its limits, but also taps into the idea of supporting and celebrating women globally who break free of confined roles and ways of thinking, which is core to Refinery29's mission.
Marina and Mallory connected a handful of times on Google Hangouts to plan and sketch out ideas, and creatively "hack" Sheets in order to make art: resizing cells into thousands of pixel-like squares, merging cells to create color blocks, creating vibrant color gradients with 
conditional formatting
 and cell values, and other cool things we had no idea you could do with Sheets.
The result was a bright, beautiful design that celebrates the diversity and strength of women, and we wanted to share their finished project in a BIG way.
The final step was to convert Marina and Mallory's final piece from the cells of a spreadsheet to the bricks of a giant wall—to go from Sheets to the streets. So, we turned to Colossal Media, a Brooklyn-based company that hand-paints murals all over the world.
After hand-mixing each of the colors and prepping the artwork for large-scale painting, Colossal spent five days painting each cell, letter, and gradient by hand, to create a 13' x 34' mural of the spreadsheet. 
And that's how art was #madewithGoogleSheets.
To see it for yourself, check out Marina & Mallory's spreadsheet or head to
Bogart & Thames
in Brooklyn to visit the wall in person (until August 14). We're delighted by the creativity and imagination brought about by artistic collaboration, and proud to be associated with the work's inspirational message supporting strong women everywhere.