Live from Google Cloud Next: Advancing every business in the Cloud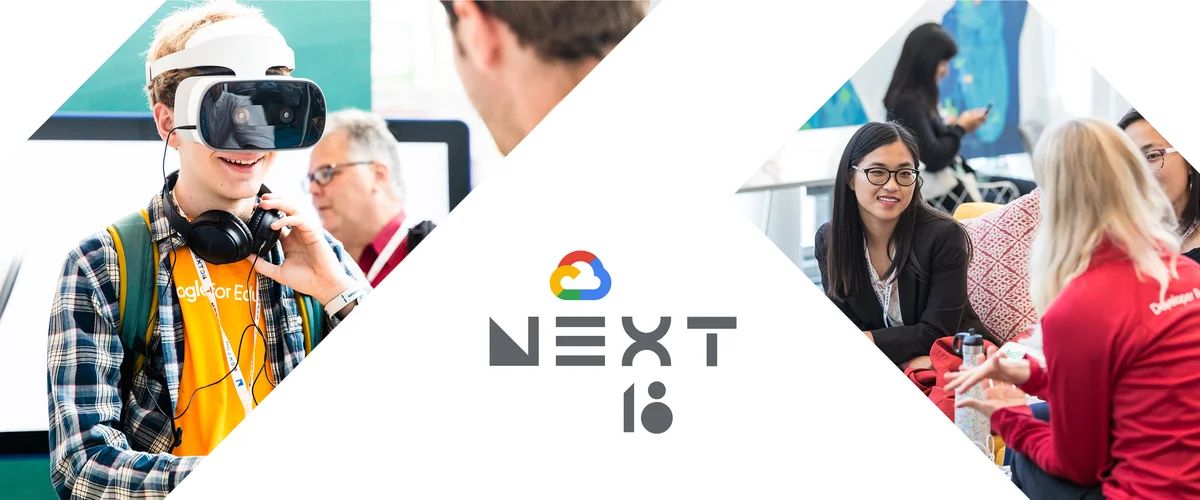 Hello to everyone from Google Cloud Next '18. Today we're joined by more than 20,000 people here in San Francisco—the biggest Google event ever. I'm excited for what the next three days have in store.
Information is powering much of our economy, and the scope of technology has evolved to encompass all of business and all of society. IT departments used to be a cost center. Now, they're a key driver of business. Companies are re-engineering how they do business as part of their journey to the cloud. IT is being used to advance every field. We are seeing such amazing growth, and yet we are clearly in the beginning stage.
So, as companies move everything to the cloud, why are they choosing Google?
Google is what I would call a modern enterprise company. Google's business is information, and thus Google Cloud was built to efficiently take in information, organize it, and give back intelligence. This is what every company needs in order to drive their business—supercharged information.
A strong foundation in the cloud
People generally acknowledge that Google has an incredibly advanced cloud; it is pretty amazing. It includes many football stadium-sized data centers, all running carbon neutral; hundreds of thousands of miles of fiber-optic submarine cables; hyper-fast machine-to-machine interconnects; specialized processors like Titan and TPU; Spanner, a relational database that provides global transaction consistency; and big data tools like BigQuery that can process an entire petabyte in 3.7 minutes.
Throughout Next '18, we will be going deep on AI and security, areas that Google invests in heavily. Why? Because security is the number one worry, and AI is the number one opportunity.
Security is built into every layer of our operation. We announced 20 new security advancements in March and will be announcing another 10 new security products and services this week. This year, we were proud that Forrester recognized us as a leader in public cloud platform native security.
For productivity apps, one of the most secure ways to set up your organization is to combine a Chromebook, G Suite and two factor authentication hardware in the Chromebook USB port. Companies are catching on. Chromebooks for enterprise sales were up more than 175% last year and G Suite adoption is also accelerating. G Suite's Gmail is able to stop 99.9% of spam and phishing attacks. In addition to being secure, G Suite is so powerful for improving and transforming how we work.  
AI is our biggest collective opportunity
Early on, Google's founders had the vision that AI was going to be important. Today, AI is built into everything we do at Google. From our data center energy usage to BigQuery to Gmail, AI is applied throughout our business. Now we are working to make it easy for you to incorporate the power of AI into what you do. In the last year we introduced automated machine learning model generation, AutoML, and we are announcing new versions today.
Throughout our conference we will be talking about open source, where Google is a leader with more than 2,000 open source projects, including TensorFlow and Kubernetes. We have been running the underlying technology and concepts that make up Kubernetes inside Google for over a decade. By the time we introduced it in Google Cloud, it had more than 20,000 contributors and is approaching one million comments and pull requests, making it one of the fastest moving projects in the history of open source.
Two years ago, at a much smaller Next event, we had a meeting with industry analysts who told us it would probably take us 10 years to become enterprise ready. We listened and we got on it. We called it our table stakes effort. Fast forward two years and a lot of hard work and we were recently named a leader multiple Gartner's Magic Quadrants, hopefully more are coming.
Building a better cloud for our customers
Cloud is an extremely complex business and enterprise-readiness includes excellence at helping customers—from startups and digital natives to global leaders. Over the course of Next, we have over 290 customer speakers, from every size and industry imaginable, to share what they've learned on their journey to the cloud.
In health, we saw the opportunity to bring Google's healthcare machine learning to market.
We are working with the Broad Institute on genome processing tools and we are developing an API for making healthcare records interoperable, as well as a way to anonymize records. Some of our customers in this sector include Cardinal Health, Lahey Health, Cleveland Clinic and Fitbit.
Today, we are announcing a partnership with the National Institutes of Health to make it easier to access and analyze large biomedical data sets, which we believe will accelerate efforts to find treatments and cures for disease. Healthcare is just one of many industries that can benefit from Google's innovation in the cloud.
Part of our success has to do with our engineer-to-engineer engagement model. In the last year alone, we've tripled the number of engineers who work with customers, including in our customer engineering team and our professional services organization. By design, we have more customer engineers than sales reps.
We've built our Office of the CTO so that early in your cloud journey, you have access to super experienced and knowledgeable technologists. This group has been in demand, so we've grown the team 10X over the last year. Perhaps our most immersive customer engagement offering is our Advanced Solutions Lab. There, customers work side-by-side with Google engineers, learning how to apply machine learning to solve their biggest business challenges.  
Working together with our partners
Partners are key to us and to our customers. We have strategic integration and go-to-market partners, channel partners, and system integrators. On the strategic side, the SAP partnership we announced last year at Next has made great progress. This year, we partnered with Cisco on a hybrid cloud and on-prem version of Kubernetes that will ship soon. And last fall we announced that we can integrate a customer's Salesforce CRM data, their Google Ads data, and any other data source, all in BigQuery. System integrators including Accenture and Deloitte are building out practices specifically for Google Cloud, as are many other SIs.
Our channel is now over 12,000 strong and we are increasing our enablement programs. They help us extend our reach, and when these partners work with customers, we offer to support the work with one of our professional services engineers.
Another important area is training and communities—training for customers, partners, and our own team. We've tripled our training and enablement headcount. Our customers are taking more than 100 times as many GCP courses via Qwiklabs than a year ago, on topics like machine learning, big data, and Kubernetes.
Looking ahead
I have spent a lot of enjoyable time this last year meeting with companies, both large and small, discussing what might be possible with Google Cloud. Many of the engagements have been astonishing, particularly with companies where IT was not historically a key driver of their growth.
An engagement will start out as an effort to save costs on infrastructure; at first it is often very competitive amongst the three clouds. Then, as we start to brainstorm around where the business wants to go, we start talking about what our technology could make possible, and that changes the discussion. Many times now, our customer pauses, and they end up rethinking their entire product strategy, even their vision of the future. When we resume, there is a much more ambitious plan. It has been great to be a part of that process of true digital transformation, and it makes all of us in Google Cloud proud to engage in these opportunities.
For the smaller companies and startups we work with, it's sometimes a different story. Their ambitions are big, and robust cloud services will help them get there. But at our core, we're a developer-led company, and developers are constantly top of mind for us as we grow and expand Google Cloud. We never stop thinking about what they need, and what tools will make them better, more focused, and more productive.
The theme of our conference is Made Here Together. On behalf of all of us at Google, we are excited to be at Next with our customers and partners who are building together with us.