Deck the halls with help from Google Home Hub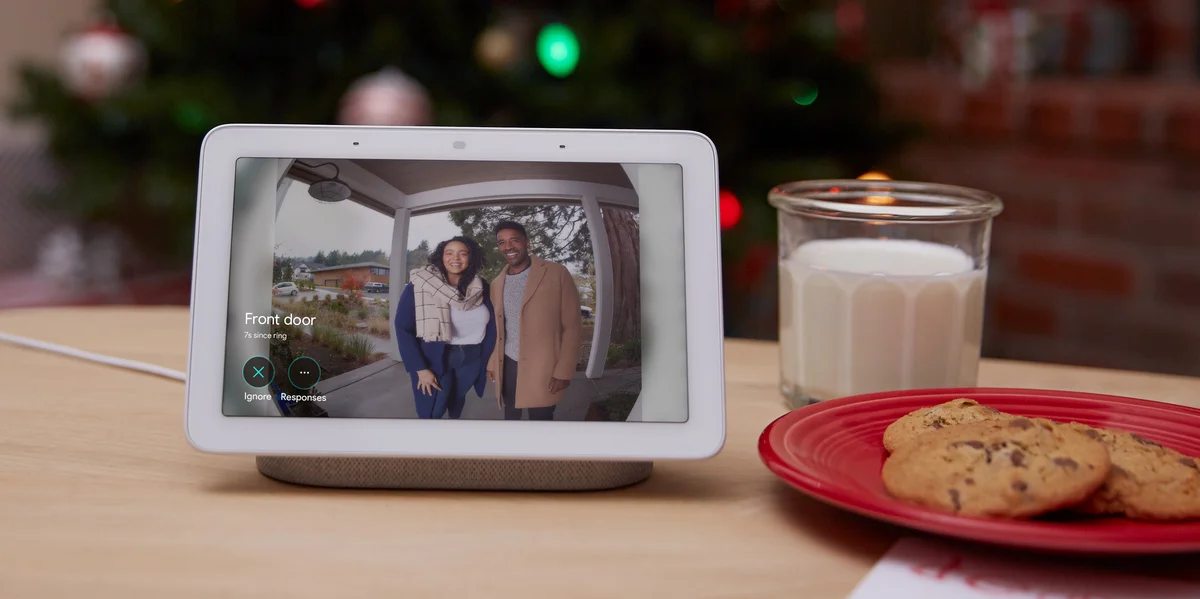 Ahh, the holidays. It's the time of year where you might want to sink into your couch for a movie marathon, but you also have to chase a few toddlers around and get ready to host your entire family for dinner. This season, we're here to help with a few ways you can take the hassle out of the holidays with Google Home Hub.
Get festive
Quit digging under the Christmas tree to turn on the lights—ask Google Home Hub to do it for you by plugging your lights into a compatible smart plug. Then say, "Hey Google, turn on the Christmas tree," to watch it light up. While you're decking the halls, your favorite holiday tunes are only a few words away as well. Just say, "Hey Google, play Christmas hits" to get those sleigh bells ringing (you may need a subscription).
Get the family together
As you're snapping selfies with the fam, our live albums feature with Google Photos will let you see your best and latest shots on Hub automatically. And while everyone is gathered around, you can relive memories of holidays past. Just say, "Hey Google, show my photos from last December." Or, you can all curl up on the couch and have Hub tell you a holiday story.
Get ready for Santa
If you're a parent like me, getting your kids excited about the arrival of Santa is so much fun. If they're wondering when the presents will start showing up, Google Home Hub can help you track Santa's arrival starting December 23. Just say, "Hey Google, where's Santa?" If Christmas Eve is too far away, "Hey Google, call Santa" will connect you to the North Pole, so you can help Santa rehearse for his musical concert.
Get help in the kitchen
Whether you're crafting a gingerbread house, mixing your favorite holiday cocktail or just trying not to ruin the turducken, use your voice to browse millions of recipes, get step-by-step cooking instructions, set cooking timers and more. With "My Cookbook" you can even save your favorite recipes on Hub for your next holiday party.  
Get things done
The holidays are hectic, so let Google Home Hub be your personal taskmaster. You can set reminders to make sure that you hide the package deliveries and Hub can even remember where you hid your gifts after you wrapped them. If you're traveling this holiday season, get quick and easy driving and flight info on Hub, with directions sent right to your phone. And, if you're panicking because one of your present deliveries is delayed, don't worry—just say "Hey Google, where is the closest toy store?" (insert "jewelry store" as needed).  
Get ready to be the life of the party
My wife tells me that New Year's Eve is the best time to try a new makeup technique. With Google Home Hub, you can ace any look, hands-free, with help from Sephora. Just say, "Hey Google, show me holiday party looks videos by Sephora." You can also brush up on the latest dance moves before your New Year's Eve party with Hub. Try: "Hey Google, show me how to do the floss" and you'll be grooving in no time. And if you're the one hosting the party this year, the Nest Hello video doorbell works with Google Home Hub to show you who's at the front door automatically. Use the new two-way talk back feature to greet your guests to let them know the door is open and the champagne is flowing.
Now that you've gotten everything taken care of with Google Home Hub, get back to the couch and press play on more holiday movies.