Google Home, the summer camp counselor every family needs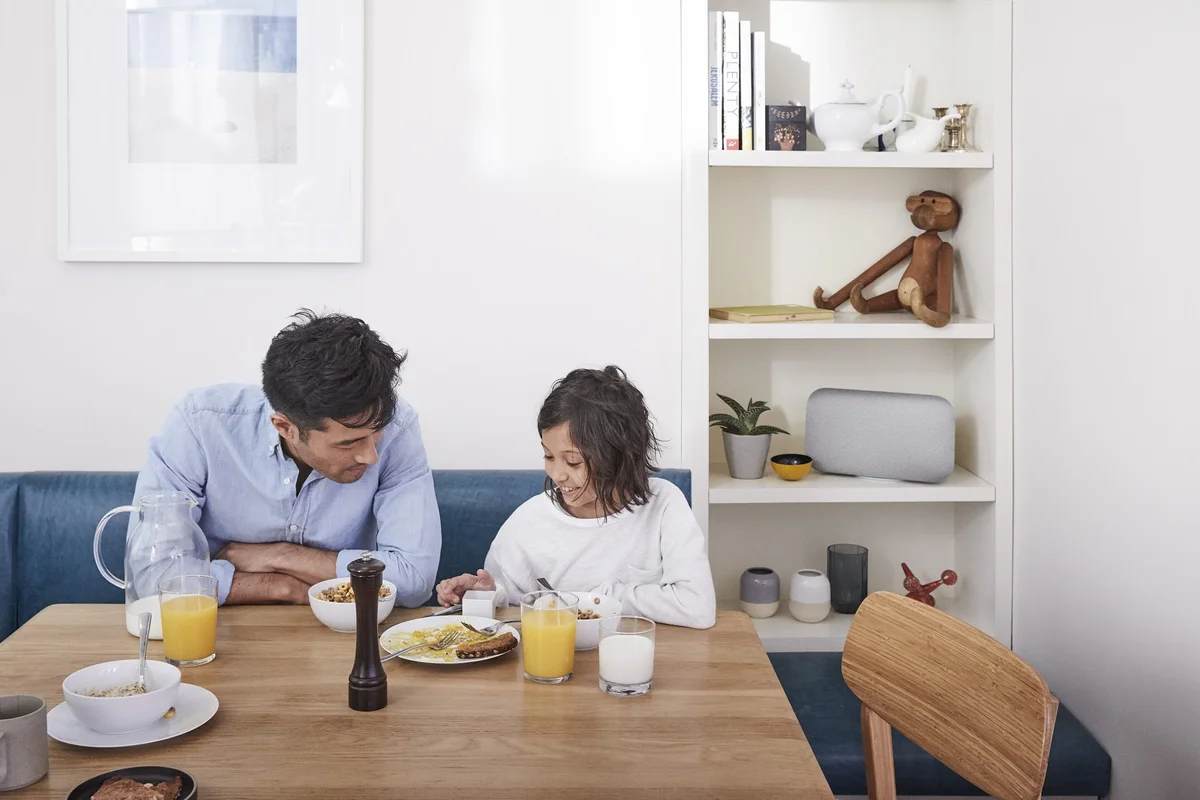 School's out, summer's here and kids are spending more time at home. I've been hearing from friends and fellow parents that it's harder to keep kids entertained during these summer months.
As someone who works to bring interactive and fun experiences for families to Google hardware products, I'm always testing out new ways to keep my family entertained. Turns out, my son, Jonathan, is a huge fan of watching light bulbs change colors. All I have to do is say, "Hey Google, turn the lights to purple," and he's in awe.
Here are a few tips for how you can use Google Home to keep everyone entertained, stay on top of everything, and squeeze in some family this summer:
Game time: When I was a kid, we gathered around board games. Now, my son's favorite game is trying to copy the animal sounds I play on Google Home. And there's a bunch of other games you can play—we've got everything from What's Your Inner Animal to Freeze Dance, and even educational games like Talk to an Astronaut or Talk like a Chef.

Get cooking: Google Home has step-by-step instructions for making summer treats like homemade popsicles and ants on a log. Here's one recipe to get started, just say: "Hey Google, give me a recipe for no-bake cookies."

Make reading fun: If your kids are into summer reading, you can buy an audiobook on Google Play. Then say "Ok Google, read my book" and everyone can listen. Or you can always say, "Hey Google, tell me a story."

Get vacation-ready: If you're going on a family vacation this summer, you can get everyone excited by asking Google Home things like, "how long does it take to fly to New York?" or "how do you say 'thank you' in Spanish?"

Keep track of busy summer schedules: With the kids out of school, it's a good time to get their annual checkups out of the way. You can use Google Home to set a reminder to schedule that dentist appointment and you can also set a location based reminder to make sure you remember to pick up that birthday gift the next time you're at Target

Listen to their favorite music: We hear a lot of "Supercalifragilisticexpialidocious" and "Bear Necessities" in my house. To make things easy, I made my son a playlist of all his favorites with Google Play Music. Now, I just have to say, "Hey Google, play Jonathan's playlist" to keep him dancing until naptime.  
If you want to give your kids access to the Assistant on Google Home—whether they want to play a game or get that homemade popsicle recipe—you can create an account for kids under 13 through Family Link, and then link their Google Account and voice to Google Home. Learn more.
So, have fun, get outside and enjoy your summer. Whether you're looking for ways to keep the kids busy or are trying to keep track of your grocery list, everything you need is just a "Hey Google," away. And… this might be the dad in me, but make sure to remember the sunscreen.