100 things we announced at I/O 2023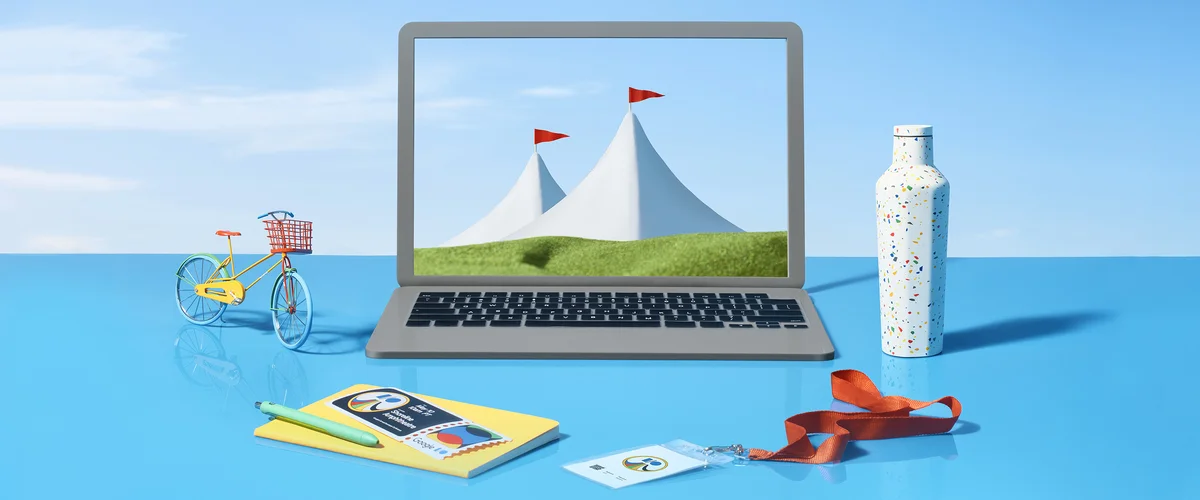 Just like that, you blink and Google I/O is I-over! Another year, another day absolutely full of product launches and news. Between the keynote, demos and developer talks, you may have missed a thing or two — but don't fret, because we rounded up 100 things announced at I/O 2023 right here.
Device delight
We introduced the Google Pixel Fold to our Pixel portfolio! Our first foldable phone features the Google Tensor G2 chip, a 7.6-inch screen when unfolded, Android's splitscreen functionality and much more.
The Google Pixel Fold includes Pixel Camera favorites like Real Tone, Magic Eraser and Night Sight, but it also introduces some new camera features — like Rear Camera Selfie mode, which takes the highest quality selfie on a Pixel ever. You can even use a quick gesture to trigger a countdown clock for selfies.
When the Pixel Fold is in tabletop mode to take a group selfie, you can trigger the camera's timer with the same gesture used in Rear Camera Selfie.
The Pixel 7a is here, too! The 7a has the iconic Pixel camera bar, and is our most durable A-Series yet.
The new phone's main upgraded camera features a 72% larger sensor than the Pixel 6a, allowing for 44% more light, plus an all-new 13-megapixel ultrawide lens. For the first time on an A-Series, the Pixel 7a has Long Exposure as well as Super Res Zoom.
And it comes in two new colors: Coral and Sea. The Pixel Buds A-Series will come in Sea, too. Other new hardware colors this year include Coral, Snow, Charcoal, Obsidian, Porcelain, Hazel and Rose.
Then there's the Google Pixel Tablet, which has an 11-inch display, four built-in speakers and the power of the Tensor G2 chip all in one helpful device.
The Pixel Tablet isn't flying solo — it comes with the new Charging Speaker Dock, which keeps the device charged and also turns the tablet into a useful home device that you can use hands-free.
The Pixel Tablet is the first tablet with Chromecast built in, and it's also the first tablet protected by the Titan M2 security chip.
The new Pixel Tablet also comes in three colors new to Google devices: Porcelain, Hazel and Rose.
The design team developed a textile that creates a dampened feel for the tablet's dock.
Google Meet on the Pixel Tablet uses Tensor's AI to automatically keep you in the center of the frame and adjust the lighting as you move around.
You can even add a little fun to your video calls with 360-degree backgrounds, like beaches and futuristic cities, that will adjust with you as you move and change positions.
Thanks to machine learning technology, Assistant voice typing on Pixel Tablet is almost three times faster than regular typing.
We introduced a few Google Pixel Tablet accessories, including the Pixel Tablet Case, which works with the Charging Speaker Dock and has a polished metal ring stand so you can view the tablet at different angles. And our Made by Google partners introduced other accessories.
You can buy the Pixel 7a and pre-order the Pixel Tablet and Pixel Fold today — and if you pre-order the Pixel Fold now, you'll get a free Pixel Watch.
And if you buy the Pixel 7a, you get your choice of Pixel Buds A-Series for free or 50% off Pixel Buds Pro.
18. We introduced Search Labs, a new way for you to sign up and test products and ideas we're exploring. It's available on Chrome desktop and the Google App. In the coming weeks, you can tap the Labs icon in the Google App or on Chrome desktop to sign up
19. Soon in Labs, you'll be able to try a new generative AI experience in Search in the U.S. (English only at launch), so we can incorporate your feedback and continue to improve the experience over time.
20. The experience will take your search queries and give you AI-powered snapshots of key information to consider with links to dig deeper and suggested next steps — and when you click on these follow-up prompts, you'll see a new conversational mode where you can ask Google more about the topic you're exploring.
21. A new generative AI shopping experience is built on Google's Shopping Graph. When searching for a product, you'll get a snapshot of noteworthy factors to consider, products that fit the bill, up-to-date reviews, ratings and prices and more.
22. We're testing a few other things in Search Labs, too: Code Tips provides pointers for writing better code, and Add to Sheets helps you insert a search result directly into a spreadsheet and share it with your friends.
23. In Search, when you're looking for something that might benefit from experiences of others, you soon may see a Perspectives filter at the top of Search results, which lets you exclusively see firsthand or expert information from forums, social media sites and video-sharing communities.
24. We announced improvements to how we rank results in Search overall, with a greater focus on content with unique expertise and experience.
25. Here's a new stat we shared: People now use Lens for 12 billion visual searches a month — a 4x increase in just two years.
26. Over the last year, AI features in Workspace helped users write over 180 billion times.
27. …And that's just the beginning: We're embedding the power of generative AI across all the Workspace apps with Duet AI for Google Workspace.
28. Gmail already uses AI to help you draft responses; now we're adding the ability to take your email thread context into consideration, and making it available on mobile.
29. We're incorporating generative AI into Slides also, allowing you to easily create images from text descriptions.
30. New Sheets AI tools can automate data classification and help you organize events and projects to track and analyze your data faster.
31. In Meet, we're introducing the ability to generate unique backgrounds for your video calls.
32. Assisted writing in Docs just got even better with the addition of smart chips, variables and templates that will soon be automatically woven into content, giving you shortcuts for taking action directly in a document.
33. We also announced updates to beloved tools and features that already exist: Spell check and grammar suggestions in Docs are being refined, and you'll start seeing a new proofread suggestion pane with help for writing concisely, avoiding repetition and using a more formal or active voice.
34. Interested in these AI tools? We launched Workspace Labs so you can sign up to try these new features as a tested user. Sign up today.
35. Our newest Project Starline prototype has a simpler design to easily fit into more spaces. This latest prototype uses a new AI technique we developed that only requires a few cameras to process high-quality 3D information. It's also smaller and more closely resembles a traditional video conferencing system.
AI at home (and on the road)
36. We announced Immersive View for routes in Google Maps so you can visualize every segment of your journey before you go, whether you're driving, walking or cycling.
37. Immersive View for routes will begin rolling out in the coming months in Amsterdam, Berlin, Dublin, Florence, Las Vegas, London, Los Angeles, Miami, New York, Paris, San Francisco, San Jose, Seattle, Tokyo, and Venice.
38. We're also rolling out the ability to delete recent searches directly from Maps with just a tap.
39. Magic Editor, a new experimental editing experience in Google Photos, will help you reimagine different aspects of your photo — for example, you could change an overcast sky to a bright blue one or reposition the subject of a shot.
40. We plan to give select Pixel phones early access to Magic Editor later this year.
41. Universal Translator is an experimental AI video dubbing service that helps experts translate a speaker's voice and match their lip movements, which could hugely help learning comprehension.
42. Big news! The new Google Home app will be available to everyone starting May 11.
43. The new Google Home app now opens to your Favorites tab, which you can reorder whenever you want.
44. In the Google Home app, we've added vertical video history scrubbing, so you can review your camera footage efficiently and precisely.
45. And we announced Project Tailwind, an AI-first notebook, powered by your notes and sources.
46. We introduced PaLM 2, our next generation language model. It's faster and more efficient than previous models — and it comes in a variety of sizes, which makes it easy to deploy for a wide range of use cases.
47. PaLM 2 powers more than 25 products announced at I/O and dozens of product teams across Google are using it.
48. And PaLM 2 powers our new PaLM API.
49. Our health research teams used PaLM 2 to create Med-PaLM 2, which is fine-tuned for medical knowledge to help answer questions and summarize insights from a variety of dense medical texts. We're now exploring multimodal capabilities, so it can synthesize patient information from images, like a chest x-ray or mammogram, to help improve patient care.
50. We're opening Med-PaLM 2 up to a small group of Cloud customers for feedback later this summer to identify safe, helpful use cases.
51. We're already at work on Gemini, our first model created from the ground up to be multimodal, highly capable at different sizes and efficient at integrating with other tools and APIs. Gemini is still in training, but it's already exhibiting multimodal capabilities never before seen in prior models.
52. We announced a handful of improvements to and news about Bard, our experiment that lets you collaborate with generative AI — for instance, Dark theme!
53. You'll soon be able to use images in your Bard prompts, allowing you to boost your creativity in completely new ways.
54. Access to Bard in English is also expanding in over 180 countries. And starting today, you can now use Bard in Japanese and Korean.
55. We're on track to make Bard available in the 40 most spoken languages by the end of the year, so more people can collaborate with it in their native languages.
56. We also removed the waitlist so more people can interact directly with Bard.
57. Starting next week, we're making code citations even more precise. If Bard brings in a block of code, just click the annotation and Bard will underline the block and link to the source.
58. Coming soon, Bard will become more visual by including images in its responses, giving you a much better sense of what you're exploring.
59. In the future, you'll see Bard integrated not only with Google services, but with popular apps you use — like Adobe, Instacart and Khan Academy.
60. Magic Compose for Android, which rolls out in beta this summer, helps you add an extra spark to your messages — choose from six different styles including more concise or more professional.
61. When Android 14 lands later this year, you'll have lots of new ways to customize your phone — new lock screen shortcuts and a monochrome theme option, for example.
62. There will also be Emoji Wallpaper, which lets you customize your wallpaper with your favorite emoji combinations, patterns and colors.
63. Plus, Cinematic Wallpaper uses on-device machine learning networks to turn your favorite photos into 3D images that come to life as you tilt and unlock your device.
64. If you're lacking in the photo department, don't worry: Generative AI Wallpaper offers prompts that you can fill out, and Google's text-to-image diffusion model will generate unique wallpapers for you to choose from.
65. More than 50 Google apps have been updated to make the most of the larger screen on tablets and foldables.
66. We announced that Wear OS 3 is the fastest-growing smartwatch platform in the world — and this year, you'll see new watches and new app experiences for them, including WhatsApp and Gmail.
67. Wear OS 4 will introduce backup and restore support, helping you securely transfer data and settings from an old watch to your new one. And if you're setting up a watch from your phone, any permissions you've granted on your phone will automatically carry over.
68. Android Auto will be available in 200 million cars on the road, and the number of car models with Google built-in will more than double by the end of the year.
69. Speaking of cars: Waze is now launching on the Google Play Store globally for all cars with Google built-in.
70. We're working with partners to bring WebEx by Cisco, Microsoft Teams and Zoom to help you take scheduled meetings by audio right from your car display.
71. And YouTube will be available in the coming weeks for Polestar cars and coming to more makers soon.
72. We're partnering with Samsung to build a new immersive XR platform powered by Android.
73. Support for 10-bit Ultra HDR images is coming to Android 14, so you can take and view photos with brighter colors, crisper shadows and amazing definition.
Safety, security and responsibility
74. We introduced our latest Safe Browsing API, which uses AI to identify and alert you to dangerous sites and files, stopping scams before they happen.
75. We're expanding spam protections in Google Drive with a new view that makes it easier to review files and decide what you might view as spam.
76. Previously only available to Google One subscribers in the U.S., we're expanding access to our dark web report over the next few weeks so anyone with a Gmail account in the U.S. can scan to see if their Gmail address appears on the dark web.
77. Starting with location data, you will be informed on the permissions prompt screen of your Android phone when an app shares your information with third parties or for advertising purposes, enabling you to decide whether to approve or decline location sharing.
78. We're also adding a new "data deletion" option within an app's Google Play Data safety section.
79. We're expanding our Content Safety API to include video content, an important step forward for child safety.
80. We're applying the Perspective API, developed by our Jigsaw researchers, to our large language models to help mitigate toxicity found in online comments.
81. We're also making progress on tools to detect synthetic audio — in our AudioLM work, we trained a classifier that can detect synthetic audio in our own AudioLM model with nearly 99% accuracy.
82. Later this summer, we're launching a refreshed Find My Device experience on Android that makes it easier to locate your devices and belongings.
83. Location data crowdsourced from the Find My Device network is end-to-end encrypted, which ensures Google can't see or use it for any other purposes.
84. Later this summer we're also launching unknown tracker alerts on Android, which automatically notify you if your phone determines that an unknown Bluetooth tracker is moving with you.
85. In the coming months, we're launching a new tool in Search called About this image, which will give you important context about an image like when it was first indexed, where it first appeared, where else it's been seen online and if it shows up on fact-checking sites.
Tools for businesses and developers
86. Google Cloud introduced three new models in Vertex AI: Imagen powers image generation and customization; Codey lets you build applications faster by helping with code generation; and Chirp, a universal speech model, brings speech-to-text accuracy to 100+ languages.
87. Also new: Duet AI for Google Cloud, an AI-powered collaborator, which helps with contextual code completion, generates functions in real time, offers suggestions tuned to your code base, assists with code reviews and more.
88. Our Google Cloud AI offerings are powered by our AI-optimized infrastructure — including new A3 Virtual Machines based on NVIDIA's H100 GPU.
89. Starting today, when you draft a Google Play store listing in English, you can use Google's Generative AI technology to help you get started. Just open our AI helper in Google Play Console, enter a couple of prompts, like an audience and a key theme, and it will generate a draft you can edit, discard or use.
90. We announced Project Gameface, an open-source hands-free gaming mouse. It uses our MediaPipe Face Landmark Detection solution — a powerful machine learning tool — to track face landmarks in real-times.
91. And it's now open-sourced on GitHub, too.
92. We're launching the Aerial View API, which lets developers integrate birds-eye videos of an area in Google Maps.
93. In fact, Rent. is already using the Aerial View API in their app to help renters visualize a property and its surrounding area.
94. And the new Photorealistic 3D Tiles feature for developers allows them to add customized, immersive map experiences to their own apps and websites.
95. We launched Compose for TV, to make it easier for you to build beautiful high quality apps for TV.
96. We also announced the latest advancements in ChromeOS and released a new feature in beta to let users stream Android apps from their phone to their Chromebook.
97. Plus we introduced a no-code way for developers to configure the appearance and behavior of Wear OS watch faces.
98. The new Android UI Design Hub is a comprehensive resource to understand how to create user-friendly interfaces for Android with guidance.
99. With the new App Actions Test Library and the Google Assistant plugin for Android Studio — now also available for Wear and Auto — it's now easier to code, easier to emulate your user's experience to forecast user expectations and easier to deploy App Actions integrations across primary and complementary Android devices.
100. Oh, and we announced the latest Android 14 beta!