How we make every day safer with Google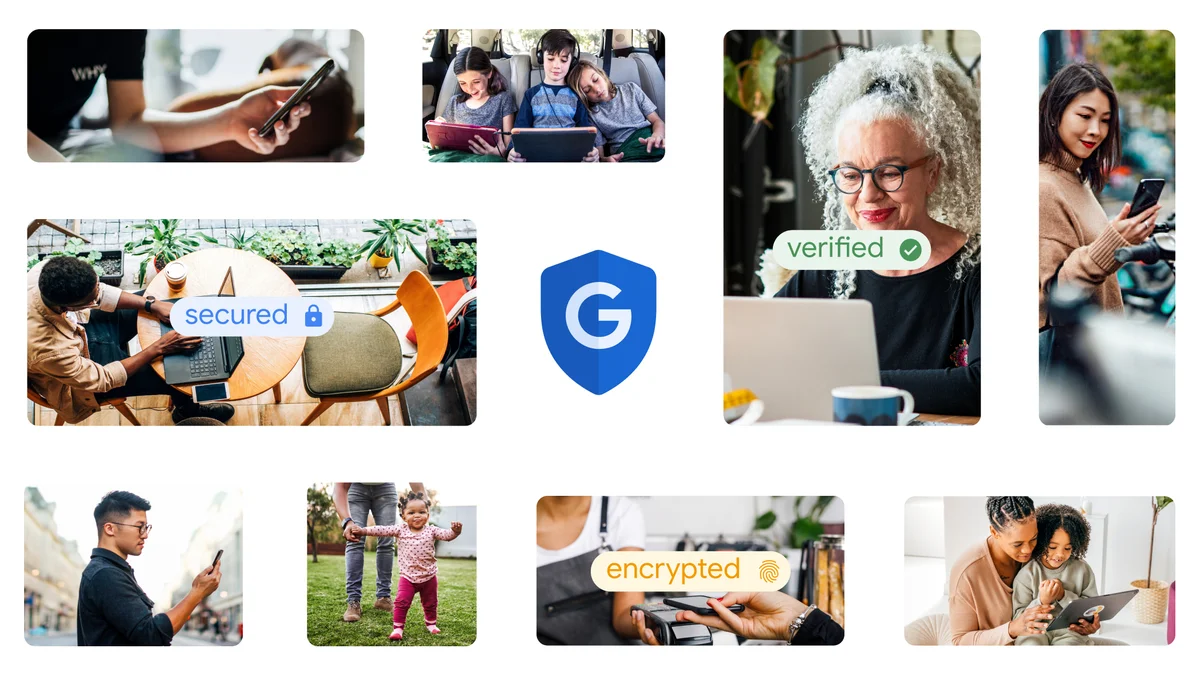 Every day, we work to create a safer internet by making our products secure by default, private by design, and putting you in control of your data. This is how we keep more people safe online than anyone else in the world.
Secure by default in the face of cyber threats
Today, more cyberattacks than ever are happening on a broader, global scale. The targets of these attacks are not just major companies or government agencies, but hospitals, energy providers, banks, schools and individuals. Every day, we keep people's data safe and secure through industry-leading security technology, automatic, built-in protections, and ongoing vulnerability research and detection.
Our specialized teams work around the clock to combat current and emerging cyber threats. Google's Threat Analysis Group (TAG), for example, has been tracking critical cyber activity to help inform Ukraine, neighboring countries in Europe, and others of active threat campaigns in relation to the war. We've also expanded our support for Project Shield to protect the websites of 200+ Ukrainian government entities, news outlets and more.
Cybersecurity concerns are not limited to war zones — more than 80% of Americans say they're concerned about the safety and privacy of their online data. That's why we built one of the world's most advanced security infrastructures to ensure that our products are secure by default. Now, that infrastructure helps keep people safer at scale:
Account Safety Status: We're adding your safety status to your apps so you never have to worry about the security of your Google Account. These updates will feature a simple yellow alert icon on your profile picture that will flag actions you should take to secure your account.
Phishing protections in Google Workspace: We're now scaling the phishing and malware protections that guard Gmail to Google Docs, Sheets, and Slides.
Automatic 2-Step Verification: We're also continuing our journey towards a more secure, passwordless future with 2-Step Verification (2SV) auto enrollment to help people instantly boost the security of their Google Accounts and reduce their risk of getting phished. This builds on our work last year to auto enroll 150+ million accounts in 2SV and successfully reduce account takeovers.
Virtual Cards: As people do more shopping online, keeping payment information safe and secure is critically important. We're launching virtual cards on Chrome and Android. When you use autofill to enter your payment details at checkout, virtual cards will add an additional layer of security by replacing your actual card number with a distinct, virtual number. This eliminates the need to manually enter card details like the CVV at checkout, and they're easy to manage at pay.google.com — where you can enable the feature for eligible cards, access your virtual card number, and see recent virtual card transactions. Virtual cards will be rolling out in the US for Visa, American Express, Mastercard and all Capital One cards starting this summer.
Helpful products that are private by design
We're committed to designing products that are helpful and protect people's privacy. Our engineers have pioneered and open-sourced numerous privacy preserving technologies, including Federated Learning and Differential Privacy, which we made more widely available earlier this year when we started offering our Differential Privacy library in Python as a free open-source tool — reaching almost half of developers worldwide.
Now, we're expanding this work with the introduction of Protected Computing, a growing toolkit of technologies that transform how, when, and where data is processed to technically ensure the privacy and safety of your data. We do this by:
Minimizing your data footprint: Leveraging techniques like edge processing and ephemerality, we shrink the amount of your personally identifiable data.
De-identifying data: Through blurring and randomizing identifiable signals, to adding statistical noise, we use a range of anonymization techniques to strip your identity from your data.
Restricting access: Through technologies like end-to-end encryption and secure enclaves, we make it technically impossible for anyone, including Google, to access your sensitive data.
Today, Protected Computing enables helpful features like Smart Reply in Messages by Google and Live Translation on Pixel. And while we're continuing to innovate new applications across our products, we're equally focused on using Protected Computing to unlock the potential of data to benefit society more broadly — for example, by enabling even more robust aggregated and anonymized datasets so we can safely do everything from help cities reduce their carbon footprint, to accelerate new medical breakthroughs.
You're in control of your personal information
Privacy is personal, and safety is a bit different for each individual. That's why our privacy and security protections are easy to access, monitor and control. Today, we're introducing two new tools that give you even more control over your data:
Results about you in Search: When you're using the internet, it's important to have control over how your personal information can be found. With our new tool to accompany updated removal policies, people can more easily request the removal of Google Search results containing their contact details — such as phone numbers, home addresses, and email addresses. This feature will be available in the coming months in the Google App, and you can also access it by clicking the three dots next to individual Google Search results.
My Ad Center: We want to make it even easier for you to control the ads you see. Towards the end of this year, we'll launch more controls for your ads privacy settings: a way of choosing which brands to see more or less of, and an easier way to choose whether to personalize your ads. My Ad Center gives you even more control over the ads you see on YouTube, Search, and your Discover feed, while still being able to block and report ads. You'll be able to choose the types of ads you want to see — such as fitness, vacation rentals or skincare — and learn more about the information we use to show them to you.