Raise the visibility of your Web Stories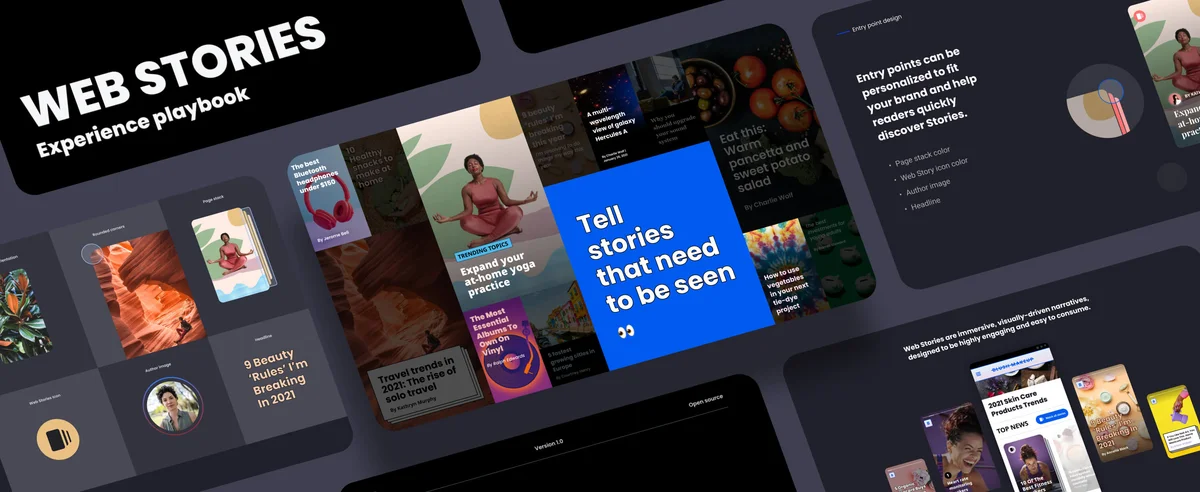 Publishers and creators of all sizes are adopting Web Stories to create compelling narrative experiences for readers. As more people and publishers use the format, the Web Creator community will continue to be there to answer questions and provide guidance.  If you've been wondering whether you should add Web Stories to your own website, and how, then I have great news: We have a new playbook and design kit in Figma for you to help incorporate Web Stories into your website.
Web Stories are immersive, visually-driven narratives, designed to be highly engaging and easy to consume. Once a story is created, it's important to help your readers discover your Web Stories through various entry points.  A key entrypoint is your own website, where Web Stories can enable you to create rich modern user experiences for your users. The  playbook comes with illustrative examples to inspire you to build great experiences on your site. These entry point designs are flexible and can work to showcase both one Web Story or multiple.
You can take the experience one step further by integrating  the Web Story Player into your site. The Web Story Player makes it easy for users to swipe between multiple Stories and even enables you to personalize what story to show next. When Stories are easy to discover, views and engagement can increase — offering more opportunities to monetize your content.
In addition, Web Stories can be embedded on any page of your site. This allows readers to view the Web Stories in context with the rest of your article or page. 
Learn more by visiting stories.google for resources, best practices and inspiration. Technical resources and tools to build these experiences can be found in this downloadable PDF here.  Also, if you want a crash course to learn the ins and outs of Web Story-telling, check out our educational YouTube series, Storytime, with a new episode arriving every week.