Web Creator Spotlight | Stuart Schuffman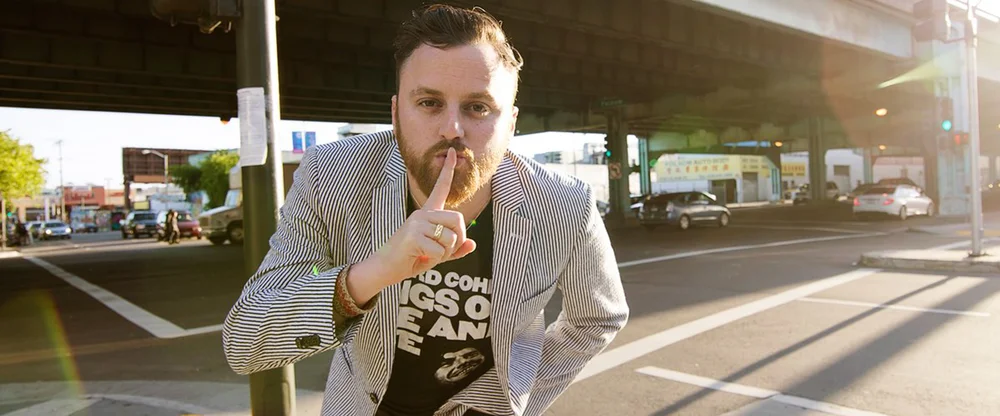 Stuart Schuffman, a.k.a. Broke-Ass Stuart, is a globetrotting superblogger who has built his brand around the idea that you don't actually need tons of money to enjoy yourself. Since the early 2000s he's made it his mission to uncover hidden gems in his hometown of San Francisco and in cities like New York, San Diego, Detroit, Austin, and all over Europe as a longtime stringer for the backpacker's bible, "Lonely Planet." 
Over the years Stuart has published a handful of top-selling urban adventure guides dedicated to "busboys, poets, social workers, students, artists, musicians, magicians, mathematicians, maniacs, yodelers, and everyone else out there who wants to enjoy life not as a rich person, but as a real person."
But to call Stuart a travel writer is to sell him short. He's a web creator—a TV show host, marketer, social media manager, editor, writer, and publisher all wrapped into one. 
Launched in 2009, his website Brokeassstuart.com has grown from a local's guide to metropolitan hotspots into a cultural force with an editorial staff covering politics, news, music, arts, and culture in the Bay Area and beyond. Even more impressive is the fact that Stuart still serves as the "Editor In Cheap" of his website while simultaneously writing and producing comedy shorts, live shows, and independent series that follow up where his show "Young, Broke, and Beautiful," which aired on IFC in the early 2010s, left off.
"Life is an art project for me," he says. But it's also a job. And that's where things get interesting.
We talked with Stuart to hear how he learned to navigate the ever-evolving landscape web creators face today.
So tell us ... what makes a web creator? What does your average day look like, etc?
It's anyone dumb enough to plug away, day in and day out, over something they love and that they want to share with other people. I say "dumb" because it's a terrible way to make a living, but if that's not your main concern, it's incredibly fulfilling on pretty much all other levels. 
As for my average day: things have been really topsy-turvy since COVID hit. Over 50 percent of our income dried up overnight so lately it's been a lot of trying to figure out creative ways to fund this thing. I mean, I guess that's how I spent much of my time before but, now it's even more dire. 
Otherwise though, a typical day sees me: editing and publishing other people's work, writing articles, doing social media for the content we create, doing sales, marketing, and business development, and answering a titanic amount of email. The thing about running your own independent media company is that my partner and I have to do about 30 different jobs. But at least I don't have some jerk boss I gotta deal with so it's mostly worth it. 
Can you tell us a bit about your schedule? How do you get into the flow? What inspires you on a day to day basis and gets your creative energy flowing?
I give myself like an hour or so in the morning to watch Netflix while I slowly wake up. That way I'm ready to work without feeling rushed when I get down to it. As for inspiration, I'm always floored and inspired by the awesome content being created by our writers and editors. They make me so proud that I get to publish their voices. In fact, that's one of the things I like best about what I do, I get to amplify voices that don't always get heard.
Otherwise though, I get most excited when I'm creating new things. Life is an art project for me. Just in the past five years or so, I created and hosted seven episodes of a
live late night show
, put out a
web series
, won "best local website" a couple times, put out a zine, and ran for Mayor of SF. I'm working on some cool new projects right now that are still under wraps.
You're super prolific! Can you describe your journey a bit? 
I've been doing this whole Broke-Ass Stuart thing for like 16 years now, so it's a LONG story. But I'll give you the short-ish version. 
Shortly after I finished college at UCSC, I was working in a candy store in North Beach. One day a guy I knew from the neighborhood I grew up in in San Diego came in with the woman that's now his wife. As they were walking out she gave me her card and it said she was a travel writer. I thought, "I wanna be a travel writer" so I decided to become one. 
I put out my first zine, Broke-Ass Stuart's Guide to Living Cheaply in San Francisco that summer (it was 2004). That was popular so I did an expanded version the following year. That ended up winning me "Best of the Bay" and I got a little notoriety. I got the zine in the hands of someone at Lonely Planet, and they liked it, and I ended up getting to go to Ireland to write about it for them.
I wanted to keep doing Broke-Ass Stuart but I also wanted to step it up and I actually found a book deal on craigslist. So I ended up doing three books. A Broke-Ass Stuart in SF book, an NYC book, and a book that was applicable everywhere in the U.S. 
Then in 2011 I had a travel TV show on IFC called Young, Broke & Beautiful. It was amazing. All the while though I was building up the website to be an arts & culture destination, so as my popularity grew, so did the site. Then running for Mayor obviously helped as well.
At this point we're one of the most influential sites in the Bay Area for arts, culture, nightlife, and activism. It's been a hell of a ride.
What are the best/worst parts of your job?
Getting to amplify voices that don't always get heard while informing and entertaining hundreds of thousands of people a month is the best part for sure.
And then the hardest part, as you can imagine, trying to keep this thing afloat. I started this whole thing to be an art dude, but somehow ended up being a business dude out of necessity. I'm much better at creating funny and beautiful things than I am at making money. But I end up having to spend more time being a business dude than getting to create stuff. I'm at my happiest when I'm creating.
At the end of the day what is the ultimate goal of your blog/website? 
I used to care more about being famous, but as I get older, it doesn't matter that much. I just want to create things that hopefully make the world a better place. Activism is a huge part of what we do at BrokeAssStuart.com. Over the years we've raised hundreds of thousands of dollars for various charities and causes. We've turned out tens of thousands of people to protest the many injustices that plague our world. Our Voter guides sometimes get like 30k views. And we've also made a lot of fart jokes. Gotta keep things balanced.  
Any words of advice for someone just getting started?
It's important to ask yourself if you really want to make a living doing something that you love. I know your immediate response is "Duh! Of course!" but really think about it. You're taking something that gives you joy and release, and turning it into a job. There will be many days where it is simply a job and that's something you need to be ok with.  
Another quick piece of advice is: build your audience before you try to monetize it. Get people to love what you do and believe in you before you start asking them for money.   
I could talk about this all day long. I've actually given a talk about how to "turn your side hustle into your main hustle" a number of times including at General Assembly and at Patreon's yearly conference, so if anyone reading this is interested in me giving the talk to you and your friends/coworkers reach out and we can figure out a price. 
And finally a quick #PayItForward. Name five other websites doing awesome stuff in your field.
Follow Broke-Ass Stuart on social media: Instagram | Twitter | Facebook | Patreon