25 fun facts about Google offices and data centers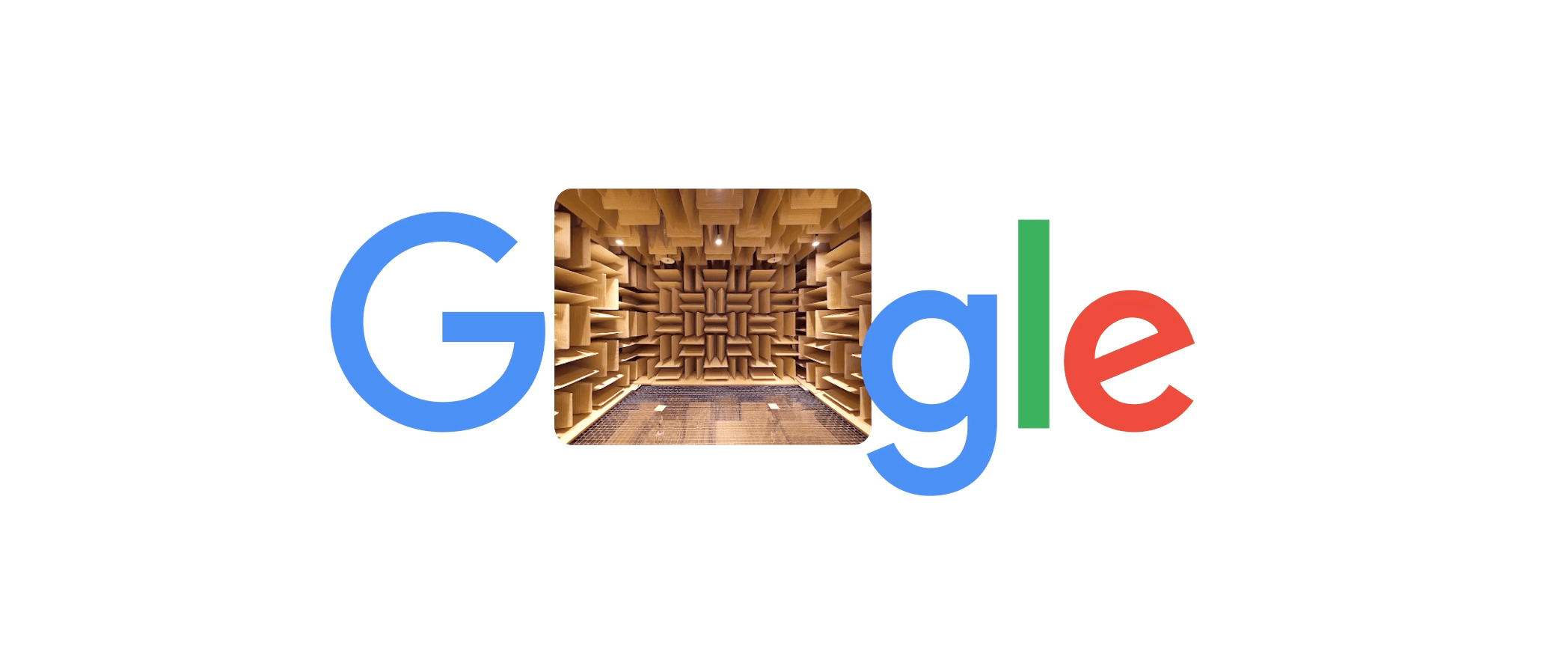 Twenty-five years ago, Larry Page and Sergey Brin launched Google Search from a small garage in a California suburb. Today, Google has offices and data centers on six continents, in over 200 cities. In honor of our 25th birthday, we're taking a look at some of the most interesting facts about a few of our offices and data centers across the globe. Take a world tour with us and discover something new.
Howzit art
Johannesburg, South Africa
When you enter our Johannesburg, South Africa office, the first thing you see is an art installation made by local craftswomen from nearby communities. The women used 46 kilometers (about 28.5 miles) of beads to build the piece, which reads "Howzit" — South African slang for "How are you doing?"
The reception area in our Johannesburg office greets you with a "Howzit?"
The "Hiveplex"
Mountain View, United States
In 2010, we set up bee hives around Googleplex, our Mountain View headquarters. The project was aimed in part at supporting the area's bee population as well as giving the Google kitchens access to fresh local honey. Today, Googlers of all levels of beekeeping skill at several Google campuses are able to help check hives, collect honey and learn more about the importance of bees to our ecosystem.
A few colorful beehives on our Mountain View headquarters when they were first set up in 2010. Photo credit: Emily Wood
Teaching old buildings new tricks
Various locations, United States, Ireland & Finland
In pursuit of our goal to hit net-zero emissions across our operations and value chain by 2030, we've invested in "adaptive reuse projects," where we renovate existing buildings rather than rely on solely new construction. One of those is our office in Dublin, Ireland, which is a 150-year-old former Flour Mills building at Boland Mills. Other examples of adaptive reuse office projects include Playa Vista, formerly an aircraft hangar; and Pittsburgh and New York City's Chelsea Market buildings, both formerly Nabisco factories. (In fact, the factory in Chelsea Market is where the Oreo cookie was invented!) We've also repurposed various Google data centers from already existing structures, including a paper mill in Finland and a coal mine in Alabama.
The Google office in Dublin, Ireland, was formerly a flour mill. Photo credit: David Dickens
Park 'n charge
United States
Google continues to invest in its corporate electric vehicle (EV) charging infrastructure for employee vehicle charging in the U.S. — striving to provide electric vehicle charging stations for 10% of the total parking spaces at our Bay Area, California headquarters. To date, we've installed more than 5,000 electric vehicle charging ports at our offices.
Many electric vehicle-owning Googlers in the U.S. can charge their cars while they work using employee vehicle charging stations.
Going global
Tokyo, Japan and Hamburg, Germany
Our first international office opened in Tokyo, Japan in 2001, and our second in Hamburg, Germany. Today, we've got offices and data centers on six continents, in over 200 cities globally.
Googlers chat and collaborate in one of our Tokyo office cafés.
A breath of fresh air
Belo Horizonte, Brazil
The design of our Belo Horizonte office brings the outside indoors: It features native vegetation from the Cerrado biome, the second largest biome in Brazil after the Amazon. Among the plants featured in the interior landscape project are over 360 orchids, grown from seedlings cultivated in a controlled environment that allows them to be pathogen-free. The cultivation process helps us monitor the office's air quality, since sub-optimal air quality levels are tied to plant infestation. As the orchids grow, we replace them with new seedlings, donating the mature plants to nearby communities.
The indoor landscaping installation in our Belo Horizonte, Brazil office features native vegetation from the Cerrado biome, the second largest biome in Brazil after the Amazon.
Accessible design
Seoul, South Korea
When we recently designed a brand new floor in Google's Seoul, South Korea office, we incorporated feedback from Googlers who are part of our disability alliance in order to create a more accessible space. The plans — which include braille signage, wider spaces for wheelchair mobility, and automatic sliding doors — are part of our commitment to "universal design," or designing spaces for people of all abilities.
Our office in Seoul features paths that are wide enough to accommodate a wheelchair's 360-degree turns.
Welcome to Dubai
Dubai, United Arab Emirates
Google's United Arab Emirates office in Dubai is our only office located in a desert — although Dubai, a coastal metropolitan city, is far more than just sand dunes. The office reflects the diversity of the surrounding region, from the names of the meeting rooms to our hallway themes.
The reception area in Google's Dubai office.
AI in Africa
Accra, Ghana
In 2018, we opened our first AI Research Center in Africa, in Accra, Ghana. The center houses research labs that explore how we can use AI to help solve pressing problems affecting millions of people both in Africa and globally, like mapping buildings in remote locations to provide better electricity. Our local researchers collaborate with research teams across the globe to work on AI-based tools that create change for communities across Africa and the world.
Our first AI research center in Africa, located in Accra, Ghana
Dragonscaling the roof
Mountain View, United States
No photons wasted! The Bay View campus in California has a roof that can't be missed; its "dragonscale" solar canopy provides electricity for the building's interior or is collected as sustainable power for other uses. This first-of-its kind design is made up of nearly 90,000 solar panels across both Bay View and Gradient Canopy.
An aerial view of our Bay View campus, showing the "dragonscale" solar roof
Homage to local artists
Montreal, Canada
The new Google Montreal, Canada office, which opened in 2021, pays homage to the vibrant city and its historic neighborhoods. It features carefully curated art from local artists and makers, including pieces by Karen Desparois (art pictured below); Nadia Myre, a Montreal-based artist from the Kitigan Zibi Anishinaabeg First Nation; Bryan Beyung, a street artist and painter born in Montréal to a Chinese-Cambodian refugee family; and Ngan Siu-Mui, a Hong Kong-born artist who studied traditional Chinese art before immigrating to Canada.
Behind the reception desk in Google's Montréal office hangs a quilt by Karen Desparois, a local quiltmaker whose designs tell stories using geometry as an organizing principle. The reception desk quilt features an easter egg for Googlers and visitors to solve.
A love letter to the ATL
Atlanta, United States
At Google Atlanta, you'll find the WERD Cafe, named for the first Black-owned and -programmed radio station in the United States. The design of the entire Atlanta office pays homage to the city's cultural, artistic and musical history, including artwork from more than 20 local artists, a rainbow LGBTQ+-themed staircase and (functional!) boombox sculptures.
The WERD Cafe in our Atlanta office pays homage to the first Black-owned and -programmed radio station in the United States.
A certain sticky-note art character watches over Googlers chatting in the London office
Goodbye, refrigeration
St. Ghislain, Belgium
In 2010, as part of our goal to make our global operations more sustainable, we opened and began operating our first energy-efficient data center, near St. Ghislain in Belgium. This was our first data center in the world to run entirely without refrigeration, instead using a more sustainable advanced evaporative cooling system that relies on water from a nearby industrial canal. The St. Ghislain location is also the site of a solar plant, built in 2018 — the first solar facility we built on a data center facility site.
Our data center in St. Ghislain, Belgium
Standing lunch date
Tokyo, Japan
Our Tokyo Stream office is right in the middle of energetic Shibuya and overlooks the iconic Scramble Crossing. The office ramen bar is inspired by off-street ramen shops around Shibuya, and serves this delicious noodle soup with "standing" style seating.
The ramen bar in the Google office in Tokyo, Japan
Hydropowered up
New York City, United States
This year, Google's New York City offices started running on clean energy from upgraded hydropower installations. Matching office electricity consumption with clean energy sources means we can rely less on power plants powered by fossil fuels which, over time, can result in cleaner air and a more sustainable future for our planet. The update to New York City offices together with our recently announced clean energy deals in Europe and the Bay Area are all part of our commitment to operating our offices and data centers on 24/7 carbon-free energy by 2030.
The electricity consumed by offices at Pier 57 in New York City are matched with carbon-free energy sources.
Papel picado
Mexico City, Mexico
Some of the artwork in Google's Mexico City, Mexico office are inspired by "papel picado," a decorative Mexican folk art made of paper cut into elaborate designs. (We've also celebrated papel picado with Doodles).
Design elements inspired by papel picado decorate areas of our Mexico City office
All aboard!
Paris, France
Before it was a workplace for Googlers, our Paris, France office building was a 19th-century Parisian residence called the Hôtel de Vatry. The owners later sold it to a railway company, which used it as their headquarters. Some original details of the space remain — like a ceiling featuring the names of the destination cities of the trains in the West of France.
Google's Paris, France office building was built in the 1800s.
Urban farm-to-table
Belo Horizonte, Brazil
The Google Brazil office in Belo Horizonte shares a building with the first urban farm in Latin America. Salads served at our employee cafe are partially sourced from the farm, too, creating a literal farm-to-table experience for our employees (the produce travels just 17 floors via elevator!).
The cafe in the Google office in Belo Horizonte, Brazil, where the walls are lined by 2,116 spice jars referencing minerals found in the state, by the artist Máximo Soalheiro.
Restored prairie land
Tennessee, United States
Google data centers are some of the most efficient in the world, even as computing demand grows. Beyond the sustainability aspirations we have for our own operations, we are also committed to investing in the environmental priorities of our local communities. For example, we're working to restore more than 100 acres of prairie land surrounding our Tennessee data center to benefit the local ecology.
Developing developers
Singapore
In 2019, we opened the Developer Space @ Google Singapore, located on our campus there. It's a place where local developers and startups come to learn, connect, engage and be inspired. At Developer Space, visitors can share resources and take hands-on mentorship and networking opportunities with various Google teams. It also hosts events like a monthly open mic night focused on different tech topics, and a developer academy program for women.
The Developer Space @ Google Singapore
GBikes abound!
Mountain View, United States
GBikes, a common sight on our Mountain View campus, launched in 2007 to help Googlers get around. In 2019, there were 1.9 million completed trips across the entire GBike fleet — that's 765,000 miles, which is about 31 times around the Earth!
Gbikes are a fun way to get around campus.
In the arena
Detroit, United States
Google's Detroit office is in the Little Caesars Arena complex — the home of the Detroit Red Wings and the Detroit Pistons, as well as other entertainment and community events.
Google's Detroit office is located in an arena complex.
Hardware engineering, represent!
New Taipei, Taiwan
When our first office in Taiwan opened in 2006, it had just one employee — now we have Googlers working in several sites across Taiwan, which is home to our largest hardware engineering hub outside of the U.S.
Taiwan is home to our largest hardware engineering hub outside of the U.S.
Stan the T. rex
Mountain View, United States
An infamous part of Google lore concerns Stan, a giant bronze Tyrannosaurus rex skeleton that sits at the heart of our Mountain View headquarters. Legend has it that Stan is meant to remind us that changing and evolving are good things. But while Stan may be a replica of a fossil, he's still the life of the party — he often dresses up for special occasions, like Pride.
Stan keeps a watchful eye over the Mountain View campus while reminding Googlers that changing and evolving are good things. Photo credit: Emily Wood
Okay, and one more office fact (to grow on):
Design plans for the long-delayed G.C.H.E.E.S.E office
Just cheesin'
The moon
In what has been our lengthiest process ever, we are still interviewing candidates for the Google Copernicus Hosting Environment and Experiment in Search Engineering (G.C.H.E.E.S.E.) — our first office on, yes, the moon. This team will work in an office that's just a smidge behind schedule, since we announced it would open in 2007. Let's just say we're taking it one small step at a time!
More from this Collection
25 years of Google — and a look at what's ahead
As we celebrate our birthday, here's a look back at how our products have evolved over the past 25 years — and how our search for answers will drive even more progress over the next quarter century.
View all 10 articles